Sunder Nursery, located in the heart of Delhi, is a beautiful garden complex that has a rich history dating back to the 16th century. This sprawling 90-acre park is home to a stunning collection of flora, fauna, and architectural marvels that make it a must-visit destination for tourists and locals alike. In this article, we will explore the beauty and history of Sunder Nursery and discover what makes it such a special place.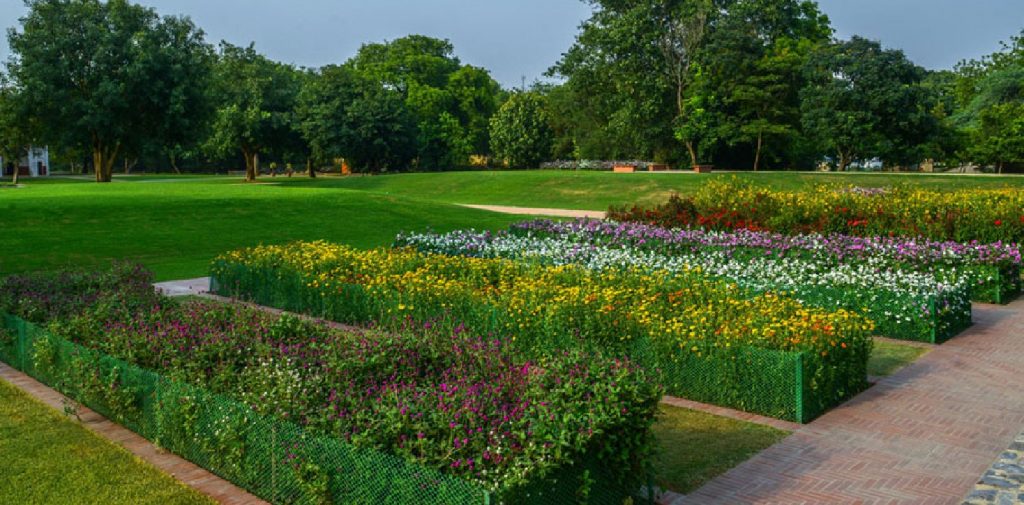 New Delhi's plant cultivation facility, Sunder Nursery, was founded in the twentieth century on the site of the Mughal-era Azim Bagh (great garden). It covers an area of 25.66 hactare and can be found near the southern edge of Lutyens' New Delhi, right in the middle of Delhi. Sunder Nursery is home to several Mughal era monuments, and it is located only to the north-west of the World Heritage Site of Humayun's Tomb. It is also located approximately half a km east of the dargah of the famous 13th-century Sufi saint Hazrat Nizamuddin Auliya. At the outset of this Urban Renewal project, less than 10% of what is now Sunder Nursery—an area that spans 90 acres—was actually being used as an active nursery. To improve nursery operations and integrate its heritage, landscape, and biological assets into a genuine combination of cultural offers, a design for the region was prepared in 2008 in close coordination with the CPWD.
The History of Sunder Nursery
Sunder Nursery was originally established as a nursery for the British Army in the early 20th century, but its history dates back much further than that. The complex was built in the 16th century by the Mughal emperor Babur, who used it as a hunting ground. Over the centuries, the gardens fell into disrepair, but in 2007, a restoration project was initiated to revive the park and bring it back to its former glory.
Today, the gardens are home to a wide variety of plant species, including many that are rare and endangered. The complex also features a number of stunning architectural landmarks, including several Mughal-era tombs and the stunning Sunderwala Mahal, a beautiful 16th-century palace that is now used as a visitor center.
Exploring the Gardens
One of the highlights of visiting Sunder Nursery is exploring the gardens themselves. The complex is divided into several distinct areas, each with its own unique features and attractions.
The Central Axis, for example, is a wide promenade that stretches from the entrance of the complex to the Sunderwala Mahal. Lined with trees and flowering plants, this walkway is a peaceful and serene place to take a stroll and enjoy the beauty of nature.
The Heritage Zone is another popular area of the park. Here, visitors can explore a number of historic landmarks, including the Mughal-era tombs of Abdul Rahim Khan-i-Khana and Bade Khan Khan-i-Khana. These beautifully preserved structures are a testament to the rich history of the park and the city of Delhi as a whole. Other areas of the park include the Butterfly Garden, which is home to a variety of butterfly species, and the Amphitheater, which hosts a variety of cultural events and performances throughout the year.
Sunder Nursery also has a multi-cuisine Restaurant by the name Febcafe By the Lake which opens at 7 am in the morning till 10 pm at night.

Sunder Nursery Children's Park
At Sunder Nursery, it demonstrates that popular recreational areas are typically a part of the overarching plan for the surrounding neighbourhood. Not only do kids and teens need a safe area to hang out, but so do their parents and other carers, and sometimes even the neighbours. They should be conducive to children and youth spending time there, engaging in physical activity, interacting with nature, learning about and adapting to change, feeling safe enough to take risks, and, of course, playing, either independently or with others. Entry to the Children Play Area is allowed only when you are accompanying a child with you. Also. children below 8 years have to be accompanied by an adult. Entry Ticket price for Children's Park at Sunder Nursery cost Rs 20 per entry.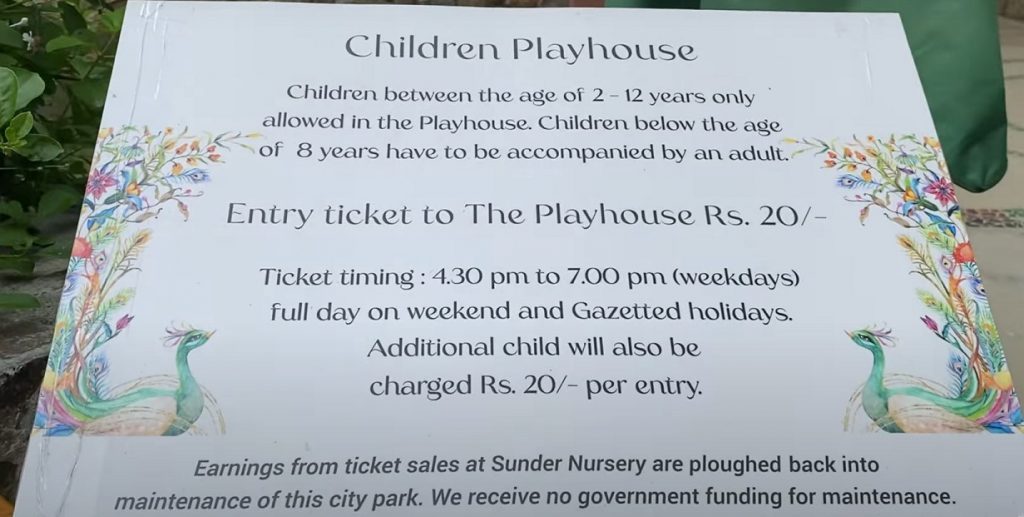 Sunder Nursery is a special play area for kids just outside the Wilderness area. After entering via a stone tunnel, kids can explore mazes, zip line between trees and slide down mounds. Children's growth is promoted by features like sandpits and rope bridges, while sensory pathways encourage exploration and discovery. No plastic swings were utilised in the construction of this children's park; instead, natural elements like wood, steel, stone, and rope were favoured.
Sunder Nursery Park Ticket Price
Ticket price for Sunder Nursery is as follows:-
| | |
| --- | --- |
| Category | Ticket Price |
| Adults | Rs 50 |
| Child (5-12 years) | Rs 25 |
| Sr. Citizen | Rs 25 |
| Child (under 5 years) | Free |
All children aged 12 and under must be accompanied by an adult.
Sunder Nursery Park Timings
Some events are ticketed separately and may not include entry to the Park.
| | |
| --- | --- |
| Duration | Sunder Nursery Park Timings |
| Summers (April to September) | 7 am to 10 pm |
| Winters (October – March) | 7 am to 10 pm |
* In case of ticketed events, the entry ticket to Park will be confined to the non-ticketed areas only.
**The areas under construction like the Garden House, Museum, Restaurant blocks will not be accessible.
Sunder Nursery Park Address
You won't have any trouble getting to Sunder Nursery Park. The park is located just across from the Humayun's Tomb complex and next to the Nizamuddin Police Station off of Mathura Road. You can take an Uber or drive here in your own car (parking is provided), or you can take a bus, an autorickshaw, or a rail. The Hazrat Nizamuddin Dargah Bus Stop is located just across from the Nizamuddin Police Station on Routes 40, 101, 181, 323, 402-405A, 409-411, 429, 436, 438, 447, 453-459, 893, 894, 966, 044, 055. The Park may be reached on foot from the nearest bus station in around 5 minutes.
There is a four-hour parking cost of Rs 100 for cars, Rs 35 for motorcycles, and Rs 200 on Sundays and Gazetted holidays for parking inside Sunder Nursery Park.
Sunder Nursery is a true gem of Delhi, offering visitors a unique and unforgettable experience that combines natural beauty with rich history and culture. Whether you are a nature lover, a history buff, or simply looking for a peaceful place to relax and unwind, this stunning park is not to be missed. With its stunning gardens, fascinating landmarks, and vibrant cultural events, Sunder Nursery truly has something for everyone.