UPI ATM Withdrawals
Gone are the days when you had to keep a Debit Card in your wallet to have Cash but with the introduction of a new revolutionary UPI-based  Cash withdrawal from an ATM near you. India has recently introduced a novel cash withdrawal method from ATMs based on the Unified Payments Interface (UPI), following an announcement made by the Reserve Bank of India governor during the most recent monetary policy briefing. This pioneering initiative enables customers to access cash without relying on a conventional debit card. In addition to UPI, there are alternative methods available for withdrawing money from ATMs without using your debit card. Let's explore these various options.
To utilize UPI-ATM services, you'll need a smartphone equipped with a UPI application and a verified UPI ID. To perform cardless cash withdrawals from an Aadhar-enabled ATM, it is necessary to link your Aadhar card to your bank account. You can also withdraw cash via a mobile banking application by connecting your account and generating a one-time code, which you will then input at the ATM.
UPI Method
Utilizing UPI for ATM withdrawals eliminates the need for a conventional debit card. To access this service, you'll need a smartphone with a UPI app and a registered UPI ID. Follow these steps to withdraw cash from a UPI ATM: choose the 'UPI Cash Withdrawal' feature on the ATM screen, specify your withdrawal amount, scan the QR code displayed on the ATM using your UPI app, and confirm the transaction by entering your UPI PIN.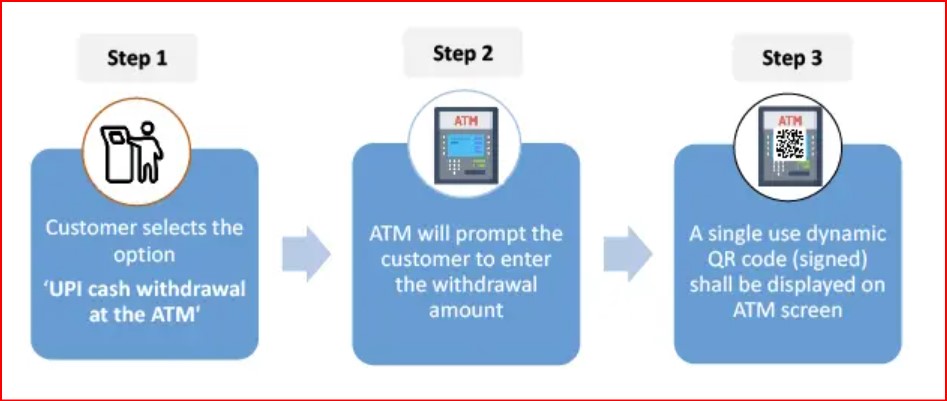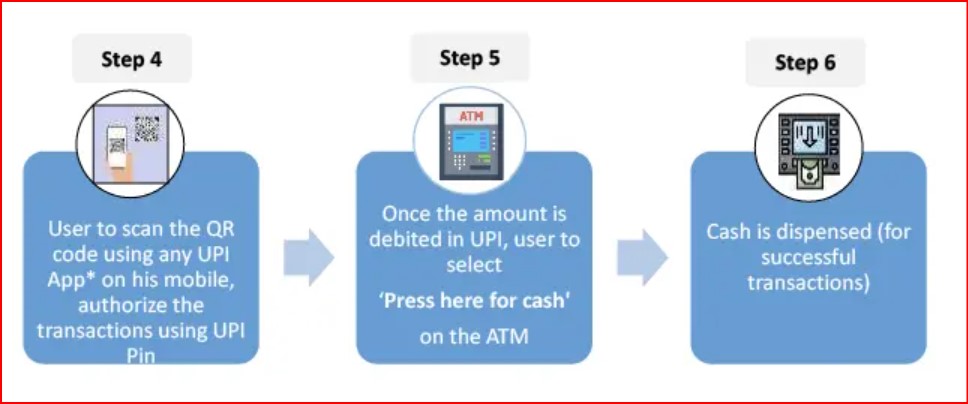 When you select 'UPI Cash Withdrawal,' the ATM generates a unique QR code. Scanning this code with your UPI app authenticates you via your UPI PIN and triggers the ATM to dispense the requested cash. The advantages of UPI-ATM include cardless access, heightened security, and improved convenience.
UPI ATM: The future of fintech is here! 💪🇮🇳 pic.twitter.com/el9ioH3PNP

— Piyush Goyal (@PiyushGoyal) September 7, 2023
SMS Method
To use this method, ensure your mobile number is linked to your bank account for verification purposes. Set up a secure PIN for SMS cash withdrawal, typically through your bank's dedicated mobile banking application or a nearby branch. Once your PIN is established, compose a text message detailing the withdrawal, including the desired amount and the recipient's mobile number. Send this message to the designated number provided by your bank for SMS cash withdrawals. In response, you will receive an SMS containing a unique one-time code.
Biometric Authentication Method
Cardless cash withdrawal from an Aadhar-enabled ATM can be accomplished through biometric authentication. First, ensure your Aadhar number is linked to your bank account. Locate an Aadhaar Enabled Payment System (AEPS)-enabled ATM and input your Aadhar number or provide your bank account details. Select the desired transaction type and proceed with biometric authentication, typically via fingerprint or iris scan. After successful authentication, specify the withdrawal amount, and the ATM will dispense the requested cash. The ATM verifies your identity against Aadhar records and deducts the withdrawal amount from your linked bank account.
Mobile Banking App Method
You can withdraw cash from an ATM without a debit card by using a mobile banking app. To utilize this feature, ensure your bank account is linked to the app. Generate a one-time code within the app, specifying the desired withdrawal amount. Then, visit a compatible ATM and input the provided code. This action prompts the ATM to dispense the requested cash. This method not only offers convenience but also enhances security through in-app authentication.
Next, visit the nearest bank ATM and enter the received code along with your mobile number to complete the cash withdrawal process. Note that the availability of this service may vary depending on your specific bank. So, the next time you require cash and forget to carry your debit card, remember these methods to complete your transaction hassle-free.