Royal Green Whisky is a premium Indian whisky that is known for its high-quality ingredients, smooth taste, and rich aroma. It is a well know product from the house of ADS Group. In this article, we will explore the world of Royal Green Whisky and what makes it a top choice for whisky lovers in India and beyond.
Royal Green Whisky is made using a unique blend of high-quality Indian grain spirits and imported Scotch malt whisky. The blend is carefully crafted by master blenders who use their expertise to create a perfect balance of flavors and aromas. The whisky is then aged in oak casks to give it a distinct flavor and aroma that is sure to please even the most discerning whisky drinkers.
One of the unique features of Royal Green Whisky is its packaging. The whisky comes in a premium bottle that is designed to reflect the heritage and tradition of India. The bottle is adorned with a royal emblem that symbolizes the elegance and sophistication of the brand.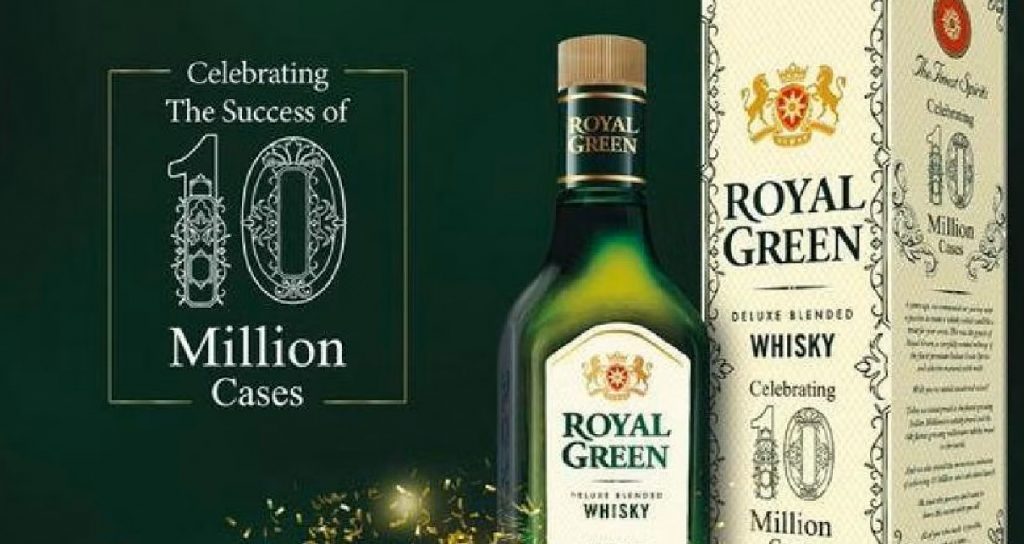 Royal Green whisky has achieved a major milestone in a sector of the market dominated by multinational corporations from elsewhere. The domestic label recently reported selling 10 million cases since its market debut in 2015.
The Maan family, first-generation entrepreneurs, established Royal Green to dominate the spirits business by offering high-quality drinks at reasonable prices. Royal Green, a blend of the most premium Indian grain spirits and imported scotch malts, is the product of a master blender's painstaking attention to detail and is intended for the most discriminating palates.
Royal Green had an immediate impact on the markets of Delhi and Haryana. The company's popularity throughout India has skyrocketed in a relatively short amount of time. This particular brand of spirits is now the standard bearer across 20 different states in India and is even exported abroad.
Available in 1L, 75cl, 37.5cl, 18cl, and 9cl bottles, Royal Green has an alcohol content of 42.8% V/V, which is on par with similarly sized products from competing companies. Because of differences in spirits taxation policies between Indian states and UTs, the price of Royal Green in India varies by region.
Royal Green has announced that in honour of this monumental achievement and as a gesture of gratitude to its faithful consumers, the company will launch a celebration marketing campaign, complete with a commemorative pack that will include exciting consumer goodies. In Delhi, Royal Green Whisky is available in private and government liquor shops.
| | |
| --- | --- |
| Country of origin | India |
| Area Served | India and abroad |
| Manufacturer | ADS Distilleries |
| Type | Whisky |
| Taste | tastes pleasant with a hint of sweetness and fruitines |
| Aroma | grassy notes |
| Official Website | adsdistilleries.com |
Pricing for The Royal Green Whisky in Delhi is as follows :-
| | | |
| --- | --- | --- |
| Brand | Volume | Price |
| Royal Green Whisky | 180 Ml | Rs 120 |
| Royal Green Whisky | 375 Ml | Rs 240 |
| Royal Green Whisky | 500 Ml | Rs 290 |
| Royal Green Whisky | 750 Ml | Rs 440 |