Rashtrapati Bhavan
Rashtrapati Bhavan, the official residence of the President of India, is an iconic and historic monument that stands as a symbol of India's rich heritage and democratic values. Located in New Delhi, this magnificent architectural marvel attracts thousands of visitors from across the globe. If you are planning to visit Rashtrapati Bhavan, it is essential to know about the visit timings, ticket price, and the process of online booking to make the most of your experience. In this article, we will provide you with all the necessary information you need to plan your visit to Rashtrapati Bhavan.
The Rashtrapati Bhavan welcomes the general public for visitation. It is accessible to visitors from Tuesday to Sunday, with the exception of Gazetted Holidays. Rashtrapati Bhavan remains open every week from Wednesday to Sunday except on government holidays. Every Saturday between 9am to 10 pm, there will be a Change of Guard ceremony at Rashtrapati Bhavan. For the general public, Rashtrapati Bhavan is divided into three parts, Circuit One, Circuit Two and Circuit Three.
Circuit One consists of the Main Building, Courtyard, Reception Hall, Navchara, Banquet Hall, Upper Loggia, Lutyens Grand Staircase, Guest Wing, Ashoka Hall, North Drawing Room, Long Drawing Room, Library, Durbar Hall, Lord Buddha Statue. Rashtrapati Bhavan Museum Complex in Circuit Two and the Change of Guard ceremony in Circuit Three.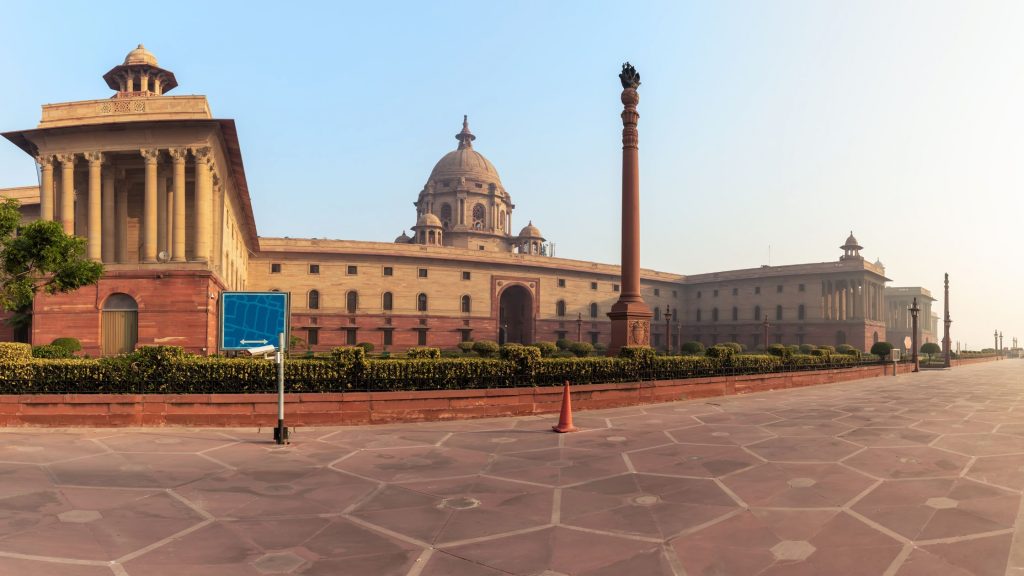 Timings to visit Rashtrapati Bhavan
Rashtrapati Bhavan is open to the public for visits except on certain government occasions or when high-profile foreign dignitaries are visiting. The public can generally visit on the following days and times:
Thursdays, Fridays, Saturdays, and Sundays: 10:00 AM to 4:00 PM
It remains closed on Mondays, and Tuesdays for maintenance purposes.
Please note that these timings are subject to change, and it is always advisable to check the official Rashtrapati Bhavan website or contact the authorities for any updates before planning your visit.
According to the official portal of Rashtrapati Bhavan, entry is allowed five days a week except Monday and Tuesday. For this, five slots will be available in the day, in which you can book slots between 10 am to 11 am and 11 am to 12 pm, 12 pm to 1 pm, 2 to 3 pm, and 3 to 4. There will be online booking for five-time slots of one hour each.
Ticket Price for Rashtrapati Bhavan
Visiting Rashtrapati Bhavan requires obtaining tickets. The ticket prices may vary based on the type of visitor and the specific tour you choose. As of my last update in September 2021, the following ticket prices were applicable:
Regular Visitors (Indian Citizens): Rs 50 per person
Visitors below the age of 8 years will be exempt from the payment of registration charges.
Regular Visitors (Foreign Nationals): Rs 500 per person
School Children: No entry fee (only for Indian school groups with prior booking)
Visiting Officers on Government Duty: No entry fee (with permission and prior intimation)
Please keep in mind that ticket prices and policies are subject to change over time, and it is recommended to check the official website for the most up-to-date information.
Online Booking  for Rashtrapati Bhavan
To ensure a hassle-free experience and avoid disappointment, it is highly recommended to book your Rashtrapati Bhavan tour tickets online. Online booking offers several advantages, including the convenience of choosing the desired date and time of your visit, avoiding long queues at the ticket counter, and securing your spot in advance.
The steps for online booking are as follows:
Visit the official website of Rashtrapati Bhavan.
Look for the "Online Booking" or "Visitor's Information" section on the website's homepage.
Register yourself as a new user or log in if you already have an account.
Select the date and time slot for your visit from the available options.
Choose the type and number of tickets required (Indian citizen or foreign national).
Complete the payment process using the available payment methods (credit/debit card, net banking, etc.).
Once the booking is confirmed, you will receive an email or SMS with your e-ticket.
Take a printout of the e-ticket or save it on your smartphone to show at the entry gate on the day of your visit.
Process of Booking Rashtrapati Bhavan Online
To visit Rashtrapati Bhavan, online booking has to be done in advance. This registration is absolutely free.
To register, you will have to visit Rashtrapati Bhavan's website rb.nic.in or http://rashtrapatisachivalaya.gov.in/rbtour/.
On the homepage of the website, you will see the Plan Your Visit tab in the top line on the right side.
By clicking here, the calendar will open in front of you and the option of Book Now will be visible in all the three circuits on the right side.
In this, you can select any one and make a booking by selecting the date according to you.
After getting the registration done, when you go to Rashtrapati Bhavan, along with the registration number, you will also have to show your photo identity card.
A visit to Rashtrapati Bhavan is an unforgettable experience, allowing you to witness the grandeur and magnificence of one of India's most prestigious landmarks. By knowing the visit timings, ticket prices, and following the online booking process, you can ensure a smooth and enjoyable visit to this architectural masterpiece. Make sure to check the official website for any updates or changes in the visit schedule or ticket prices. So, plan your visit, soak in the historical significance, and marvel at the architectural brilliance of Rashtrapati Bhavan.
Important Tips
Remember to carry a valid photo ID proof for verification at the entry gate.
It is advisable to reach the venue well in advance to go through security checks and avoid any last-minute rush.
Follow the dress code guidelines, which typically include wearing modest and comfortable attire.
Photography may be restricted in certain areas, so be mindful of the guidelines and avoid taking pictures where it is not permitted.