Paul John Whisky
Paul John single malts, a golden spirit of brightness from John Distilleries, originate straight from the tropical coasts of Goa, on the west coast of India.
John Distilleries was founded in 1996, and in less than a decade it became a preeminent producer of spirits not only in India but all over the world. The company, which operates under Mr. Paul P. John's able direction, possesses a formidable portfolio of brands across beverage categories. Paul P. John, motivated by a desire to do things differently, penetrated the whisky industry's upper echelons in search of a niche for his Paul John Indian Single Malts.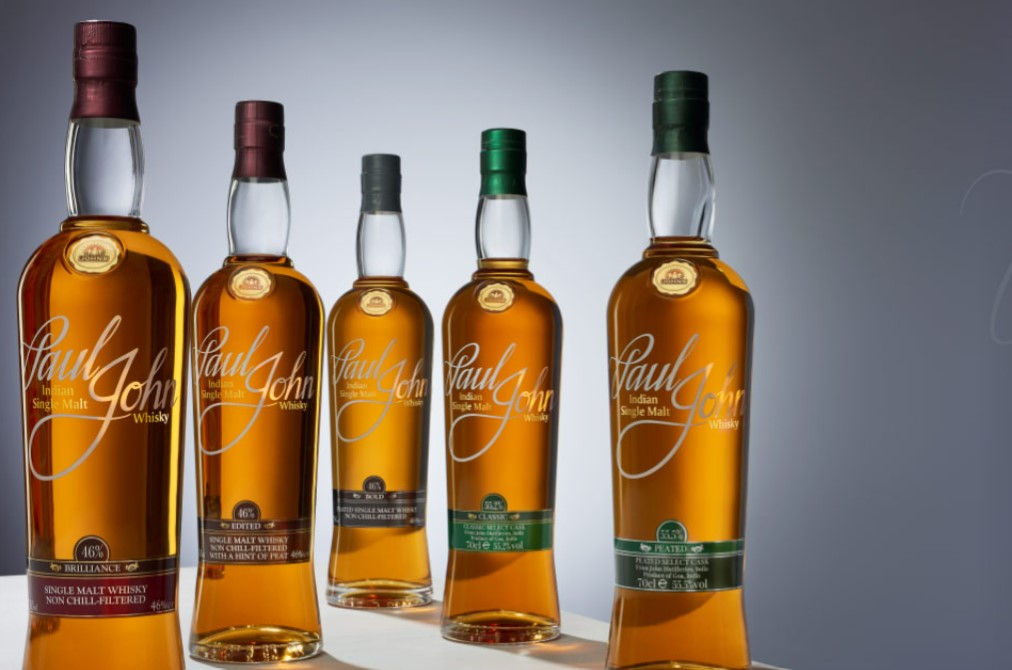 John Distilleries was founded in 1996 and has since become a preeminent Alco-Bev producer in India and beyond. The corporation has a wide variety of alcoholic beverage brands under its control, such as whisky, brandy, rum, premium wine, and single malt. Original Choice, the company's flagship brand, is consistently one of the best-selling whiskies in the world and one of the top 10 selling whiskies in India, where annual sales of the product surpass 11 million cases. With production in 12 different facilities across 8 different states in India, the company ranks #4 in terms of the total volume produced in India's alcoholic beverage industry. Paul John malt factory could not have been located in a more ideal place than Goa, with its beautiful beaches, delicious cuisine, and friendly locals.
Shortly after their 2012 UK debut, Paul John Single Malts were widely hailed as superior to whiskies from other countries, including Scotland. Single-malt aficionados' praise and a plethora of international accolades attested to our superiority. We were inspired to export our single malts worldwide after receiving positive feedback from single malt connoisseurs. There are now 38 countries and 8 Duty-Free Stores that stock Paul John Single Malts.
Paul John Whisky Price in Delhi
In Delhi and Gurgaon, Paul John Whisky is available in private liquor shops, Duty Free shops at Airport (Terminal 3/ T3) etc.
| | |
| --- | --- |
| Name/Volume | Price in Delhi |
| Paul John Whisky 750 Ml | Rs 3800 |
There are five members of the brand's expression family, and there are also occasional limited-edition releases that have won prestigious awards. Two Select Cask expressions, Classic and Peated, and three flagship expressions, Brilliance, Edited, and Bold, make up the portfolio. The first in our Zodiac Series, Kanya, was designed by Paul John, and it joins limited editions of Oloroso and Mars Orbiter. All of our expressions have an alcohol content of 46.0% or above, are unfiltered, and contain no chill filtration, colouring, or flavouring. Our single malts have garnered widespread recognition and numerous prestigious international accolades at home and abroad.
The Paul John Indian Single Malts, born on the steamy shores of Goa, are crafted with care using only the finest locally sourced ingredients. The tropical climate in Goa provides the optimum conditions for the whisky to age to perfection. Paul John Indian Single Malts are the result of a meticulously observed process that begins with the crushing of grains and continues through fermentation, distillation, ageing, vatting, and finally bottling. There are no additions or chill-filtration in Paul John Indian Single Malt.