India's education system is on the brink of a major transformation with the introduction of the National Education Policy (NEP) 2020. The policy proposes a comprehensive set of measures aimed at making the education system more relevant, equitable, and effective, and equipping students with the skills and knowledge they need to succeed in the 21st century. In this article, we will explore the different aspects of the policy, its potential impact on India's education system, and the challenges and opportunities it presents.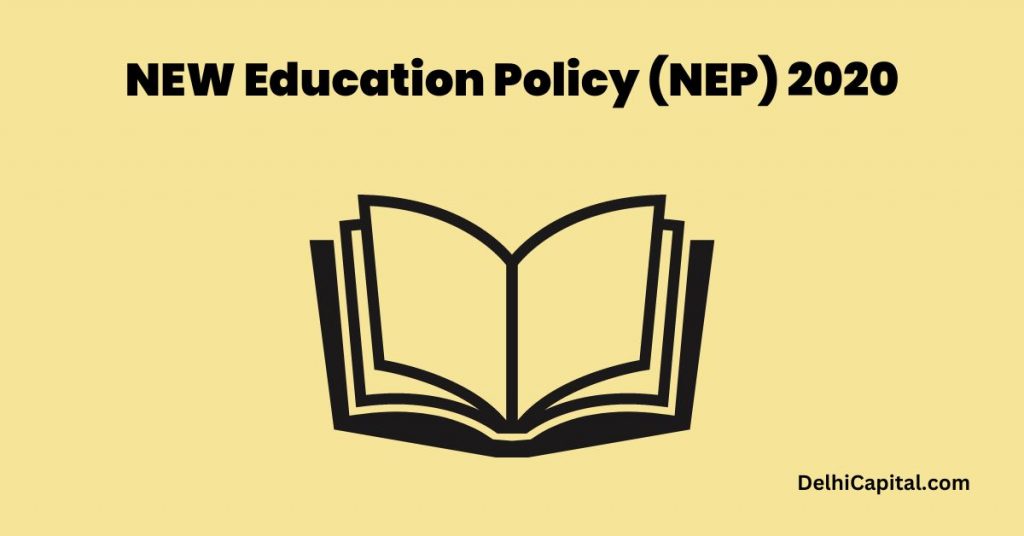 NEP 5+3+3+4 Education System: The National New Education Policy of 2022
Under Prime Minister Narendra Modi's direction, the Ministry of Human Resource Development (MHRD) issued the National New Education Policy. After being approved by the Union Cabinet, the National Education Policy 2020 was published on July 29 of that year.
To help it become a world power, India plans to overhaul its educational system. The recent adjustments put an end to a policy that had been in place for the previous 34 years in schools. The new system, which is currently being rolled out, places a premium on distance education, extended school days, and a departure from memorization.
The Indian Government's Proposed New Education Policy for 2022
The Government of India released its New Education Policy in July 2020. It's the first big reform in India's school system in more than three decades. It's a new policy that's meant to take the place of 1986 one. Access, Equality, Quality, Affordability, and Accountability are the five cornerstones of the New Educational Policy 2022. With a focus on underserved populations, the New Education Policy seeks to improve educational opportunities for all students. Skills appropriate to the twenty-first century, such as originality, analysis, and problem-solving, are emphasised. New institutions, such as internet universities, and the use of technology to aid students in their education were also advocated under the policy. A major shift brought about by the New Education Policy is the replacement of the old 10+2 system with the newer 5+3+3+4 system. Education under the new system will be more adaptable and comprehensive, with an emphasis on foundational knowledge, analytical reasoning, and practical experience.
India's new education policy aims to increase research and innovation, boost the quality of education, and make it more accessible to more people in order to make the country a global knowledge superpower. The NEP 2020 also has a goal of raising the GER in postsecondary institutions to 50% by 2035, up from the current rate of about 26% in 2019.
The new education strategy 2022-23 in India places a far heavier focus on adaptability, critical thinking, and skill building than previous policies. It is hoped that by making these adjustments, the next generation of Indians will be better equipped to take advantage of the many opportunities presented by the 21st century.


The goal of India's new education policy is to ensure that all of the country's kids have access to a good, fair education. 
Salient features of New Education Policy (NEP) 2020
• The policy's core goal is to ensure that all children aged 3 to 18 have access to a high-quality, reasonably priced education.
• It promotes interdisciplinary and integrative learning above memorization. Grades will no longer be based on how well students memorise facts, but on how well they apply those facts to real-world scenarios.
• It stresses the importance of teaching in three languages (local, Hindi, and English) in schools.
• Instruction in the first five grades will be provided in regional languages rather than English to make learning those languages more accessible to students.
• More fundamental ideas and skills have been incorporated into the educational curriculum.
• The policy focuses primarily on the application of technology to the improvement of educational opportunities and outcomes.
• All children, regardless of where they live, should have equal opportunity to a good education, according to this system's stated goals.
• The policy offers a number of initiatives, including required teacher eligibility examinations, teacher professional development programmes, and primary, secondary, and higher education teacher education programmes, to enhance the quality of teaching.
• The policy prioritises providing students with technical and vocational training so that they will be more employable upon graduation.
• The plan suggests establishing a National Higher Education Regulatory Council to manage rules for colleges and universities.
The policy's other stated goals include increasing institutional freedom and facilitating student transfer across schools. This means that the rules for both public and private universities will be uniform.
• Instead of the current 10+2 system, the new 5+3+3+4 structure will be implemented as a result of this policy.
• The goal is to double the percentage of people enrolled in postsecondary institutions by 2035.
• The government has stated that, with the exception of the medical and legal colleges, all HEIs will be overseen by a single regulator. Higher education institutions (HEIs) now report to the Office for Students.
• The Master of Philosophy (MPhil) degree programme will become optional.
Radical Educational Policy Changes
• School board exams will be revised to be more holistic and developmental for students in grades 10 and 12. The new national evaluation platform, PARAKH. Students will be able to evaluate their progress and identify areas in which they might improve.
• The new system will work to improve the use of mother tongue and regional languages in the classroom. You can use it if you're in the first five grades.
• The government's goal of emphasising regional or national dialects will be reflected in this strategy.
• In the secondary and tertiary levels, Sanskrit will be offered to all interested students in three different language formats. Grade 6, often known as middle school, will mark the introduction of vocational education into the formal school curriculum. The vocational education programme will also include internship opportunities.
• Classical languages and works from India will soon be an option.
• Students enrolled in such programmes will have the option of concentrating their studies in whatever language they like, as well as selecting specific courses within each language. Students in other fields, such as STEM (science, technology, engineering, and mathematics), face the same challenges.
• Course selections in higher education will become more open-ended. All pupils will have a number of entry and exit options.
• The duration of an undergraduate degree programme is typically between three and four years. One year of service is the bare minimum needed to earn a certification. However, students have the option of taking an alternative path, such as earning a B or a two-year advanced Diploma. Tech. degree rather than wasting time on irrelevant material, the new system would drill the most crucial concepts into pupils' heads.
• In the field of education, researchers are exploring methods to replace memorization with understanding. The activities encourage analysis, research, debate, and instruction. In addition, they will take into account the requirements of pupils with special situations.
• A digital incentive for academic achievement will be established in the form of the Academic Bank of Credit (ABC). ABC can be used to validate a school's credit hours or to acknowledge and award pupils. Keeping a record of the credits each student has earned can be useful.
• The New Educational Philosophy (NEP) argues that education should be holistic, enjoyable, stress-free, and ongoing.
• The National Education Policy (NEP) emphasises instruction that is based on analysis and the development of the whole child.
• Higher education will have streamlined but stringent rules.
• Prioritize online education to provide students with a world-class education. The new approach will allow students more freedom of schedule and location through the widespread use of online learning.
• By 2040, it is expected that all colleges would provide courses in many disciplines and enrol 3,000 students or more.
• Gradual elimination of mandatory college enrollment is imminent (the next 15 years).
By the year 2030, there should be a large, multifunctional higher education institution (HEI) in or near every municipality.
• This is one approach to fostering greater community involvement and development in our educational institutions. The objective is to help bring about the universal literacy of both young people and adults.
The National Education Policy 2020: A New Direction in Education (NEP 2020)
The Government of India has released new rules and suggestions for the education system in India called the New National Education Policy 2020.
The goal of India's New National Education Policy (NEP 2020) is to make the country a world leader in education by raising standards across the board, from pre-K to university.
The NEP 2020 also highlights the need for pupils to acquire 21st century abilities including critical thinking, creativity, and problem-solving.
A new National Curriculum Framework, National Education Commission, and National Testing Agency were all proposed in the New Education Policy as ways to improve the educational system and bring about the desired outcomes.
2020's New Education Policy Will Implement a 5-3-2-4-5 School System. The current 10+2 system will be replaced with the new 5+3+3+4 structure, as outlined in the New Education Policy 2020. The first five years of this plan's schooling will concentrate on building a solid academic foundation, followed by three years of elementary school, three years of middle school, and four years of high school.
The 5+3+3+4 Educational Reform
India's new school system in the year 2020 uses a 5+3+3+4 configuration of grades. The previous education structure in India was the 10+2 system, hence the transition to the 5+3+3+4 structure was a big one. Students will spend more time in school under the new system, but they will spend fewer years at each level.
Here's a rundown of the new school system in all its glory.
First, Crucial Step (5 years)
A child's first five years of schooling are included in the foundation stage. Anganwadi, Balvatika, and other community-based nurseries will serve as classrooms for the first three years of a child's formal education.
The last two years of elementary school will focus on building foundational skills and knowledge through multi-levelled play and activity-based instruction.
First Steps (3 years)
Between the ages of 8 and 11, children will be in the preparatory stage, where they will lay the groundwork for their education by studying the fundamentals of reading, writing, and arithmetic. Students' conceptualization of diverse subject matter areas will be bolstered by the preparatory phase.
In the midst of (3 years)
Those aged 11 to 14 make up the transitional stage. Reading, writing, and other foundational skills in the English language are among those that pupils are required to master throughout this period. They will also be expected to learn how to work together effectively, solve problems creatively, and think critically.
Subsequent Level (4 years)
Ages 14–18 will make up the secondary level. By this point, pupils should have a firm grasp of the fundamentals of English, Arithmetic, Science, and Social Studies.
They will also be able to pick from a variety of electives, such as foreign languages, the arts, and vocational studies. The secondary level of education is intended to equip students with the foundational information and competencies necessary for success in higher levels of study or for entry into the workforce. The New National Education Policy Brings Radical Alterations. The Indian school system has undergone major reforms as a result of the new National Education Policy.
Among the most noticeable alterations in New Education Policy
1. Uniform Rules Throughout All Educational Levels
Class 5 kids are included in the population that will benefit from India's new education policy (NEP). The goal of the strategy is to improve educational opportunities for all pupils, including those who may have been excluded in the past.
Schools and universities are actively seeking strategies to increase enrollment and decrease attrition rates. This may entail providing a range of official and informal educational options.
Free open education and open learning will be made available to students in grades 3, 5, and 8 as part of NEP 2020. There will be no costs associated with attending grades 10 through 12 of secondary school. To help boost pupils' employability, the NEP also mandates the inclusion of vocational classes in the regular school curriculum.
2. Changes to the Early Childhood Education and Care Curriculum
India's early childhood education curriculum was revamped under the country's new education policy (NEP) (ECCE). The policy stresses the significance of delivering high-quality ECCE to children between the ages of three and six, as this time period is crucial for the child's growth and development.
The new ECCE curriculum places an emphasis on delivering a well-rounded education that fosters children's physical, social, emotional, and cognitive growth through play. Storytelling, music, art and craft, games, sports, and time spent outside or in nature are all a part of this category. The curriculum also promotes instruction in the mother tongue or the local language, as studies have shown that this helps children learn more effectively.
Standards for centre infrastructure, instructor qualifications, and student-to-teacher ratios are all things that the new ECCE curriculum hopes to improve upon across the country. It also stresses the value of community and parental involvement in the early education of children.
Many modifications to the current school system are planned by the new education policy in 2020. Below is a breakdown of some of the more notable shifts:

• Under the new strategy, the outdated 10+2 system of schooling has been replaced with a more flexible 5+3+3+4 system.
• The new policy has reshaped the curriculum to place an emphasis on pupils' all-around growth.
• The early childhood education and care infrastructure, including Anganwadis and Kindergartens, would be improved.
• Staff at Anganwadis and kindergarten teachers will receive training in age-appropriate curricula and instructional strategies. Vocational training and skill improvement are also emphasised in the new policy.
Students will no longer be required to enrol in courses from a single academic track under the new regulation.
The policy's overarching goal is to lower tuition costs and expand access to higher education.
• NCERT will develop an all-inclusive plan for ECCE programmes serving children under the age of eight.
• Human Resource Development, Health and Family Welfare (HFW), Women and Child Development (WCD), and the Tribal Affairs Ministry will be responsible for coordinating preschool programmes.
These are just a few of the many reforms that are expected to drastically alter India's educational system. All educators, together with parents, students, and the government, will need to work together to make these adjustments. But, if implemented well, they might greatly enhance the quality of education for children in India.
3. Target Primacy Literacy
The NEP places a heavy focus on making sure all students graduate high school with solid literacy and numeracy foundations. It acknowledges the importance of these abilities for students' future academic and professional success. The NEP also stresses the significance of teaching kids to read and write well, two skills that are essential to their success in college and throughout their lives.
The NEP proposes numerous measures and efforts to aid in the growth of literacy and numeracy abilities, such as:

i. The NEP suggests focusing a lot of energy on reading and writing in the first several years of school, particularly on teaching phonemic awareness and phonics.
ii. The National Education Policy (NEP) values multilingualism in India, highlighting the necessity of teaching young children through their native language. Because of this, kids will have a higher chance of mastering their native tongue and expanding their linguistic horizons.
iii. The NEP suggests introducing programmes of remedial education to help pupils who are having difficulty with reading and numeracy. These initiatives will make sure that no student is ever left behind and that everyone has a fair shot at success in school.
4. Modifications to the Methods Used to Find New Teachers
Many shifts in how teachers are selected for classroom positions have resulted from the New Education Policy (NEP) 2020.
Among the most significant alterations that will most likely be made are:
i. The NEP 2020 places a premium on students' overall growth and the instructors' responsibility to foster that growth in their classrooms. Teachers will be selected for their intelligence and other desirable traits such as those related to communication, critical thinking, creativity, and emotional intelligence.
ii. The NEP 2020 has implemented the National Professional Standards for Teachers (NPST), which are the nationwide baseline for educator quality. The NPST lays out the expectations for instructors across all grade levels. These criteria will be taken into account during the hiring process.
iii. Use of Technology to Increase Efficiency and Openness in Hiring is strongly encouraged by the NEP 2020. The use of technology in this context may include posting job openings and accepting applications online, as well as evaluating applicants' qualifications.
iv. The NEP 2020 also proposes substantial modifications to current methods of teacher education and preparation. More extensive and up-to-date teacher education programmes, as well as chances for continued professional development, could be part of the solution.
v. The NEP 2020 stresses the significance of evaluating and holding teachers accountable for their work. Candidates' qualifications, experience, and potential to address students' needs may be given greater weight in the recruiting process.
Alterations to College Curriculum in Light of New National Education Policy
1. Increase in GER by 50%
The goal of the NEP (New Education Policy) is to raise the GER (Gross Enrollment Ratio) from its current level of 26.3% to at least 50%. More students and more classroom space at universities would be needed to implement this idea successfully.
2. Multidisciplinary Approach to the Core Curriculum
The policy allows students greater freedom in their course of study, subject selection, and ultimately their ability to graduate with a recognised degree. Undergraduates can now tailor their educational experience to complete their degree in as few or as many years as they like. The length of time a user has had a licence determines what kind of licence they have. Depending on the duration of the licence, the annual fee will vary. A licence for the first three years will be provided at no cost, while the fourth year will cost money.
3. Policies or Procedures
Board, Interim Committee, Academic Council, and Technical Committee make up India's Higher Education Commission. The Temporary Committee will be led by the Indian Prime Minister. Seven of the fourteen total members will be chosen by popular vote. All public educational institutions will report to the Board. The day-to-day operations of the Board will be handled by the Interim Committee.
4. Institutional Design that Makes Sense
To make sure that every part of the system is working towards the same end—achieving the NEP 2020's stated goals—it suggests a more streamlined structure for educational institutions. All institutions of higher education, with the exception of those providing medical or legal training, will be subject to oversight by the National Higher Education Regulatory Authority (NHERA) under this framework. All India Council for Technical Education (AICTE), National Council for Teacher Education (NCTE), and the University Grants Commission (UGC) will be merged into the National Higher Education Regulatory Authority (NHERA).
Accreditation, quality assurance, and the promotion of research and innovation will all fall under the purview of the National Higher Education Regulatory Authority (NHERA). To ensure that all HEIs are legitimate, NHERA will collaborate with the National Accreditation Board (NAB). Standards and procedures for quality assurance in higher education will be developed by NHERA. Moreover, NHERA will encourage research and innovation in higher education by creating policies and initiatives to that end.
Synopsis of the New Education Policy for 2020
The New Education Policy (NEP) 2020 is an all-encompassing plan for improving India's educational system. Key elements of the NEP 2020 include the following:
1. According to NEP 2020, teaching students to think critically, and creatively, and problem-solving is a top priority. This is why the plan emphasises a comprehensive and multidisciplinary approach to education.
2. The plan intends to increase access to higher education for all citizens. This will be accomplished by expanding access to high-quality education in regional languages, fostering the integration of technology into the classroom, and lowering entry barriers to universities.
3. The NEP 2020 aims to revamp the whole educational system, from primary schools to universities.
4. By establishing a National Testing Agency to administer standardised tests and encouraging teachers to continue their own professional development, the strategy seeks to strengthen and increase accountability throughout the school system.
5. The National Education Goals 2020 (NEP 2020) intends to encourage entrepreneurial and innovative thinking, as well as transdisciplinary and practical learning.
6. The policy's stated objective is to "internationalise" the educational system by bringing in more foreign students, faculty, and ideas.
7. To ensure that the NEP 2020 is effective and adapts to the requirements of the country, its proponents propose to establish a National Education Commission (NEC).
The National Education Policy 2020 (NEP 2020) seeks to modernise India's educational system so that it is more accessible to a wider range of students, addresses their needs as individuals, and adapts to changes in the economy and society.
FAQs
1. Exactly what does NEP stand for?
NEP stands for "National Education Policy," which is its full name.
2. A complete NPE occurs when.
National Policy on Education is NPE in its full form.
3. Which NEP acronym best describes NCPF?
National Pedagogical and Curricular Framework for Early Care and Education is the full form of NCPF in NEP.
4. New Educational Policy was conceived by whom?
The Ministry of Human Resource Development convened a nine-person panel group to formulate the National Education Policy 2020. Dr Krishnaswamy Kasturirangan, a former chairman of the Indian Space Research Agency, presided over the panel.
5. Who serves as the National Education Policy 2022 chairman?
Dr K. Kasturirangan, formerly the head of the Indian Space Research Agency and the University Grants Commission, is the policy's chairman.
6. Who exactly are the people who make up the NEP Committee?
Dr Krishnaswamy Kasturirangan became the leader of the NEP Committee. Members of the NEP Committee include Shri. Shri. Manjul Bhargava, of Princeton University in the United States. Director of the LPSC, Shri. K.J. Alphonse. Shri. Ram Shankar Kureel, a former director of the National Remote Sensing Center. Shri. K.M. Shanmugam, formerly of ISRO and the Department of State. Dr Vasudha Kamat, Director, ISRO Satellite Centre; Dr M. K. Shridhar, Chairman, Physical Research Laboratory; Dr Mazhar Asif, Director, Space Application Centre (SAC); Dr M. K. Shridhar, Former Secretary, DOS and Secretary, Ministry of Earth Sciences; Dr Vasudha Kamat, Director, ISRO Satellite Centre; Dr M. K. Shridhar (ISAC).
7. When did India implement the new NEP levels of education?
The new National Education Policy (NEP) in India establishes a hierarchical framework for formal education across four distinct phases. Preschool and the first two years of elementary school make up the first, or "foundational," stage. Grades 3-5 make up the second phase, known as the Preparation Phase. Grades 6 through 8 make up the Middle Level. Secondary schooling is the fourth level and includes grades 9 through 12.
8. When will the New Education Policy for 2020 take effect?
There will be a staggered rollout of the New Education Policy 2020, with the first phase beginning in 2021 and wrapping up in 2025.
9. In which state will the new educational policy be implemented first?
In early August of 2021, Karnataka became the first state in India to adopt the new education policy.
10. What is the name of the National Education Policy for the year 2021.
The year 2020 has two names: New Education Policy 2020 and New Education Policy 2021. The ultimate goal is to have India's university system unrivalled worldwide. In place of memorization, NEP 2020 prioritises integrative and interdisciplinary education. India's higher education system is one of the weakest in the world, but the country's new National Education Policy 2021 wants to change that.
11. How does the planned NEP's pedagogical framework work?
The pedagogical framework proposed for the NEP is based on the ideas of "learning by doing," "learner-centricity," and "active learning," all of which aim to get students involved in their own education and to encourage them to think critically and come up with creative solutions to issues.
Facilitators in the form of teachers will lead pupils through the educational process. This format is in line with what we know about how people learn best now. In addition, this strategy is consistent with the government's plan to make India a "Knowledge Powerhouse."
12. In the New Education Policy 2020, what exactly is Vocational Education?
Vocational training is promoted under the New Education Policy 2020 as a means of equipping students with marketable skills. The strategy stresses the need of giving students the freedom to select a vocational education programme that is a good fit for them.
13. What are the Drawbacks of the 2020 Education Reform Plan?
Many in the education community, including teachers and parents, are unhappy with the new 2020 education strategy due to its many flaws. The policy's language enforcement measures have been widely criticised. Under the new rules, students must study not just Hindi and English but also their native tongue. Because of this, there have been a lot of back-and-forths as academic institutions try to locate trilingual instructors.
The new policy's delay in introducing English instruction is a major drawback. English has replaced Hindi as the most common second language taught in schools. Those pupils whose goals include advanced English study or professional use of the language will be hampered by this setback. At long last, the new education policy for 2020 places an emphasis on online education. More time in front of screens is bad for students' health, both physically and mentally. It also suggests that pupils from low-income backgrounds may not receive an equally high-quality education due to a lack of access to appropriate educational resources.
14. Is New Education Policy eliminating the 10th Board?
True, the New Education Policy now only includes nine boards instead of ten. The purpose of this is to enhance the learning process. The board is unnecessary, and the curriculum should focus first and foremost on what motivates individual students.
The government mandated both Honors and General tracks, giving students a wider range of electives from which to pick. Honours students are encouraged to follow their individual passions in class. In addition to academic subjects, the government has funded students' participation in vocational training programmes. In today's competitive job market, these classes are essential.
15. Where Can College Freshmen Find Out About the Latest Educational Plan?
The goal of the new education policy is to provide college students with marketable skills and knowledge. The policy places a premium on providing students with an education that will help them succeed in their chosen fields and allow them access to internships and other forms of work-based learning. The proposal also promises to increase support for students who are failing academically and to enhance the quality of teaching in universities. In general, the new education strategy is meant to better equip college students to face the demands of modern business.
16. In search of the New Education Policy 2022 Pdf file.
All of the rules and regulations are available for perusal and download right here.
17. When did India's earliest education policy come out?
The government of Prime Minister Indira Gandhi issued India's first education policy in 1968.
18. When did the updated National Education Policy become available?
In 1986, then-Prime Minister Rajiv Gandhi unveiled the Second National Education Policy.
19. The Indian government has how many education policies?
To date, India has implemented four separate educational policies. The initial policy was created in 1968, and a new one was established in 1986. The year 1992 saw the creation of the third policy, with 2020 ushering in the fourth.
20. Where does Indian education currently stand?
India now uses a 10+2 system as its minimum educational requirement. Currently, India's 10+2 system is broken down into several tiers:
The youngest students, those in kindergarten and preschool, attend the Pre-Primary level. Students in grades 1 through 5 (6-10 years old) are welcome at the Primary level. The secondary level consists of grades 6 through 8 and is intended for students ages 11 to 15. Upper secondary is the fourth and final level, and it's for students in grades 9 through 12. Undergraduates (those between the ages of 19 and 22) make up the fifth and final level. Postgraduate students (those between the ages of 23 and 26) make up the sixth and final tier.