MotoGP Bharat 2023
Prepare yourself for an exhilarating display of speed! India is getting ready to host MotoGP event – the awe-inspiring MotoGP Bharat. Witness the electrifying excitement as the world's finest riders engage in intense competition on the renowned Buddh Circuit, all in pursuit of ultimate victory.
Get ready for an exhilarating journey spanning over 5 kilometers, featuring 15 corners and an adrenaline rush that will leave you yearning for more. Secure your tickets now and buckle up for a rollercoaster ride that will keep your heart racing and your spirits soaring!
MotoGP Ticket Price and Online Booking
After a long period of anticipation, tickets for the MotoGP Bharat event are now officially accessible for purchase. These tickets can be obtained through the BookMyShow platform, with pricing options spanning from Rs 800 to Rs 1,80,000, catering to a total capacity of approximately 100,000 seats at the Buddh International Circuit.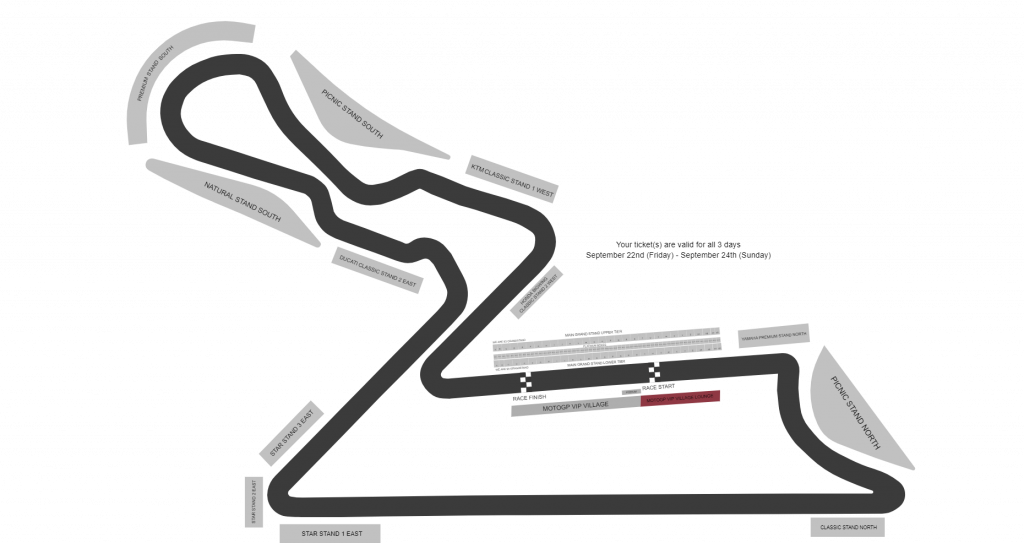 The most budget-friendly seating options will be priced at less than Rs 10,000, while tickets for the main grandstand will be available within the range of Rs 20,000 to Rs 30,000. Additionally, there is a 'Platinum Corporate Box' seating category offered at a rate of Rs 40,000. For a comprehensive breakdown of seat pricing in various sections around the race track, you can refer to the details provided on the BookMyShow platform.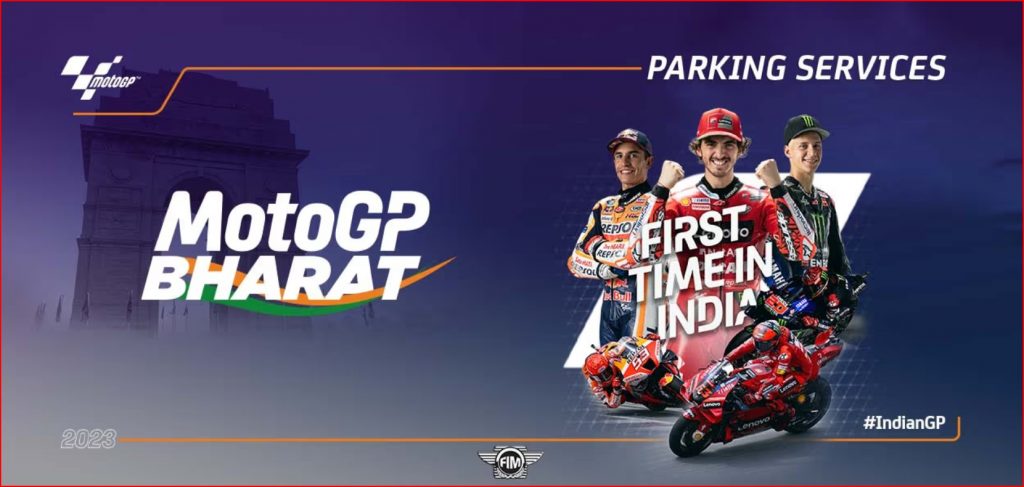 MotoGP Venue
The ticket provides attendees with the added benefit of admission to the Moto2 and Moto3 races scheduled throughout the weekend. MotoGP India will be hosted at the Buddh International Circuit, a 5 km long track located in Greater Noida, Uttar Pradesh.
MotoGP Dates
MotoGP has officially initiated the ticket sales for its inaugural event in India, known as the Grand Prix of India, scheduled to run from September 22nd to 24th, 2023. Initially, ticket sales were exclusively available to pre-registered users, but now, the general public can also access and purchase tickets through the BookMyShow website and app.
Your tickets will grant you access to the entire three-day event, from the 22nd of September (Friday) to the 24th of September (Sunday). Please ensure that you have your physical ticket in your possession for entry, as access will not be granted without it.
MotoGP Bharat has made special seating arrangements at the Buddh International Circuit for fans with varying abilities who will be utilizing wheelchairs. These tickets will be available in limited quantities and can only be acquired at box office counters on a first-come-first-served basis. To secure these tickets, individuals must present their original disability certificate at the box office. Additionally, fans who obtain these tickets will be required to bring their own wheelchair for use during the event.
FAQs
Question Is this race an official part of the MotoGP calendar?
Answer Absolutely, it marks the 13th race on the 2023 MotoGP Calendar.
Question Has MotoGP ever taken place in India before?
Answer No, this is the inaugural MotoGP event in India.
Question What is the name of the race?
Answer The race is named "MotoGP Bharat."
Question When are the race dates?
Answer The race spans over three days, from the 22nd to the 24th of September 2023 (Friday to Sunday).
Question What are the event timings?
Answer The schedule is as follows: Friday – 9 AM to 4 PM, Saturday – 8:40 AM to 5 PM, and Sunday – 9:45 AM to 3:45 PM.
Question How many teams and riders are participating?
Answer There are an impressive 42 teams and over 80 riders across all categories, including MotoGP, Moto2, and Moto3.
Question Can you provide the names of the riders and teams?
Answer For the detailed list of riders and teams, please refer to "MotoGP Riders & Teams."
Question Are tickets required for all three days?
Answer Tickets will be available as a 3-day package, granting access to all three days. Please ensure you don't misplace your ticket pass. Additional information will be shared soon.
Question What are the ticket prices and available stands?
Answer Ticket prices start from Rs.800, and various stands will be accessible.
Question Will parking be available?
A11: Yes, paid parking facilities will be provided throughout the circuit.
Question Will food, water, and beverages be accessible?
Answer Yes, you can find these amenities at concession stalls near general stands and within hospitality areas.
Question Do the stands offer shade or cover?
Answer Some stands, such as corporate boxes, paddock, main grandstand, and premium stands, provide shade or cover.
Question Will there be shuttle services around the circuit?
Answer Certainly, shuttle services will be in operation around the track.
Question Are there entertainment zones and music?
Answer Absolutely! There will be entertainment fan zones with engaging activities, merchandise, music, and interactive experiences. Stay tuned for announcements regarding additional acts and events.
Question Is re-entry allowed to the seating areas?
Answer Yes, spectators can leave their seats to enjoy the entertainment fan zones and then re-enter the seating areas as needed.