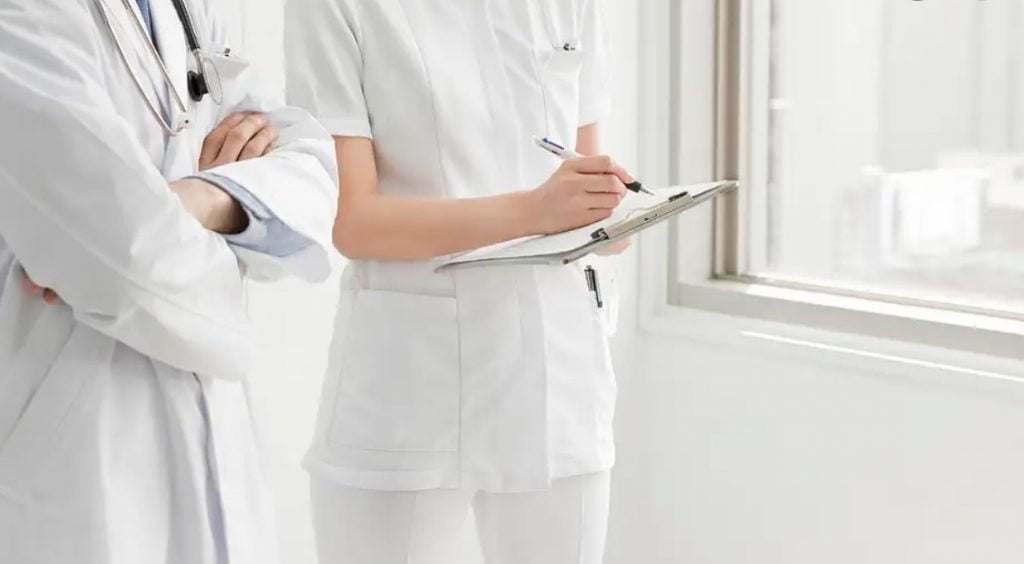 The nursing colleges in Delhi offer a wide range of courses such as general nursing, midwifery, and pediatric nursing. The students can choose the course that they want to pursue according to their interest and career goals. Delhi has many nursing colleges that offer quality medical education. These colleges are affiliated with some of the best medical universities in the country. The students who take admission in these colleges get an opportunity to learn from the best faculty members.
Courses particularly offered are as follows :-
B.Sc. (Nursing)

M.Sc. (Nursing) (Post Certificate)

B.Sc. (Hons.) (Nursing)

A.N.M. (Nursing)

Diploma in General Nursing and Midwifery (G.N.M.)

Certificate Course in Nursing Assistant

P.B.B.Sc. (Nursing)

Certificate in Care Waste Management (CHCWM)

Certificate in Maternal and Child Health Care (CMCHC)

Ph.D. (Nursing)
The nursing colleges in Delhi provide excellent facilities and infrastructure for the students. The classrooms are well-equipped with all the latest teaching aids and technology. The libraries have a rich collection of books and journals related to nursing.
List of Nursing Colleges in Delhi
Name
Address
Courses
offered
All India Institute of Medical Sciences – AIIMS Delhi
Ansari Nagar, Aurobindo Marg,|
New Delhi
Ph.  (011) 26588500, 26588700

M.Sc. (Nursing)
B.Sc. (Nursing) (Post Certificate)
B.Sc. (Hons.) (Nursing)

Ahilyabai College of Nursing
Lok Nayak Hospital, Jawahar Lal Nehru Marg, Delhi
Ph. (011) 23231621
Akansha Institute of Nursing
RZ-C-117, Gopal Nagar, Najafgarh,
New Delhi
Ph. (011) 28012349

A.N.M. (Nursing)
Diploma in General Nursing and Midwifery (G.N.M.)

Amity Nursing College
AKC House – E-27, Defence Colony,
New Delhi
Ph (011) 24621960, 2469970
Apollo School of Nursing
 Indraprastha Apollo Hospitals, Mathura Road, Sarita Vihar, New Delhi
Ph  (011) 26825580, 29871693
Baba Haridass Institute of Nursing Education
Jharoda Kalan, Najafgarh, (Near CRPF Centre, On Najafgarh – Bahadurgarh Road), New Delhi
Ph  (011) 25315575

Diploma in General Nursing and Midwifery (G.N.M.)
A.N.M. (Nursing)

Delhi Institute of Technology and Paramedical Sciences
D-237, Vivek Vihar, Delhi
Ph 8447629028, 8130422316

Diploma in General Nursing and Midwifery (G.N.M.)
B.Sc. (Nursing)
Certificate Course in Nursing Assistant
A.N.M. (Nursing)

Delhi Institute of Technology and Research – DITR
D-70, Nathu Colony 100 Feet Main Road, School Block, Near Railway Flyover Pillar No. 13, Sahadara, Delhi
Ph. (011) 65925301, 2212213

Diploma in Nursing Assistant
Certificate Course in Nursing Assistant
Diploma in General Nursing and Midwifery (G.N.M.)
A.N.M. (Nursing)
B.Sc. (Nursing)
P.B.B.Sc. (Nursing)

Florence Nightingale College of Nursing
Guru Teg Bahadur Hospital, Dilshad Garden, Shahdara, Delhi
Ph. 9643808161
Guru Gobind Singh Indraprastha University – GGSIPU
Sector 16-C, Dwarka, New Delhi
Ph (011) 25302170, (011) 25302111

B.Sc. (Hons.) (Nursing)
Post Basic B.Sc. Nursing
M.Sc. (Nursing)
M.Sc. (Psychiatric Nursing)

Hindu Rao Hospital – North DMC Medical College
Malka Ganj, Delhi
Ph (011) 23919476
Holy Family College of Nursing
Okhla Road, Okhla, New Delhi
Ph. (011) 26845900 to 909

Diploma in General Nursing and Midwifery (G.N.M.)
B.Sc. (Nursing)
M.Sc. (Nursing)
Post Basic B.Sc. Nursing

Indira Gandhi National Open University – IGNOU
IGNOU Residential Campus Road, Maidan Garhi, New Delhi
(011) 29533103, 29533581

B.Sc. (Nursing)
Certificate in Care Waste Management (CHCWM)
Certificate in Maternal and Child Health Care (CMCHC)
Ph.D. (Nursing)
Diploma in Nursing Administration
P.B.B.Sc. (Nursing)
Diploma in Critical Care Nursing

Jamia Hamdard
Hamdard Nagar, Delhi
Ph. (011) 26059688

B.Sc. (Hons.) (Nursing)
M.Sc. (Nursing)
Diploma in General Nursing and Midwifery (G.N.M.)
M.Sc. (Child Health Nursing)
Ph.D. (Nursing)
M.Sc. (Community Health Nursing)
M.Sc. (Mental Health Nursing)
M.Sc. (Medical Surgical Nursing)
M.Sc. (Obstetrics and Gynecological Nursing)
Post Basic B.Sc. Nursing

Jamia Hamdard Faculty of Nursing – JHFN
Hamdard Nagar, New Delhi
Ph. (011) 26059688

P.B.B.Sc. (Nursing)
Ph.D. (Nursing)
Diploma in General Nursing and Midwifery (G.N.M.)
M.Sc. (Psychiatric Nursing)
M.Sc. (Paediatric Nursing)
M.Sc. (Obstetrics & Gynecology Nursing)
M.Sc. (Community Health Nursing)
M.Sc. (Medical Surgical Nursing)
B.Sc. (Hons.) (Nursing)

Lady Hardinge Medical College – LHMC
C-604, Shaheed Bhagat Singh Road, Connaught Place, DIZ Area, New Delhi
Ph. (011) 23343984, 23363728

Diploma in General Nursing and Midwifery (G.N.M.)
B.Sc. (Hons.) (Nursing)

Lady Reading Health School
Bara Hindu Rao, Delhi, Delhi
Ph. (011) 23613473
Rajiv Gandhi Paramedical Institute – RGPI
 A-34, Uttam Nager, Near East Metro Station, New Delhi
Ph. (011) 28561494

B.Sc. (Nursing)
A.N.M. (Nursing)
Diploma in Emergency and Trauma Care Technician
M.Sc. (Nursing)
Certificate Course in Nursing Assistant

Rajkumari Amrit Kaur College of Nursing – RAKCON
Lajpat Nagar IV, Near Moolchand Metro Station, New Delhi
Ph. (011) 26436788, 26435397,
26435270

B.Sc. (Hons.) (Nursing)
M.Sc. (Nursing)
Ph.D. (Nursing)

Rufaida College of Nursing
Jamia Hamdard Nagar,
New Delhi
Ph. (011) 26059688, 26059663

B.Sc. (Nursing)
M.Sc. (Nursing)
Diploma in General Nursing and Midwifery (G.N.M.)

Salokaya College of Nursing
Plot No. 1147, Near Rithala Metro Station Car Parking No. 2, Rithala,
Rohini, New Delhi
Ph. (011) 27933308, 27933309, 27933307

A.N.M. (Nursing)
Diploma in General Nursing and Midwifery (G.N.M.)

Smt. Laxmi Bai Batra College of Nursing
1, Tughlakabad Institutional Area, Mehrauli Badarpur Road, New Delhi
Ph. (011) 29902001, 29903001, 29051280

Diploma in General Nursing and Midwifery (G.N.M.)
B.Sc. (Hons.) (Nursing)

St. Stephens College of Nursing
St. Stephen's Hospital Marg,
Tis Hazari, Delhi
Ph. (011) 23966021-27, 23977930, 23957977
Sushila School of Nursing
Gali No. 9, Gautam Colony, Safiadbad Road, Narela, New Delhi
Ph. (011) 65071789, 27282062

Diploma in General Nursing and Midwifery (G.N.M.)
A.N.M. (Nursing)

University of Delhi – DU
Dept. of Nursing, University of
Delhi-110007
Ph.  (011) 27667623 – 1653

B.Sc. (Hons.) (Nursing)
M.Sc. (Nursing)

Vardhman Mahavir Medical College and Safdarjung Hospital – VMMC&SH
Safdarjung Hospital Campus,
New Delhi
(011) 26165060, 26165032, 26168336