Kochi Water Metro
The Kochi Water Metro is an interconnected network of ferry terminals that transports passengers around the Greater Kochi area of Kerala, India. This water metro system is the first of its kind in India and the largest integrated water transport system of its kind in Asia. It connects to the Kochi Metro and provides a vital feeder service to the riverside areas, where public transport options are scarce.
Kochi is a highly populous district in the state of Kerala and is commonly referred to as the state's commercial capital. Once upon a time, the Vembanadu lake's principal mode of transportation for both freight and passengers was inland boat travel. Over the past few decades, the system has declined due to a lack of investment and technological upgrades. The energy efficiency of water transport is higher than that of rail or road transport. Urban residents living along the Kochi shoreline will have easier access to commercial areas on the mainland thanks to this initiative, which aims to lessen pollution and traffic congestion in the city.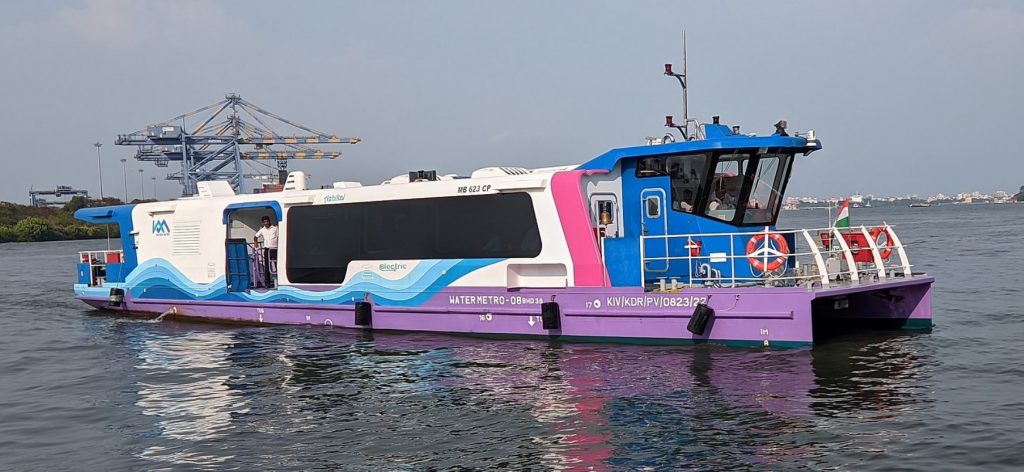 Water Transportation Integration in the City of Kochi
Kochi Water Metro is using a fleet of 78 fast, electrically-propelled hybrid ferries serving 38 jetties, the Kochi water metro project plans to connect 10 islands along a route network spanning 78 km. The water metro is intended to improve the lives of over a million islanders. It is planned to be more than just a transport service, with an emphasis on bolstering local economies through investments in commercial real estate and tourism. Modern, energy-efficient, environmentally friendly, and safe boats with low wake and draught characteristics will be introduced often as part of the Kochi Water Metro Project.
The first section, connecting Vytilla and InfoPark, was opened in February 2021 after construction began in 2016. This section was inaugurated by Chief Minister Pinarayi Vijayan. On April 25, 2023, Prime Minister Narendra Modi presided over the airport's official opening and inauguration. By 2035, the Kochi Water Metro is anticipated to be completely operational, serving an estimated 1.5 lakh passengers per day. It's also being hailed as what could be the world's largest electric boat metro transportation system.
Kochi's planned water transportation system doesn't just envision ferry services as a means of public transportation; it also foresees a more comprehensive growth of the areas linked by waterways and the incorporation of the waterway system into the city's larger public transportation network. In addition to improving ferry service, this project seeks to increase accessibility to and within the islands by improving existing and new roads, providing active and well-lit streets to keep everyone safe, encouraging the use of small occupancy feeder modes to reach the jetties, encouraging property development near the jetties, and fostering a sense of place.
The Kochi Water Metro project is an integrated water transport system with a total value of 819 crores, the majority of which is funded through Indo-German Financial Cooperation via a long-term loan agreement of 85 million Euros (Indian Rupees 579 Crore) with the German funding agency, KfW (Kreditanstault fur Weideraufbou).
The project was suggested with two different types of catamaran passenger boats, both of which were updated to include air conditioning and Wi-Fi connectivity. The electric power boats can carry between fifty and one hundred passengers at a time and can travel at speeds of up to twenty-two kilometres per hour. The boats have the most up-to-date safety and communication technology. Tiny boats powered by batteries navigate the confined waterways. Different routes have different headways, ranging from 10 minutes to 20 minutes. Floating pontoons equipped with an autonomous docking system are suggested for the jetties. There are retractable sheds over the pontoons that can be used for shelter when it rains.
Kochi: The Waterways
The Kerala backwaters are a maze-like system of waterways formed by more than 900 kilometres (560 mi) of waterways, including a network of brackish lagoons and lakes that run parallel to the Arabian Sea coast (also called the Malabar Coast) of Kerala state in southern India, as well as interconnected canals, rivers, and inlets. Kochi, in the southern Indian state of Kerala, is the most populous city. It is also the second most populous city on India's western coast, behind Mumbai. Kochi, situated as it is on the lower west coast of the Indian peninsula, is safer from storm surges and cyclones than eastern coast cities. Lake Vembanad and the many rivers that empty into it create a complex estuarine system, from which the city benefits. Among these rivers are the Periyar and the Muvattupuzha.
Kochi's 1,100 kilometres of canals are a bountiful blessing. The Inland Waterways Authority of India (IWAI) requires a minimum depth of 2 metres for motor boat operations, hence only 40 km of these are actually usable. The present water transportation system, including routes, boat deployment, and how it connects to other types of transportation. Kochi's waterways are managed by the State Water Transport Department (SWTD).
Canals and Marked Routes
The project plans to make use of the inland waterways in and around Kochi, with the National Waterways (NW3) accounting for 40%, the Cochin Port Trust Waters for 33%, the irrigation pathways already in place accounting for 20%, and the other inland waters accounting for 7%. Thirty-eight (48) jetties in ten (10) island towns and two (2) boatyards would be connected by the Water Metro Project's fifteen (15) proposed routes. There are a total of 15 routes, with a combined line length of 76.2 kilometre. channels (-2 to -2.50m CD) and approach and jetty pockets (-1.50m CD). Since most of the channels are already in use, only the approaches from the navigational channel to the terminal area require significant dredging. A volume of about 0.65 million cubic metres will need to be dredged.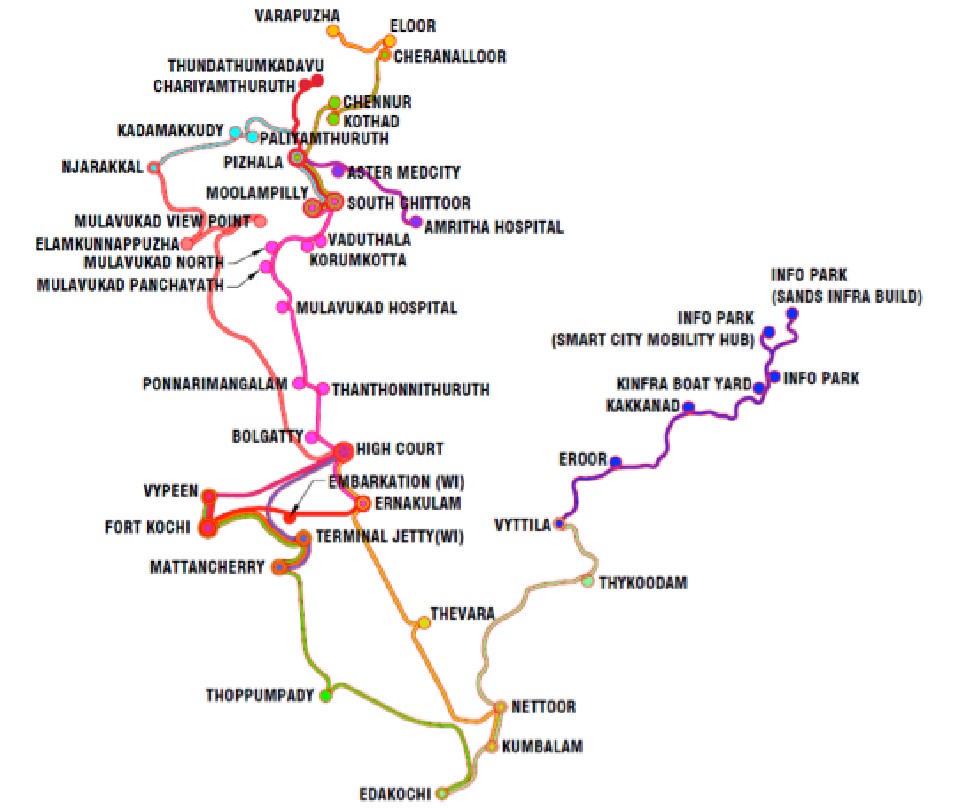 As part of this endeavour, 15 different paths are being considered. The following diagram emphasises these points. During rush hour, the intervals between buses on different routes will be anywhere from 10 to 20 minutes. All along the courses, navigational buoys and nighttime navigation support will be available. This project plans to manage water weeds and garbage that floats on the water's surface.
Different Parts of the Kochi Water Metro Project
Kochi Water Metro includes the following elements:
Marine Facilities, Including Boat Docks and Storage
Navigation, Automatic Flight Control, Positioning, Information, Vehicle, and Traffic, Closed-Circuit Television, and Operation and Control Centre
Pontoon Boats
Adoption of floating jetties to aid elderly and disabled passengers boarding and disembarking. Water depths at the port shoreline are predicted to range from 1.5 m CD to 2.5 m CD, making them an ideal location for the proposed concrete pontoons. An aluminium gangway links the pontoons to the dock. To accommodate the tides, floating pontoons are available. As the freeboard of the boats and the floating pontoons are both 0.8 metres, the same level will be maintained in the event of tidal variations, making wheelchair access much easier.
Passenger Boats
There are 78 passenger boats, all of which are environmentally friendly. There are 23 that can hold 100 people, and another 55 that can hold 50. In case of an emergency or routine repair, the main fleet is supported by four Rescue cum Workshop vessels in addition to the passenger boats.
Twin-screw Because of its superior stability and safety as well as its ability to accommodate draught limits and low wake qualities, a catamaran hull is used. The goal of the boat's design was to create a vessel that could do the tasks listed below.
Due to estuarine conditions, draughts of less than 1 metre might be a problem over specific lengths. Dredging might be difficult due to the presence of silty mud in the channels. Taking all of that into account, we settled on a draught of 0.9 metres.
Kochi's backwaters, known as the "Low Wake," are home to several fishing villages and commercial ports. Fishing and aquaculture are two of the most common uses for the rivers. To mitigate the wake and wash impacts, the boats had to have minimal wake characteristics.
The state government and KFW have announced that the boat will have a low impact on the environment due to its low energy consumption. The boat will be electrically driven and will not release any water during operation; this was determined to be necessary for success.
The concept design's goals dictated that the boat be a twin-screw electric-powered aluminium catamaran with a draught of just over 1 metre. The ship could go between 8 and 11 knots, depending on the speed setting.
Aluminium Boat hull
Aluminium for Ships Aluminium alloys have high corrosion resistance and is comparable to the minimum yield strength requirement of mild steel or normal strength steels, and while alloy plates and extrusions are more expensive, they can reduce the overall weight of the hull. Shipyards may now effectively undertake Aluminium hull construction and production thanks to advances in aluminium fabrication technology, notwithstanding the little rise in the vessel's total cost. Aluminium was favoured by KMRL because of its cheap maintenance costs. In addition, the smaller the boat is, the less power will be needed to propel it. Battery size and cost are major considerations, thus any effort to reduce overall weight will have a positive impact.
Hull of a Catamaran
When two boats of same capacity are compared, the stability of a catamaran wins out over a monohull. Catamarans can also be built with shallow draughts and little wakes. The demi-hulls will feature enhanced hydrodynamics in their designs. In order to reduce the effective wave height, the separation distance between the demi-hulls will be optimised. As a result, the wave-generating resistance is kept to a minimum in order to once more capitalise on the power needs. In order to determine the precise amount of power needed, a thorough model testing will be performed.
Driven by Electricity
By switching to electrical propulsion, or using the boat's electric motors to turn the screws, you won't need to worry about the following.
Linking the motor to the blades.
Propeller and engine adjustment.
In addition, it offers supplementary features and alternatives to the constructor, such as:
Addition of a Battery for Energy Storage
Noise suppression through acoustic isolation of the hull and propulsion system. Diesel-powered internal combustion engines are shunned in favour of other propulsion methods.
The Water Metro has chosen to utilise the potential of batteries to store energy and propel the vessel at speeds of up to 8 knots. This range of speeds should be adequate for the vessel's needs. The larger obstacle, though, was determining the optimal battery chemistry and charging protocol. The Lithium Titanate Oxide (LTO) technology was narrowed down based on an examination of the following battery characteristics:
NMC lithium-ion batteries
The selection criteria for the batteries included high cycle life, rapid charging, and long run times. The proposal features a network of rapid charging stations that can fully replenish the batteries in under 15 minutes.