Kochi Water Metro Ticket Price and Timings: Kochi is a large city in the Indian state of Kerala, often considered the "commercial capital" of the entire region. Historically, inland boat navigation on the Vembanadu Lake was the primary means of transport for both goods and people. Lack of investment and technology updates over the past few decades have led to the system's downfall. When comparing water transport to land transport, water transport has higher energy efficiency. This project would help reduce pollution and traffic congestion in Kochi while providing residents of the city's waterfront with easier access to business centers on the mainland.
The Kochi Water Metro is a system of ferry docks in the Greater Kochi area of Kerala, India, that operates as a single integrated transportation hub. The first of its type in India, this water metro is also the largest integrated water transit system in Asia. It links up with the Kochi Metro and serves as a critical feeder service for the riverside communities that lack convenient public transport.
About Kochi Water Metro Project
The Kochi water metro project aims to connect 10 islands along a route network of 78 km employing a fleet of 78 rapid, electrically-propelled hybrid boats serving 38 jetties. The water metro will bring convenience to more than a million island residents. The service is intended to do more than merely move people from one place to another; rather, it will also help local economies by investing in things like commercial real estate and tourism. As part of the Kochi Water Metro Project, new types of modern, energy-efficient, ecologically friendly, and safe boats with minimal wake and draught features will be introduced often.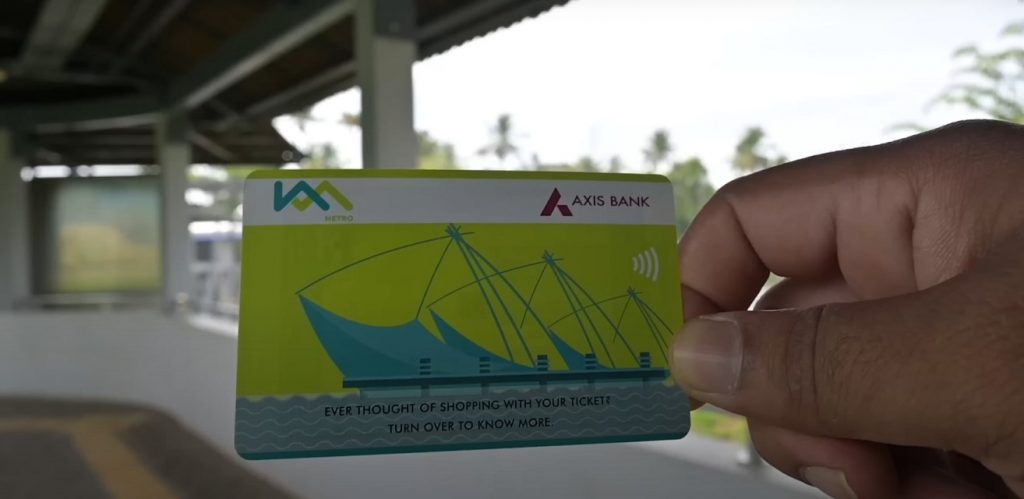 Kochi Water Metro Ticket Price
Depending on the type of ticket and how far you plan to travel, the price of a ride on the Water Metro Kochi will vary. Presently there are two routes operational in Kochi Water Metro, one is from Vypeen to High Court and vice versa, and another is from Vytilla to Kakkanad and vice versa.
| | |
| --- | --- |
| Vypeen ⇔ High Court | Rs 20 |
| Vytilla ⇔ Kakkanad | Rs 30 |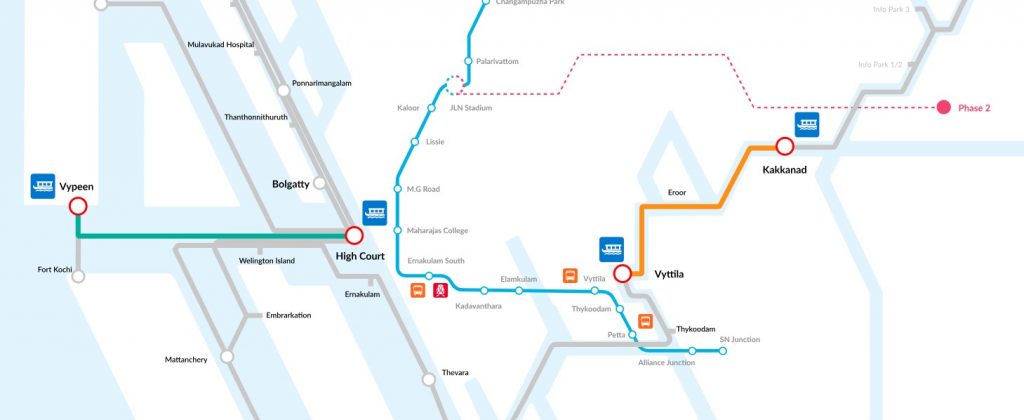 The Indian Rupee is used for all payments.
The customer has 120 minutes from the time they enter the station through the automatic gates to leave through the automatic gates at the destination station, after which they will be charged an overstay fee of Rs 10/- each hour, up to a maximum of Rs 50/-.
After 20 minutes, a customer who has not changed platforms must pay an overstay fee of Rs 10/- per/hour, capped at Rs 50/-.
When accompanied by an adult, up to three children under the age of ninety centimetres (90cm) in height ride free (not valid for group bookings).
| | |
| --- | --- |
| Morning Non-Peak Hours | Evening Non-Peak Hours |
| 5:45 AM – 8 AM | 9 PM – 11 PM |
There are offers too for Kochi Water Metro which are: 10% discount when you pay through scanning QR codes, 20% discount for regular travelers, and up to 60% discount on Trip passes.
Kochi Water Metro Ticket Booking
In this piece, we'll discuss the water metro in Kochi and how to reserve tickets for the metro, which has caught the attention of the general public. We have also talked about the cost of the ticket. Some frequently asked questions and the steps involved in making an online reservation are addressed at the end of the piece. In this article, you'll find specifics on how to book tickets and how much they cost on the Kochi Water Metro.
Water Metro Kochi tickets can be purchased either at specific ticket booths or on the Water Metro Kochi website. Prices for tickets vary depending on how far you travel, and you can choose from single-trip tickets, day passes, and monthly passes. Tickets are fairly affordable, and concessions are offered for students and senior citizens.
The tickets can be purchased with any of the many mobile wallet options available in India, as well as with hard currency. The Kochi1 Card is a multi-modal transportation smart card that is part of the Water Metro Kochi project. Water Metro boat schedules and times are subject to change, therefore passengers are advised to double-check their plans and arrive at the jetties at least 10 minutes before their scheduled departure time. Water transit in Kochi is a pleasant and hassle-free means of transportation thanks to the Water Metro Kochi project's efficient and reliable ticketing system.
How to Book Kochi Water Metro Tickets 2023
There are separate paid and free sections at boat docks. The ticket office, ticket machines, station management, and so on were all located in an unpaid zone. A paid section includes a waiting area, restrooms, and other amenities. Automated fare collecting and a turnstile system for passenger counting are available at each and every terminal. Purchasing tickets for the Water Metro Kochi is easy and may be done in a few different ways:
Visitors to the Water Metro Kochi project website can reserve tickets in advance by entering their desired departure and arrival locations, dates of travel, and ticket types.
All major credit and debit cards, as well as Internet banking and mobile wallets, are accepted methods of payment.
Apps for booking online tickets for Kochi Water Metro are available on both Android and iOs Store platform.
Passengers can buy tickets offline at special ticket booths in each Water Metro station. You can pay with cash or a credit card.
Passengers can also purchase a smart card called a Kochi1 Card, which can be used on the Water Metro and other public transportation systems in Kochi.
Arrive at the jetty at least 10 minutes before the scheduled departure time to minimize any potential complications. Water Metro boat itineraries and schedules are available to passengers in advance to help them plan their trips.
Kochi Water Metro Tickets, Price, and Timings 
| | |
| --- | --- |
| Article about  | Kochi Water Metro: Ticket Price, Booking, Timings, and Route |
| Name | Water Metro Kochi |
| Location  | Kochi |
| Price Range | Rs 20 to Rs 30 per head |
| Timings  | 8 AM to 7 PM |
| Official Website | https://kochimetro.org/water-transport/ |
Kochi Water Metro Period Pass Price 
| | | | |
| --- | --- | --- | --- |
| Period Pass | No. of Trips | Validity | Fare |
| Weekly | 12 | 7 days | Rs 180 |
| Monthly | 50 | 30 days | Rs 600 |
| Quarterly | 150 | 90 days | Rs 1500 |
Kochi Water Metro Stations Route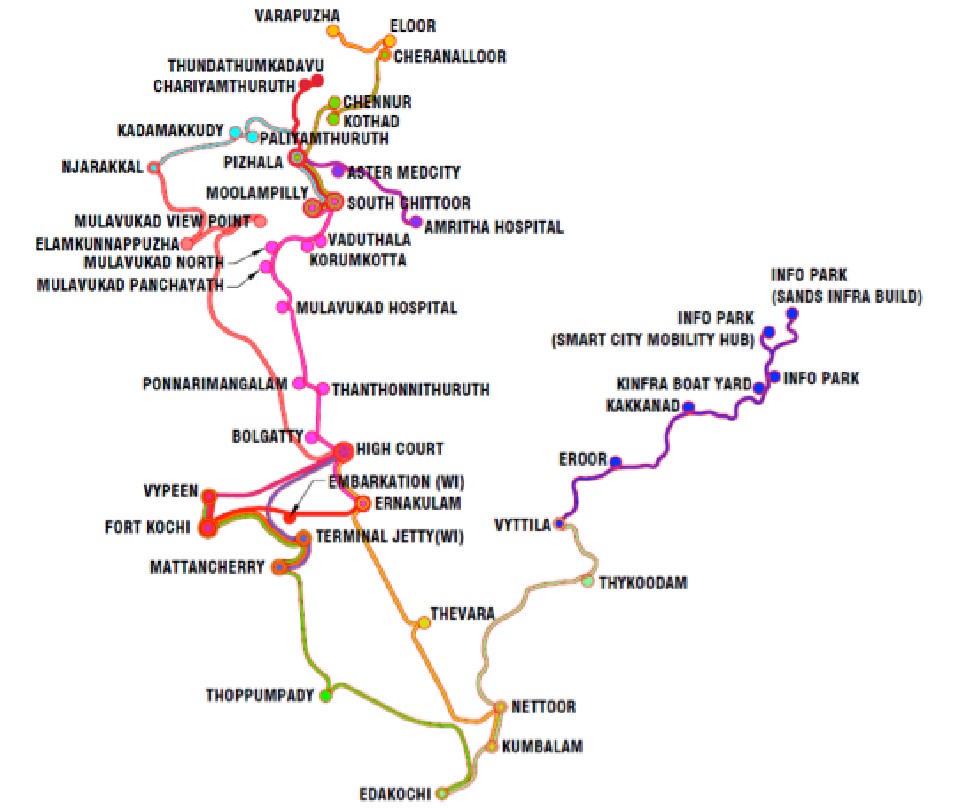 Currently, there are two operational routes in the Kochi Water Metro. One route connects Vypeen to the High Court and vice versa, while the other route connects Vytilla to Kakkanad and vice versa.
FAQs 
1) Where is the water metro located?
City: Kochi
2) Whose government does it fall under?
Kerala government
3) The Water Metro falls under the purview of which division?
Division of Railways