Indri Whisky
Distilling of Indri single malt takes place at Indri, Haryana, which is situated close to the Yamuna basin and the Himalayan foothills. The six-row barley used in the production of this exceptional single malt has been cultivated in Rajasthan for hundreds of years. Indri is the first Indian whisky to be aged in ex-bourbon barrels, ex-wine barrels, and PX sherry casks, a process that began in 2010.  In Delhi and Gurgaon, Indri Whisky is available in private liquor shops, Duty Free shops at Airport (Terminal 3/ T3) etc.
The senses are also called "Indriya" or "Indris" in Sanskrit. The burnt pineapple, citrus, and raisins in Indri give it a nutty depth of flavour that pairs well with its attractive golden amber colour. ​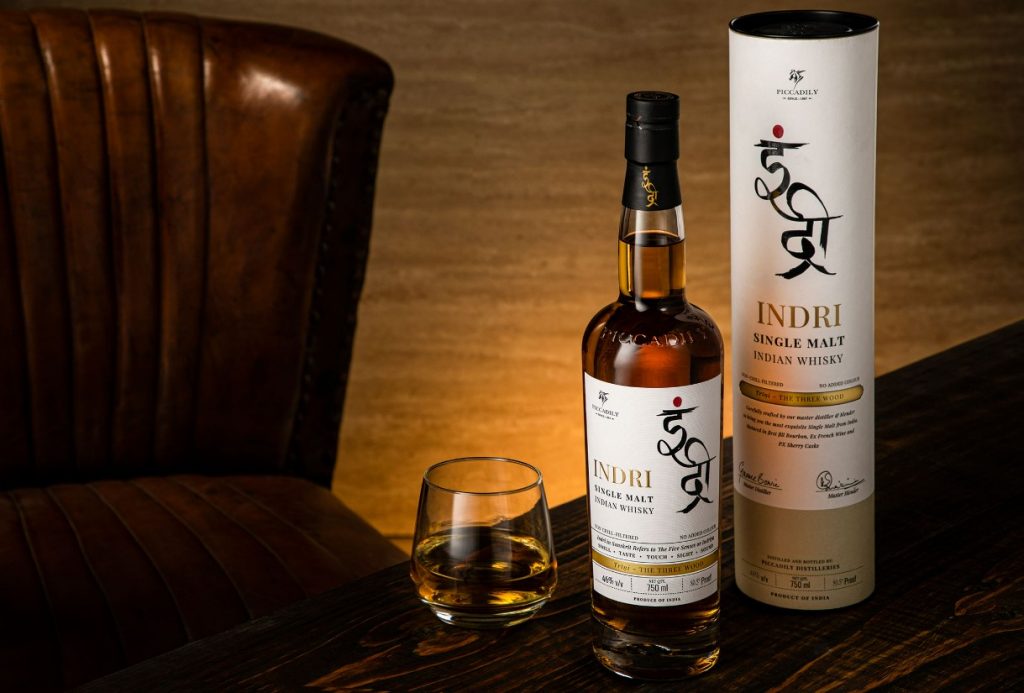 The process of making Indri Whisky begins with the master blender nosing samples from tulip-shaped glasses before making a thoughtful selection from a variety of ex-bourbon first-fill, virgin oak, ex-wine, and ex-sherry casks. Combinations of peated and unpeated malts are examined, and the resulting brew is allowed to "marriage" in oak barrels. When things between them have settled down and become natural, it's time to start bottling. One of the finest single malt blends in India is now ready for its final step in the production process: ageing in oak barrels.
Indri Whisky Price in Delhi
| | |
| --- | --- |
| Name/Volume | Price |
| Indri Whisky 750 Ml | Rs 3700 |
Nose
mild smelling; not overpowering. Black tea and caramelised pineapple aromas are up front, followed by oaky notes of vanilla and honey from bourbon oak and hints of spicy tannins from European wood, and finished off with fruity raisin and sherry undertones.
Palate
Subtle velvety fullness, gently warming the cheeks and tongue. Nutty flavours and traces of charred pineapple, citrus, and raisins follow subtle spice and woody qualities.
Finish
The final flavour is soft and harmonious, with no single flavour overpowering the others. The aftertaste is silky and lasting, with flavours of fruit rising from the throat's warmth.