Cricket fans around the world are eagerly anticipating the upcoming One Day matches between India and Australia, set to be held on 17, 19, and 22 March 2023. These matches promises to be a closely fought encounter, as both teams have a proud history of competitive cricket and a host of talented players.
India, led by Rohit Sharma, will be looking to make the most of their home advantage and put in a strong performance against a tough Australian team. The Indian squad boasts some of the best batsmen in the world, including  Cheteshwar Pujara, Virat Kohli and  Rohit Sharma himself, and their spin bowling attack is among the most potent in world cricket, with the likes of Ravichandran Ashwin, Ravindra Jadeja, and Kuldeep Yadav.
However, the Australian team will be no pushovers. Under the leadership of Pat Cummins, they have developed a strong and balanced squad, capable of competing at the highest level. With batsmen such as David Warner, Steve Smith, and Marnus Labuschagne in their ranks, the Aussies are more than capable of putting up a big score, while their pace bowlers, led by Pat Cummins and Mitchell Starc, will be looking to make inroads into the Indian batting order.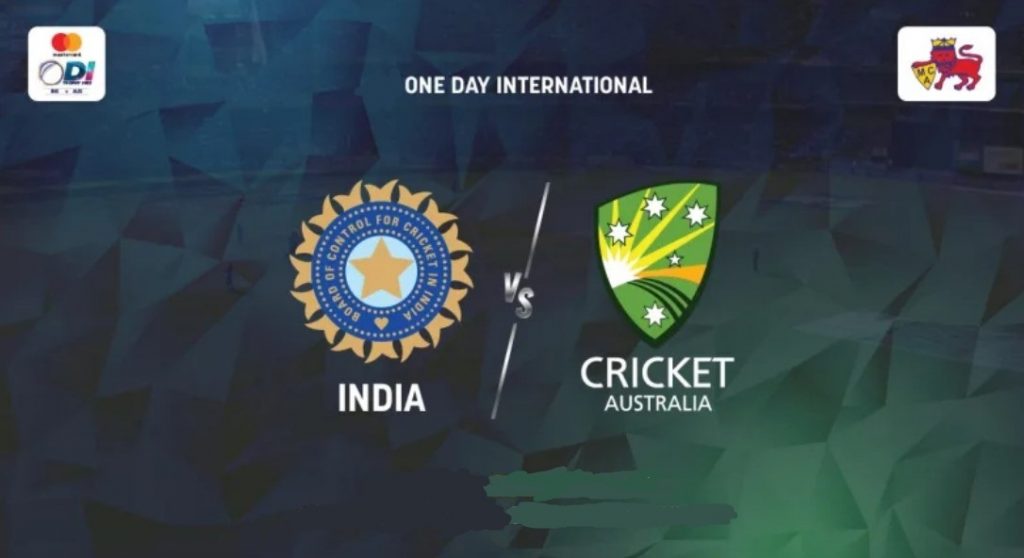 India Vs Australia Tickets
Match Info
Teams
India vs Australia
Date
17th, 19th, 22nd March 2023
1st ODI at Mumbai – 17 March 2023
2nd ODI at Vizag – 19 March 2023
3rd ODI at Chennai – 22 March 2023
Venue
Mumbai, Vizag, and Chennai
Time
1:30 pm onwards
Ticket Partner
Paytm Insider
Ticket Price
The minimum ticket price for the ODI matches between India and Australia is Rs. 800, and the highest ticket price is Rs. 5,000. Cricket fans can use the Paytm Indsider website or app to purchase tickets online. it is advised to reserve your seats fast if you want to cheer from the stands because tickets are being sold out quickly.
Buy Tickets Online
Tickets can be bought online on Paytm Insider app and website.
How to book India vs Australia ODI Match Tickets
Here is a step-by-step guide on how to purchase online tickets for the ODI Matches between India and Australia. You may do this through the Insider website or app.
| | |
| --- | --- |
| Step 1   | First, go to the PaytmInsider app for ordering tickets or go to PaytmInsider.com |
| Step 2   | Second, Search India vs. Australia ODI Match |
| Step 3   | Click the "Buy Now" button |
| Step 4    | Choose the ticket type you want to buy before choosing seats |
| Step 5    | Fill out the remaining fields after the seats have been confirmed. |
| Step 6    | Pay for your ticket at the end. |
In recent years, India has had the upper hand over Australia in ODI matches, winning both of their last two home series against the Aussies. However, the Australian team will be eager to turn the tables this time around, and they will be well aware of the importance of starting the series on a positive note.
The pitch in ODI is expected to be a major factor in the match, with slow and low conditions likely to favor the Indian spinners. The Australian team, however, has a good record against spin bowling, so it promises to be a fascinating battle between bat and ball.
Overall, the upcoming ODI match between India and Australia promises to be a thrilling encounter, with both teams capable of producing some high-quality cricket. The crowd is sure to be treated to some memorable moments as two of the world's best cricket teams battle it out on the field.
Terms and Conditions
No re-entry is allowed.
Children above 3 years require a ticket.
Wheelchair Accessible Seats: GCA has arranged some special seats for their fans who use wheelchairs.