Delhi Government Doorstep Delivery Services
Accessing government services has consistently posed a challenge for citizens throughout India. Historical issues such as long queues at government offices, inconsistent information regarding required documentation, and the prevalent practice of offering petty bribes as a so-called "convenience fee" have hindered smooth access to public services. A survey conducted during the project's feasibility stage revealed that over 50% of respondents had to visit a government office multiple times to avail themselves of a single service, while approximately 30% had to rely on intermediaries to access public services.
To overcome these obstacles and ensure an accessible public service delivery system, the Government of NCT (National Capital Territory) of Delhi introduced the innovative concept of "Doorstep Delivery of Public Services." The project was executed in three phases: the first phase encompassed 30 services in September 2018, followed by an additional 40 services in March 2019, and the final 30 services in September 2019, making a total of 100 services.
This transformative governance reform revolutionized the traditional model of public service delivery. Instead of citizens having to endure the hassle of visiting government offices, the Delhi government decided to take the services directly to the citizens' doorsteps.
From the very beginning, the Dialogue and Development Commission of Delhi (DDC) has been involved in advising the Administrative Reforms Department during the conceptualization phase of the project. Since its launch in 2019, the DDC has continuously supported the project's implementation and provided valuable guidance in tackling emerging challenges.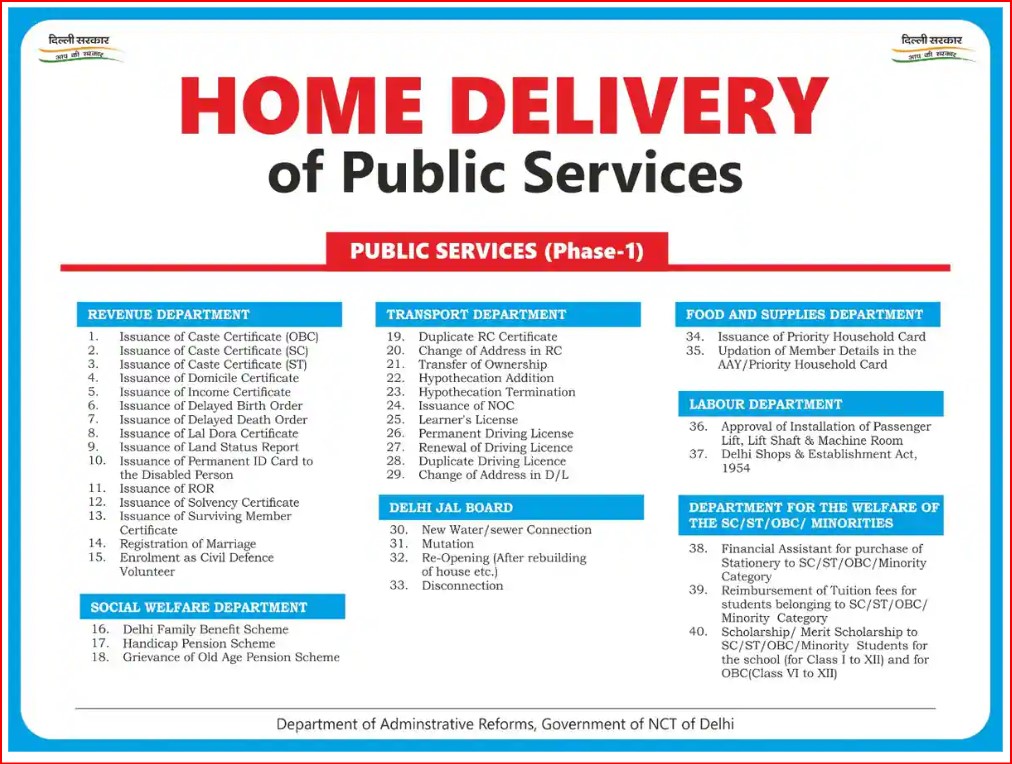 Process of Doorstep Delivery Services
To access any of the 100 services, citizens can book an appointment slot for a home visit by dialing the toll-free number 1076, which connects them to a centralized call center.
A Mobile Sahayak is designated to handle the service request. The Mobile Sahayak visits the citizen according to the scheduled appointment, collects and uploads all the required documents, and submits them to the relevant government department, charging a nominal fee of only INR 50.
Throughout the process, citizens can track the status of their service request using a unique application number. Furthermore, the centralized call center has an organized system to handle all complaints from citizens, ensuring that any grievances received are promptly redirected to the relevant stakeholders for timely resolution.
It has been observed that applications received through the Doorstep Delivery mode have significantly lower rejection rates. This is attributed to the meticulous review conducted by well-trained Mobile Sahayaks, who thoroughly check the applications before introducing them into the system.
Highlights of Delhi Govt Doorstep Delivery Service
| | |
| --- | --- |
| Introduced By | Delhi Government |
| Beneficiaries | All the people of Delhi |
| Benefits | to provide all necessary services at the doorsteps of the people |
| Total Services | There are about 100 services available through the Delhi Doorstep Delivery Service Scheme. |
| Helpline Number | 1076 |
 List of 

Delhi Government Doorstep Delivery Services
The "Doorstep Delivery Services" encompass a wide range of offerings. Below, you will find a comprehensive list of all the services available under the Delhi Doorstep Delivery Scheme, along with their respective departments.
List of 40 Services (Phase 1)

Government services (13)

OBC certificate / SC certificate / ST certificate
Domicile / Residence certificate
Income certificate
Delayed Birth Order
Delayed Death Order
Lal Dora certificate
Report on Land status
Permanent Identity Card for disabled people
Issuance of ROR
Solvency certificate
Surviving member certificate
Marriage registration Certificate
Enrollment as a civil defense volunteer

Transport Department Services (11)

Duplicate RC
Change of address in RC
Transfer of ownership of the vehicle
Hypothecation addition
Hypothecation termination
Issuance of No Objection Certificate (NOC)
Learner license
Permanent driving license (DL)
Renewal of driving license
Duplicate driving license (Temporary Copy)
Change of address in driving license

Services in Social Welfare Department (4)

Delhi family welfare
Delhi family benefit scheme
Handicapped pension scheme
Old age pension scheme
Ration Department (2)
Issuance of priority household cards
Updation of member details in different cards
Delhi Jal board services (5)
New water connection
New sewer connection
Mutation
Reopening after the rebuilding of the house etc
Disconnection of water supply
Services in the labor department (2)
Registration of construction workers – building construction worker act
Renewal of registration – building construction worker act
Women and child department (2)
Widow pension scheme
Financial assistance to the poor widow for her daughter's marriage
Law and Justice Department (1)
Marriage license for marriages of Indian Christians

List of 30 Services (Phase 2)

Labour Department (7)
Grant of License for Contractor under Sections 12 of Contract Labour (Regulation & Abolition Act, 1970)
Grant of Licence for working on Passenger Lift
Grant of Registration of Establishment employing building workers of BOCW (RE&CS) Act, 1996
Grant of Registration Certificate of Principal Employer under Section 7 of Contract Labour (Regulation & Abolition Act, 1970)
Periodical Inspection of Lift
Grant of Electrical Contractor License
Issuance of Certificate of Competency Class 1 (Electrical Supervisor)
D.T.T.D.C (1)
Booking of Tour Package

SC / ST Welfare Department (5)

Post Matric Scheme for SC Students
Pre-Matric Scheme for SC Students
Post Matric Scholarship for OBC Student of College / Professional Institution
Post Matric Scholarship for OBC Student (PMS-OBC)
Pre Matric Scholarship for OBC Student (PMS-OBC)
Higher Education (2)
Higher Education and Skill Development Guarantee Scheme of Delhi Higher Education Aid Trust
Merit-cum-Means Income Linked Financial Assistance Scheme of Delhi Education Aid Trust
Food & Supplies Department (7)
Addition of Members in Ration Card
Change in Head of Family
Change in Residential Address
Deletion of Members in the Ration Card
Issuance of Duplicate Ration Card
Transfer of Ration Card within Delhi
Updation of the mobile number of beneficiary
Transport Department (2)
Addition of a new class of vehicle to a Driving License
Motor Vehicle Tax
Tourism Department (1)
Registration of Bed and Breakfast establishments
Delhi Transport Corporation (2)
Issuance of general all-route Bus Pass for AC & Non AC Buses
Issuance of Delhi-NCR bus passes
Drugs Control (3)
Grant of License to Chemist
Grant of License for sale of Homoeopathic drug
Grant of Licence for sale of schedule X drug
Key Features of Doorstep Delivery Services
The Doorstep Delivery initiative presently encompasses 100 services spanning 13 different departments. These services include those provided by the Transport Department, such as driving license renewals, offerings from the Revenue Department, like caste certificates, and assistance from the Women and Child Development Department, including the widow pension scheme, among others. Looking ahead, the Government of NCT (National Capital Territory) of Delhi aims to broaden the project's reach by incorporating an additional 200 services by the year 2022-23.
To avail of Delhi Government's Doorstep Delivery Services, simply sign up via the 1076 helpline number.
Once you make the call, they will guide you through all the necessary documentation and payment procedures for the desired service.
An appointed government facilitator will then visit your home or another specified location at the scheduled appointment time.
This Mobile Sahayak, who comes equipped with a tablet, will provide the specific service at your doorstep for a fee of Rs. 50.
Gone are the days of having to visit government offices; now you can conveniently access these doorstep services in Delhi.
Alternatively, you can also register for these services on the official Delhi portal at https://ddc.delhi.gov.in/
Timing for Door-to-Door Delivery
The timings for the door-to-door delivery of services listed under the "Doorstep Delivery Services List" vary depending on the specific service being requested. Generally, the delivery hours are from 9:00 a.m. to 9:00 p.m., seven days a week. However, the actual delivery time may be influenced by the availability of the delivery person and the location of the requested service. In certain cases, the delivery can be completed within a few hours of placing the request, while in other instances, it may take a few days.
For ration delivery, the typical delivery time is within 3 to 4 hours from the moment of placing the order. On the other hand, for other essential services like medicine delivery, it may take up to 24 hours. Non-essential services, such as bill payments and application for a driving license, follow a different delivery time frame, which is communicated to the customer at the time of booking the service.
Residents can make use of the doorstep delivery service by dialing the Delhi Government's helpline number – 1076. Once the request is registered, the Sahayak will visit the resident's doorstep within the specified timeframe.
Impact of Doorstep Delivery Services
As of September 2022, the project has garnered over 2 million calls and catered to nearly 430,000 service requests, benefiting approximately 360,000 recipients since its initiation in 2019. Presently, the project serves an average of 10,000 citizens per month, and it anticipates a rise in applications utilizing this efficient system.
DDC has played a crucial role in aiding the project in overcoming challenges and enhancing its performance in each phase. During the initial stage, DDC provided essential research support to assess the project's feasibility. In the development phase, DDC facilitated coordination among various departments to identify the most suitable and beneficial services for implementation through this model. Moreover, DDC Members offered valuable advisory assistance in software development, vendor analysis for the call center, and devising an effective grievance redressal mechanism as part of the service.
The Doorstep Delivery of Public Services remains firmly grounded in good governance principles, embodying traits such as participation, transparency, responsiveness, effectiveness, and accountability. Other states like West Bengal and Chhattisgarh have been inspired by Delhi's Doorstep Delivery of Public Services model, showcasing its widespread acceptance as a benchmark of good governance.