Go deep into the spiritual, cultural, and artistic depths of ancient Banaras. For a family trip, it's helpful to know how to go from Delhi to Varanasi.
Varanasi is the holiest city in Hinduism.
It's well worth your time to explore the city's temples, narrow streets, and antique buildings.
There are multiple transportation options available to get to and from Delhi from this location.
Planning a family vacation? The city of Ghats, Varanasi, is the ideal family vacation that is easily accessible by rail, road, or flight, so you can stop wondering and start booking.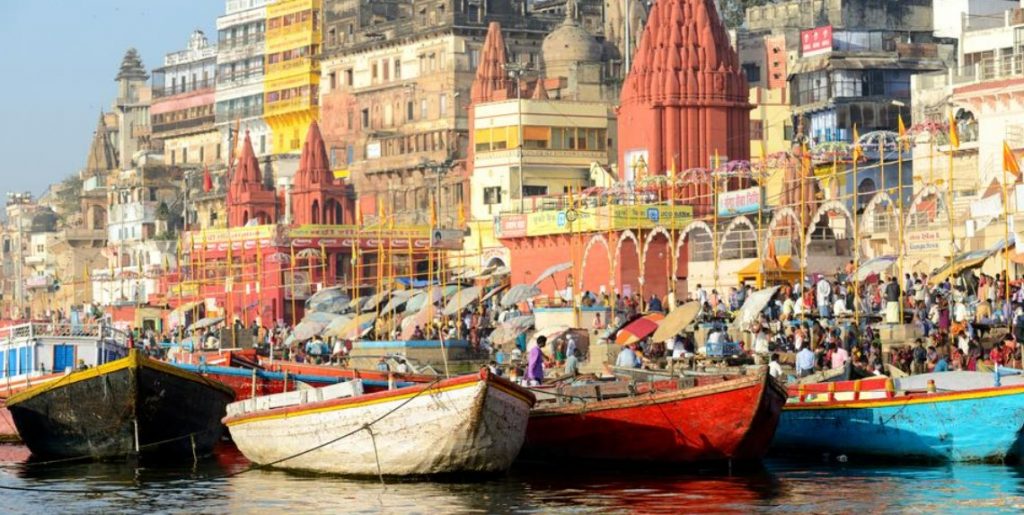 Varanasi is regarded as one of the holiest cities on Earth. Thanks to the many temples and the scenic setting of the Ganga ghat, your religious experience will be truly spectacular. From Delhi, you can reach this city by a number of different corridors. In this piece, I'll go over the many ways we can go from Delhi to Varanasi.
By Air
Lal Bahadur Shastri International Airport is the closest airport to Varanasi if you want to fly there from Delhi. Many flights depart from this airport every day (VNS). It takes about 2 hours to fly from Delhi to Varanasi. Booking a flight from Delhi to Varanasi is as simple as visiting the website of your preferred airline or searching through the offerings of an online travel agency.
Delhi to Varanasi is about 803 kilometres away
Time required: around 1 hr 20 min
The typical price is Rs. 3,000 (one-way)
By Train
From Delhi, you can take a train to Varanasi. From New Delhi to Varanasi, there are a total of 26 trains per week. The SWATANTRTA S EXP (12562) claims to be the quickest train running between Delhi and Varanasi on the official IRCTC website. It could take anywhere from 11 hours to 17 hours to travel by rail from Delhi to Varanasi. The most up-to-date information on when trains will arrive is available on the IRCTC website.
Overall, it's a distance of around 752 kilometres.
Time: 11 hours, 24 minutes to 17 hours
Average price: 415 Indian Rupees (one-way)
Those taking the bus
There is a direct bus route between Varanasi and New Delhi. The total time required to make this trip is close to 18 hours. Nonetheless, most people agree that using a bus is a frustrating and pricey experience.
Around 793 kilometres is the whole length.
The expected duration is 18 hours.
The typical price is Rs. 950. (one-way)
By Road
The distance between Delhi and Varanasi, which can be travelled by a number of different roads, ranges from about 821 to 877 kilometres. Highways 19 and 30 are the most popular routes since they connect some of India's most popular tourist destinations, including Agra, Vrindavan, Bareilly, and Lucknow.
799 kilometres in total length
Around 13 hours and four minutes
Usually, you may expect to spend between Rs 1100 to Rs. 7500 approx.
Activities in Varanasi
Must-sees in and around Varanasi include the iconic Kashi Vishwanath Temple, as well as the Dashashwamed Ghat, Manikarnika Ghat, the Buddhist stupas and monasteries of Sarnath, and the Dhamek Stupa. The historic Ramnagar Fort, which now houses a museum and an armoury, is another interesting attraction.
Do's and Don'ts
Visitors to holy sites should dress respectfully.
Do not immerse yourself completely in the Ganges, mostly for hygiene reasons but also because the currents can be too powerful at times.
If you're travelling in the summer, try to avoid going out while the sun is at its highest.
The bulk of the streets of the old town are clogged and difficult for cars to negotiate, so be prepared to walk and wear comfortable shoes.
Have some spare cash on hand as many brick-and-mortar businesses still only accept cash payments.
It's fascinating to experience the city's mood, which seems to be marked by a profound, holy spirit.