Ghaziabad, Baghpat, Shamli, and Saharanpur are just some of the cities that the Delhi-Dehradun Expressway travels through on its journey to its final destination. The distance and travel time between Delhi and Dehradun would be drastically cut down thanks to the 210 kilometre long road. Real estate markets along the route are expected to benefit from the construction of the motorway and the associated infrastructure.
A trip to a hill station in Uttarakhand can be made in as little as three hours from the cities of Ghaziabad, Delhi, and Gurgaon. The almost-completed Delhi-Dehradun Expressway will make this possible. When finished, the trip from Delhi to Mussoorie would take no more than 4 hours. It will take only 2.30 or 3 hours to go between Dehradun and Rishikesh, respectively.
The National Highways Authority of India (NHAI) is in the process of constructing a 210-kilometer motorway from Akshardham in Delhi to Dehradun in Uttarakhand. The motorway will run through Saharanpur and will be regulated by toll booths at key on- and off-ramps. The Bharatmala Pariyojana, which funds the Delhi–Dehradun Economic Corridor, has given the green light to this hybrid brownfield/greenfield project to begin building in 2020.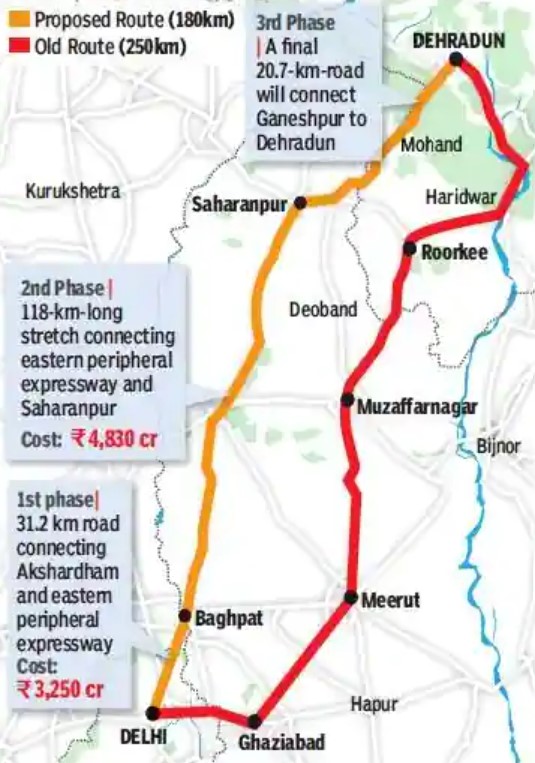 Eventually, the Akshardham in Delhi will be connected to Dehradun in Uttarakhand via the already under-construction Delhi-Saharanpur-Dehradun Expressway, which is a part of the Bharatmala Pariyojana. Traffic would be facilitated through three states as the project travels from Delhi through Uttar Pradesh and then to Uttarakhand. The full report on the planned Delhi-Dehradun Expressway can be found below.
The Akshardham and Kundli-Palwal segments of the Delhi-Dehradun Highway will be connected in one long stretch. Saharanpur and the EPE junction are linked in the second segment. Expressway speed limits will be set at 120 kilometres per hour. Expressway will stretch for a total of 210 kilometres.
The four phases of the Delhi-Dehradun Expressway's construction would include the installation of close tolling and the provision of rest stops every 25 kilometres. The free passage of wildlife will be ensured by the elevated highways, tunnels, and a 12-kilometer elevated wildlife corridor. When completed in 2024, the motorway will cut the current 235-kilometer route to 210-kilometers, and the current 6.5-hour travel time to 3 hours, between Delhi and Dehradun.
The trip from Delhi to Dehradun is about 250 kilometres along the traditional route. It is anticipated that this highway would be finished in the year 2024. New Delhi, Bareilly, Roorkee, Baghpat, Shamli, and Saharanpur will all be linked by this motorway. It would leave from Akshardham Temple and travel to Geeta Colony before arriving in Dehradun. Those who are intent on reaching Dehradun must start out on the route.