Delhi Agra Expressway
The Delhi Agra Expressway, one of India's most vital roadways, has transformed the way people travel between the capital city, Delhi, and the historic city of Agra. This modern marvel of infrastructure not only reduces travel time significantly but also offers a comfortable and efficient route for commuters and tourists alike. In this article, we will delve into the details of the Delhi Agra Expressway, including toll-tax charges, speed time, distance, and travel time, to help you plan your journey effectively.
The Delhi Agra Expressway, also known as the Yamuna Expressway, is a six-lane, 165-kilometer expressway that connects Greater Noida, Uttar Pradesh, to Agra, Uttar Pradesh. It is one of the busiest expressways in India and is a popular route for tourists traveling to see the Taj Mahal. The expressway has a speed limit of 100 km/h for cars and 80 km/h for trucks and buses. The average travel time from Delhi to Agra on the expressway is 2.5 hours. This expressway has set new standards in terms of speed, safety, and convenience, making the journey between these two significant cities more accessible and time-efficient.
Distance and Travel Time
The distance between Delhi and Agra via the expressway is approximately 195 kilometers, with the Yamuna Expressway accounting for 165 kilometers, while the remaining distance is covered by the connecting roads in Delhi and Agra. The travel time on this expressway is significantly reduced due to the controlled access and smooth, well-maintained road. It takes approximately 2.5 to 3 hours to cover this distance by car, depending on traffic conditions and the speed at which you drive.
Speed Time
The Delhi Agra Expressway is renowned for its high-speed limits, making it one of the fastest ways to travel between the two cities. The speed limits on this expressway are as follows:
Cars: The maximum speed limit for cars is generally set at 100 km/h, but it's essential to adhere to posted speed limit signs and drive at a safe speed according to road conditions.
Motorcycles: Motorcycles are also allowed on the expressway, with a speed limit of 60 km/h for two-wheelers.
Commercial Vehicles: Heavy vehicles have a maximum speed limit of 80 km/h.
The controlled access and dedicated lanes for different types of vehicles help ensure smooth traffic flow and minimize congestion.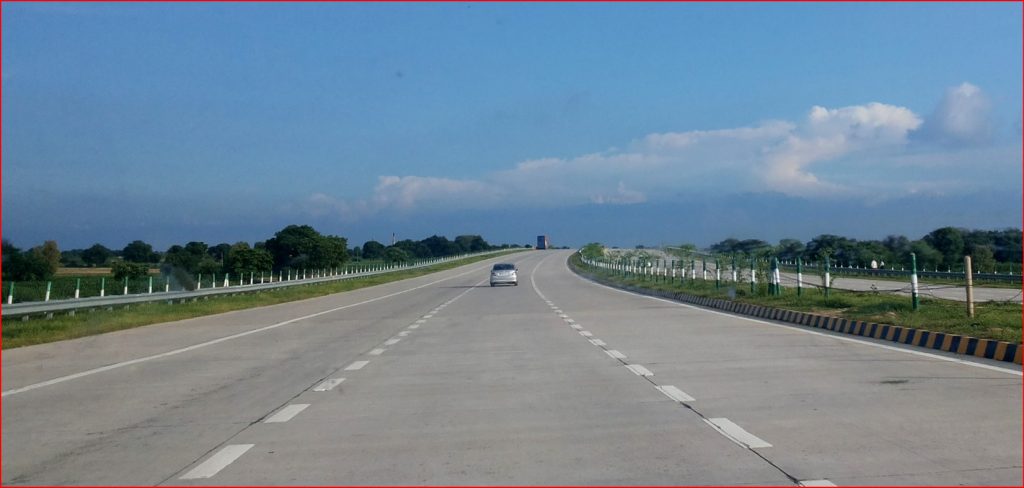 Toll-Tax Charges
To maintain the expressway and its high standards, a toll-tax is collected from vehicles using the Delhi Agra Expressway. Toll-tax charges are subject to change, and it's advisable to check the latest rates before your journey. Here are the toll-tax charges for different categories of vehicles:
| | | | |
| --- | --- | --- | --- |
| Type of Vehicle | Jewar (Rs.) | Mathura (Rs.) | Agra (Rs.) |
| 2/3 wheeler | 60 | 75 | 70 |
| Car | 120 | 155 | 140 |
| Light Commercial Vehicles | 185 | 240 | 220 |
| Bus/Truck | 380 | 485 | 445 |
| Multi Activity Vehicles | 580 | 740 | 675 |
| OSV | 745 | 955 | 875 |
These toll charges are collected at various toll plazas along the expressway. Make sure to have the necessary cash or electronic payment methods ready to avoid any delays during your journey.
Before the toll plaza:
Follow all the signs and enter the correct lane.
Avoid changing lanes unnecessarily.
If you are paying manually, the toll collector will classify your vehicle and tell you the toll fare.
If you have a smart tag, your fare will be automatically deducted and displayed on the screen.
For more information on payment options, please see the "How to pay" section.
To ensure a smoother drive, please register for a smart tag.
At the toll plaza:
Pay the toll and exit the lane.
Follow the correct lane at the toll plaza.
On the expressway:
Obey all the signs along the expressway.
Drive within the speed limit.
Adjust your speed to the road conditions and traffic around you. Reduce your speed in inclement weather.
Always overtake from the right after giving a proper indication.
Only stop your vehicle on the hard shoulder and put on your parking lights.
Slow down when entering and exiting toll plazas.
Only proceed after observing the green traffic signal at the toll gate.
General safety tips:
Make sure you have enough fuel to cover your journey and check the oil and water levels in your vehicle.
Do not stop your vehicle at a lonely spot unless there is an emergency.
Do not drive in a zigzag, rash, or negligent way.
Do not use your mobile phone while driving.
Do not drive if you are drunk.
Do not block the right lane. Drive in the middle lane.
Do not overspeed.
The Delhi Agra Expressway is a testament to India's commitment to modernizing its infrastructure and improving connectivity between major cities. With its high-speed limits, efficient toll collection system, and reduced travel time, it offers a convenient and time-saving route between Delhi and Agra. Whether you're a tourist visiting the iconic Taj Mahal or a commuter, this expressway is a game-changer in the way you travel, making the journey more comfortable and enjoyable. However, always stay updated with the latest information on toll-tax charges, speed limits, and safety regulations for a smooth and hassle-free journey on the Delhi Agra Expressway.