Bombay Sapphire is a brand of gin that is distilled at Laverstoke Mill in the English county of Hampshire by the Bombay Spirits Company, a subsidiary of Bacardi. The blue bottle of Bombay Sapphire gin is instantly recognisable. There are ten exotic plants from all over the world blended into each bottle.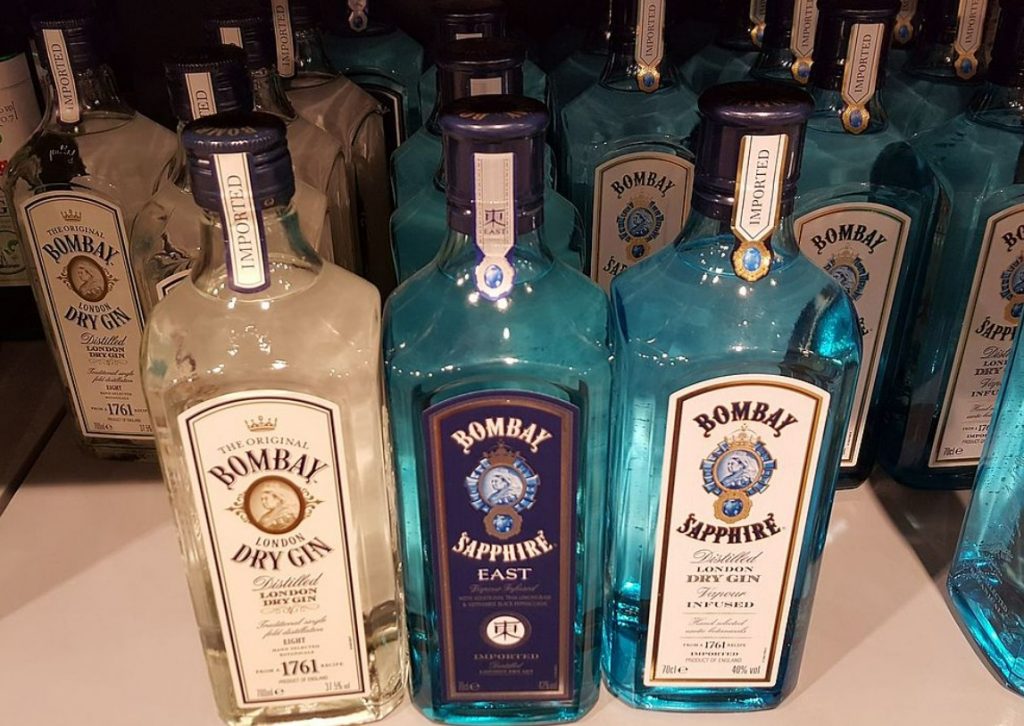 The English wine trader IDV introduced the label in 1986. Bacardi purchased the company's name from Diageo in 1997. The name comes from the Royal Indian Armed Forces' favourite cocktail under the British Raj; "Sapphire" alludes to the violet-blue Star of Bombay, a gemstone discovered in British Ceylon (Sri Lanka) and currently on exhibit at the Smithsonian Institution. The commercially available Bombay Sapphire product comes in a bottle of a sapphire hue and a flat profile, with a label featuring a portrait of Queen Victoria.
Almond, lemon peel, liquorice, juniper berries, orris root, angelica, coriander, cassia, cubeb, and grains of paradise are some of the ten ingredients in the recipe used to flavour the drink. In order to add flavour and scent, alcohol purchased from a third party is evaporated three times in a carterhead still before being vaporised and passed through a mesh/basket containing the 10 botanicals. There is a general consensus that this gives the gin a more delicate, flowery flavour than gins made in copper pot stills. In Delhi and Gurgaon, Bombay Sapphire is available in private liquor shops, duty free shops at Airport (Terminal 3/ T3) etc.
Bombay Sapphire is available in market in the following varieties :-
Bombay Sapphire
Bombay Sapphire Premier Cru
Bombay Citron Presse
Bombay Bramble
Bombay Sunset
Star of Bombay
Bombay English State
Bombay Sapphire Gin & Tonic
Bombay Bramble Gin & Tonic
Bombay Dry Gin
Bombay Sapphire & Light Tonic
| | |
| --- | --- |
| Country of origin | England |
| Area Served | Worldwide |
| Manufacturer | Bombay Spirits Co. Ltd. |
| Type | Gin |
| Alcohol by volume | 40% & 47% at duty free shops |
| Colour | Clear |
| Official Website | www.bombaysapphire.com |
Pricing for Bombay Sapphire in Delhi is as follows :-
| | | |
| --- | --- | --- |
| Brand | Volume | Price |
| Bombay Sapphire | 750 Ml | Rs 2400 |
| Sapphire English Estate Gin | 1000 Ml | Rs 2500 |
| Bombay Sapphire Gex | 1000 Ml | Rs 2200 |
| Bombay Sapphire Star Of Bombay London Dry Gin | 1000 Ml | Rs 3300 |
| Bombay Sapphire London Dry Gin | 1000 Ml | Rs 1900 |
| Bombay Sapphire English Estate | 1000 Ml | Rs 2000 |