Bagpiper is an Indian whisky that has been on the market since October 1976. It is produced by United Spirits Ltd (USL), a division of the United Breweries Group. The square bottle of Bagpiper is presented in a black and gold style. The malt spirits used to make the whisky were aged in pre-identified American oak casks, which the brand says gives it "a faint malty scent and a hint of a silky woody taste." In the same way that grain neutral spirits are used in blended whiskey, molasses is distilled into a spirit that is then flavoured with pot still malt whisky.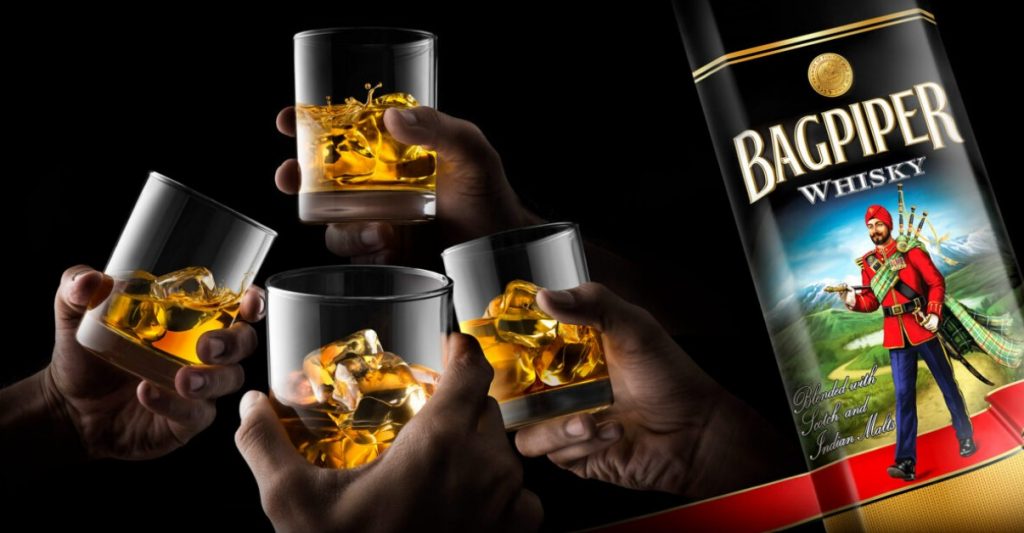 Bagpiper, a combination of Scotch and Indian malts and spirits, is widely recognised as one of the best examples of Indian whisky. The aroma is mildly malty, with a touch of wood or earthiness. A favourite among drinkers in many corners of the globe, this blend topped the charts as the best-selling whisky in the world in 2009. Bagpiper's connection to Bollywood and larger-than-life demeanour have grown crucial to the brand's identity over the past four decades. Ashok Kumar, Jackie Shroff, Dharmendra, Sunny Deol, Shahrukh Khan, and Ajay Devgn have all acted as brand ambassadors for Bagpiper. When Dharmendra first used the slogan "Khoob jamega rang…" in 1993, it immediately became a cultural touchstone and has since been inseparable from the company.
Herbertsons Limited, which the United Breweries Group had bought in 1973, introduced Bagpiper in 1976. Several additional companies owned by the UB Group amalgamated with Herbertsons Limited in 2006 to establish United Spirits Limited.
| | |
| --- | --- |
| Country of origin | India |
| Introduced | 1976 |
| Manufacturer | United Spirits Ltd (USL) |
| Type | Whisky |
| Flavour | Light malty aroma, smooth woody character |
| Alcohol by volume | 42.8% |
| Official Website | diageoindia.com |
Pricing for Bagpiper Whisky in Delhi is as follows :-
| | | |
| --- | --- | --- |
| Brand | Volume | Price |
| Bagpiper Deluxe Whisky | 180 Ml | Rs 120 |
| Bagpiper Deluxe Whisky | 375 Ml | Rs 205 |
| Bagpiper Deluxe Whisky | 750 Ml | Rs 400 |
| Bagpiper Deluxe Whisky | 1000 Ml | Rs 550 |