Tomato at 90 Rupees
National Cooperative Consumer Federation of India Limited (NCCF) has procured tomatoes from Maharashtra, Karnataka, and Andhra Pradesh under the guidelines of the government. After this, in areas like Okhla and Nehru Place, they are being sold at a cheaper rate of Rs 90 per kg.
Discussion is going on everywhere in the country about the prices of tomatoes, its price in the retail market has reached up to Rs 300 per kg. But do you know that this red tomato is available at a very low price in Delhi and NCR. Due to the initiative of the government, tomatoes are being sold in Delhi-NCR at Rs 90 per kg. The cheap sale of tomatoes has started on Friday.
Government's Strong Plan to Provide Relief The skyrocketing tomato prices have caused people to keep their distance. To alleviate the situation and reduce prices, the Consumer Affairs Ministry has devised a robust plan. On Wednesday, the ministry issued instructions to Nafed and NCCF, directing them to purchase tomatoes from other states and sell them at an affordable price in Delhi-NCR. Tomatoes were procured from Andhra Pradesh, Karnataka, and Maharashtra. The sale of tomatoes, organized by NCCF, commenced on Friday.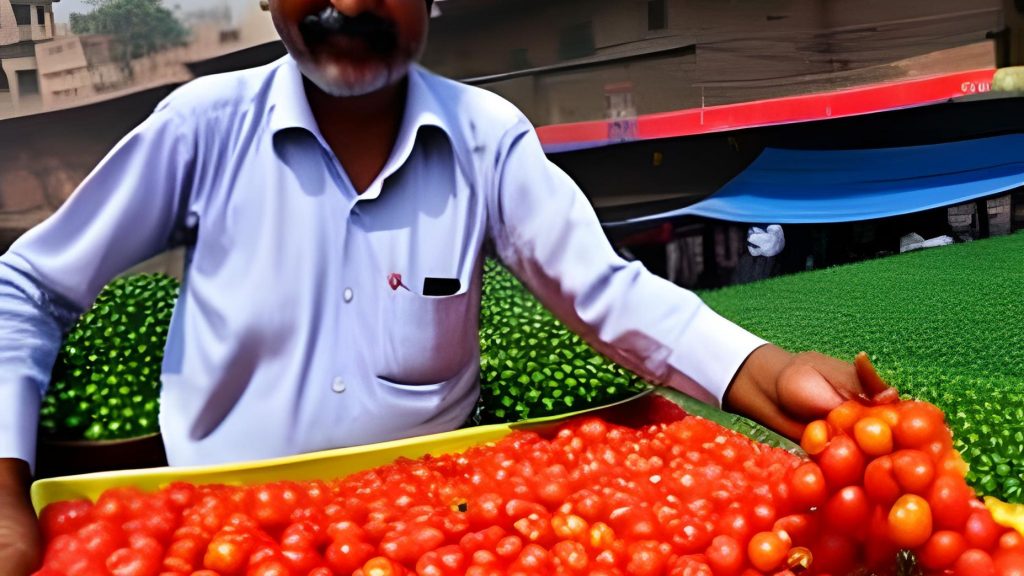 Tomato Prices Soar Over Three Times
In the past month and a half, tomato prices have become a major topic of discussion in the country. During this time, the price of tomatoes has increased more than threefold. In various states and cities, tomatoes have become unaffordable for many people. For example, tomatoes are being sold at Rs. 300-350 per kilogram in Chandigarh, Rs. 200-250 per kilogram in Delhi markets, Rs. 250 per kilogram in Ghaziabad, Rs. 200 per kilogram in Haryana, Rs. 200 per kilogram in Uttarkashi and Gangotri in Uttarakhand, Rs. 180-200 per kilogram in Jammu, and Rs. 160-180 per kilogram in Lucknow, the capital of Uttar Pradesh.
Tomato Prices Soar Tomato prices have continued to rise rapidly during the rainy season, making them scarce in kitchens. To address this issue, the Ministry of Consumer Affairs has stepped in to provide relief to the people. The ministry has instructed the National Cooperative Consumers Federation of India Limited (NCCF) and NAFED to purchase and sell tomatoes among the public. As a result, NCCF is now selling tomatoes in Delhi at prices lower than the market rate. This initiative will continue until tomato prices decrease.
Prices Surpass Rs 200 per kg On Friday, cooperative societies NCCF and Nafed began selling tomatoes at a subsidized rate of Rs 90 per kilogram in Delhi, neighboring areas, and Patna. The sale is being facilitated by the National Cooperative Consumer Federation of India (NCCF) and the National Agricultural Cooperative Marketing Federation of India (Nafed) on behalf of the government. Tomato prices have seen a significant surge in the retail market over the past few weeks. Due to untimely and heavy rains, the retail price of tomatoes reached Rs 244 per kilogram in many parts of the country.
Concessional Tomatoes: Know Locations
High Demand Leads to Queues By evening, approximately 80% of the 17,000 kilograms of tomatoes had been sold, according to Anees Joseph Chandra, the managing director of NCCF. We plan to increase availability and quantity in Delhi starting tomorrow. The response has been positive, with queues forming at some places to purchase the discounted tomatoes. Around 20 mobile vans were dispatched to areas such as Karol Bagh, Patel Nagar, Pusa Road, CGO Complex, Nehru Place, Adarsh Nagar, JJ slum in Wazirpur, and Dhodhapur Shiv Mandir. In addition, three mobile vans were sent to Noida Sector-78 and Pari Chowk near Greater Noida.
Retail outlets have been established in areas such as Okhla and Nehru Place. Moreover, 20 mobile vans have been deployed across the Delhi-NCR region to sell the stock of tomatoes brought from other states at a reduced price of Rs 90 per kilogram. This government initiative aims to combat the rising tomato prices.
Sales from 100 Central Store Centers "We are selling 'A' grade export quality tomatoes," Chandra stated. Starting from Sunday, the quantity will be increased to over 20,000 kilograms. NCCF will begin selling tomatoes through approximately 100 Kendra Bhandar sales outlets in the capital city. Chandra mentioned that NCCF is also in talks with Mother Dairy to sell tomatoes at subsidized rates through their 400 successful retail outlets in Delhi and surrounding areas.
Tomato Prices Across Various Locations According to government data, the average retail price of tomatoes across India on Friday was Rs 116.76 per kilogram. The maximum rate recorded was Rs 244 per kilogram, while the minimum rate was Rs 40 per kilogram. Among metro cities, tomatoes were priced at Rs 178 per kilogram in Delhi, followed by Rs 147 per kilogram in Mumbai, Rs 145 per kilogram in Kolkata, and Rs 132 per kilogram in Chennai. Tomato prices typically rise during the months of July-August and October-November, which are known for low production. The restricted supply due to monsoon has contributed to the substantial price increase.