Delhi is all set to host the Kanwar yatra, a pilgrimage of devotees of Lord Shiva, beginning July 14. Lacs of kanwariyas are expected to take part in the annual event. The kanwariyas, who carry pots of water from the Ganges River to temples dedicated to Lord Shiva, will be accorded a warm welcome by the Delhi government. Special arrangements have been made for their stay and security. A large number of police personnel will be deployed along the route of the yatra to ensure its safe conduct.
The Delhi government has also appealed to people living along the route of the yatra not to obstruct or inconvenience the kanwariyas in any way. After 2 years of Covid epidemic and lockdown, this time Kanwar Yatra is starting. The Delhi Traffic Police has made preparations to deal with the situation of traffic jam on the route of Delhi and has given complete details of the route and the diversionary road.
How many routes and how many camps for Kanwariyas?

Total Route – 50

Crossings – 187

Total Camps – 338

Government Camps – 172

Private Camps –  157

Security Camp – 9
This time Kanwar Yatra is starting from 14th July, which will end on 26th July. Police believe that the crowd will increase from July 21. Kanwar Yatra could not take place after 2019 due to Covid. Through Delhi, a large number of Kanwariyas go towards Haryana and Rajasthan. This year the number of Kanwariyas is estimated to be 15-20 lakh. Due to the February 2020 riots in the North-East district and the current environment going on in the country, the atmosphere has changed a bit.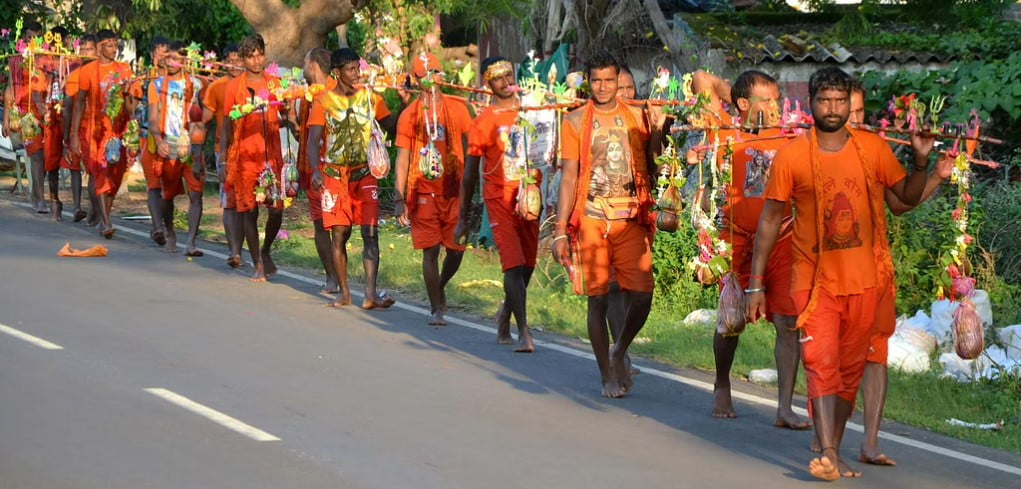 There will be a possibility of Traffic Jam here
Barfkhana Chowk to Fire Station on Rani Jhansi Road, Boulevard Road and Azad Market Chowk, Gokalpuri Flyover, 66-Foota Road, Maujpur Chowk, Badarpur 'T'-Point, Mathura Road. Rajokri Border from Dhaula Kuan Metro Station on NH-8. Traffic jam will continue on NH-24 due to UP Police diverting trains going from Apsara border and Maharajpur border to Ghazipur.
Kanwariyas will pass through these Roads
Kalindi Kunj-Mathura Road-Badarpur Border.
Kalindi Kunj – Mathura Road – Modi Mill – Maa Anandmayi Marg – MB Road.
Vande Mataram Marg and Upper Ridge Marg New Delhi.
New Rohtak Road (from Lotus 'T' Point to Tikri Border)
Najafgarh Road (from Zakhira to Najafgarh).
Maharajpur Border (Opposite Anand Vihar Bus Stand), Road No-56, Ghazipur Border – NH-24 – Ring Road – Mathura Road and will exit Badarpur Border for Haryana.
From Bhopura Border to Wazirabad Road – Wazirabad Bridge – Outer Ring Road – Mukarba Chowk – NH-1 and will exit at Singhu Border or Madhuban Chowk – Peeragarhi and exit at Tikri Border for Haryana.
From Bhopura Border to Wazirabad Road – Loni Flyover – Gokulpuri 'T' Point – 66 Futa Road – Seelampur 'T' Point – NH-1 and onwards towards New ISBT Bridge.
From Apsara Border to Shahdara Flyover – Seelampur 'T' Point – ISBT Flyover – Boulevard Road – Rani Jhansi Road – Faiz Road – Upper Ridge Road – Dhaula Kuan – NH-8 and exit at Rajokri Border for Haryana.
(Note: Apart from these many important roads and intersections, there is movement of Kanwariyas on many other roads in Delhi.)
There will be a Diversion here on a Crowded Day
Heavy vehicles will not be allowed on GT Road towards Shahdara and Wazirabad Road except city buses.
Heavy commercial vehicles except city buses will be diverted directly towards NH-24 from GT Karnal Road on Outer Ring Road. No permission will be given on Wazirabad Road and GT Road towards Shahdara.
UP Police will divert heavy vehicles from Mohan Nagar towards NH-24. Heavy vehicles will not be allowed to move towards Wazirabad Road via Bhopura and from Apsara Border towards GT Road.
Heavy commercial vehicles except city buses coming from Loni Road (towards Shahdara) will be diverted to Wazirabad Road for exit from Outer Ring Road.
Sonia Vihar, heavy vehicles except city buses coming from internal areas like Wazirabad Pushta, Pushta Road will be diverted to Outer Ring Road via Wazirabad Road to take NH-24.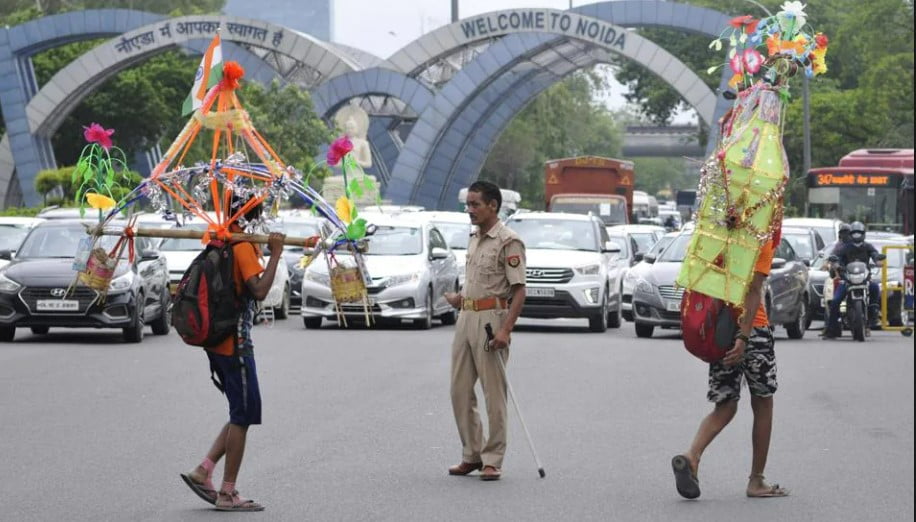 How Traffic will be managed
Kanwariyas are requested to follow their fixed route and path made. Due to this there will be no possibility of any kind of accident. Some new flyovers have been built, due to which the traffic will go up and down to the Kanwariyas and the problem of jam will not remain there.
More than 1925 traffic policemen will be deployed on all the main roads. At the time of the arrival of the Kanwariyas at the intersections, they will make a way for them. 56 cranes will be installed on these routes. Traffic policemen will also make a smooth system by patrolling by bike.
Register Here for kanwar Yatra 2022
Kanwariyas are requested by Delhi Police to register themselves at https://kavad.delhipolice.gov.in You will also be registered while entering the Delhi border. Therefore it is requested that all Kanwar Yatris should carry their Aadhaar with them.CCTV cameras will be installed in the border areas and in the Kanwar camps. Drone cameras will also be monitored. Commandos will also be present in 9 camps made for security. A control room will be set up at Apsara border.Verification drive is being run in view of the terror attack. Meetings have been held with the peace committees and the people present in the area. There are strong arrangements from the police side regarding security.

Regular 

Traffic

updates can be found here
Facebook page of Delhi Traffic Police

Twitter handle @DelhiTrafficPolice
whatsapp number 8750871493
helpline number 1095
011-25844444