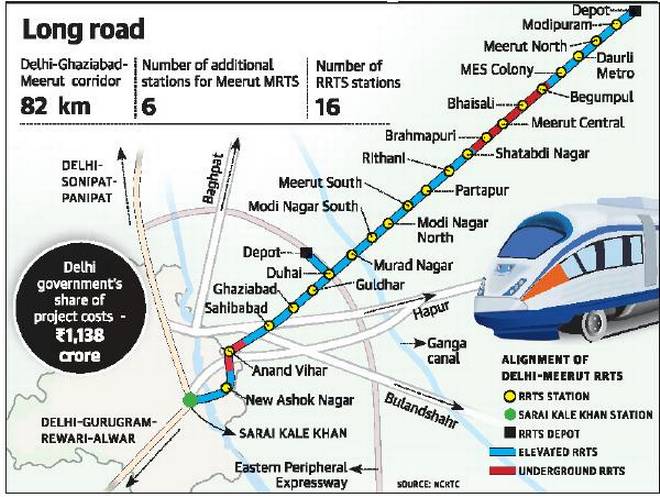 Meerut is a historic city located in western Uttar Pradesh and about 70 kms from Delhi. Delhi-Meerut route is one of the busiest highways in western UP and the same also goes to Uttarakhand. A number of passengers commute between the two cities on a daily basis, mostly on buses and railways. Over the past few decades, there has been an increase in traffic on the road leading to traffic congestion enroute at different places, and particularly in Ghaziabad. In order to improve the connectivity between two cities, one rail and one road project is currently being undertaken.
Delhi-Meerut Regional Rapid Transit System (RRTS)
Delhi Meerut RRTS is regional rapid rail project aimed to ease traffic movement between the two cities and reduce the travel time between two cities. It is one of the three such projects being worked on. The other two are Delhi-Gurugram-Alwar RRTS and The Delhi-Panipat RRTS.
Delhi-Meerut RRTS project is envisaged as a semi-high speed rail corridor. It will cover a total stretch of 82 kilometers beginning from Sarai Kale Khan and ending at Modipuram close to Meerut city. There will be a total of 16 stations.
Delhi Meerut RRTS Rail Stations
Sarai Kale Khan
New Ashok Nagar
Anand Vihar
Sahibabad
Ghaziabad
Guldhar
Duhai
Muradnagar
Modi Nagar South
Modi Nagar North
Meerut South
Shatabdi Nagar
Meerut Central
Begumpul
Meerut North
Modipuram
It was in March 2019 that the Prime Minister of India, Shri Narendra Modi, laid the foundation stone of this project. The estimated cost of this project is 30,274 crore.
Out of a total route length of 82 kilometers, the elevated corridor will be for about 68 km, underground for about 14 kilometers and the rest will be at grade in order to connect to two depots. One of these depots will be at Duhai in Ghaziabad district and the other will be at Modipuram in Meerut.
The project is slated to be completed in a phased manner, with Sahibabad to Meerut South corridor being completed first and being operational by 2023. The 16.6 kilometer long Hazrat Nizamuddin to Sahibabad distance would be completed by January 2024. Remaining distance from Meerut South to Modipuram is expected to be over by June 2024.