In April, the Jaipur–New Delhi segment of the Vande Bharat Express will launch. The railways released its schedule on Wednesday. The Vande Bharat would stop in Gurgaon, Rewari, and Alwar along route from Delhi to Jaipur. Throughout the first week of testing, it will go at a speed of 72 km/h. The train's speed is expected to be boosted to 150 km/h if all goes well. Testing of the Vande Bharat train between Delhi and Jaipur will begin on March 25.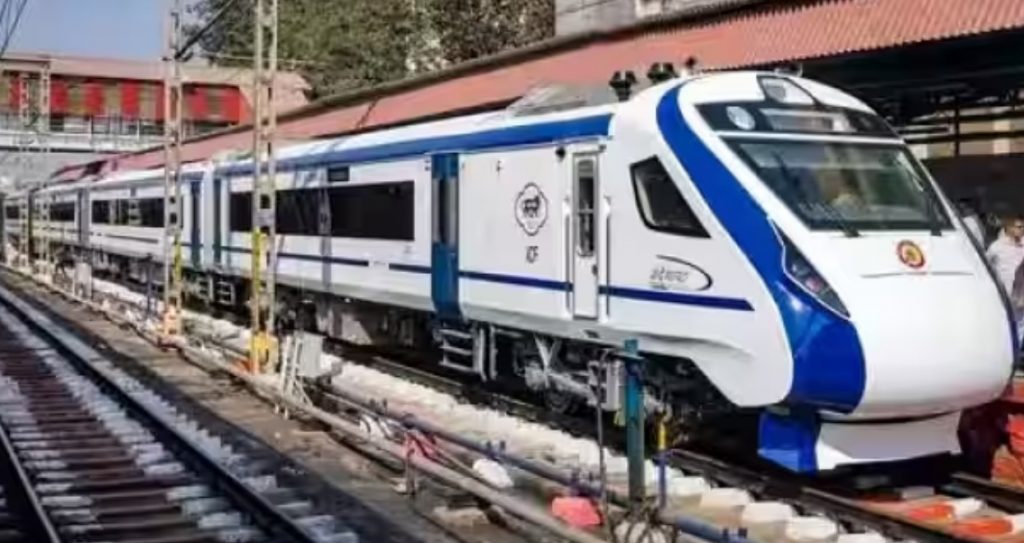 At 6:10 p.m., the train will depart from Delhi, travelling to Gurgaon at 6:45 p.m. and Rewari junction at 7:35 p.m. Around 8:25 pm, it will arrive at Alwar, and at 10:20 pm, it will enter Jaipur. At 12:15 AM, it will arrive in Ajmer. This equates to a time of 6 hours and 5 minutes to go the 242 miles.
| | |
| --- | --- |
| Delhi | 6:10 p.m |
| Gurugram | 6:45 p.m |
| Rewari | 7:35 p.m |
| Alwar | 8:25 pm |
| Jaipur | 10:20 pm |
| Ajmer | 12:15 AM |
The trip from Delhi to Jaipur will take four hours during the trial. If the train's speed is increased to 150 km/h, however, the journey to the state capital of Rajasthan will take only 1.45 hours. Only for six days will this train run between Delhi and Alwar. Except for Wednesday, it will operate continuously.
The train's meal service has also been set up. Dishes like pyaz ki kachori, Jodhpuri pulao, daal-baati, and more will be included. Nonetheless, travellers will be responsible for covering the additional food costs. The food prices have yet to be determined.
The Vande Bharat's route between Delhi and Jaipur has been altered. This is because double-decker trains required the electric lines along this route to be elevated higher than necessary. There will be 16 passenger carriages on the Vande Bharat trains, with a maximum capacity of 1,196 passengers. Each coach has 78 available seats. The projected fare for the train, however, is Rs 800. The fare for an executive car is Rs 1800.