The Delhi Metro is a rapid transit system serving Delhi and its surrounding areas, including Noida, Gurgaon, Ghaziabad, and Faridabad. It is the busiest metro system by ridership and the largest in India. The Delhi Metro has a network of 288 stations spread over 392 kilometers of route.
Delhi Metro: Ticket and Fare Information
The Delhi Metro, a symbol of modern infrastructure and public transportation in India's capital, Delhi, has significantly eased the city's traffic congestion and changed the way its residents commute. With its extensive network of lines, it connects various parts of the city, making daily travel more convenient and efficient. To use this mode of transportation effectively, it is crucial to understand the ticketing system and fare structure. In this article, we'll delve into the details of the Delhi Metro's ticket and fare information, helping both regular commuters and tourists navigate the system with ease.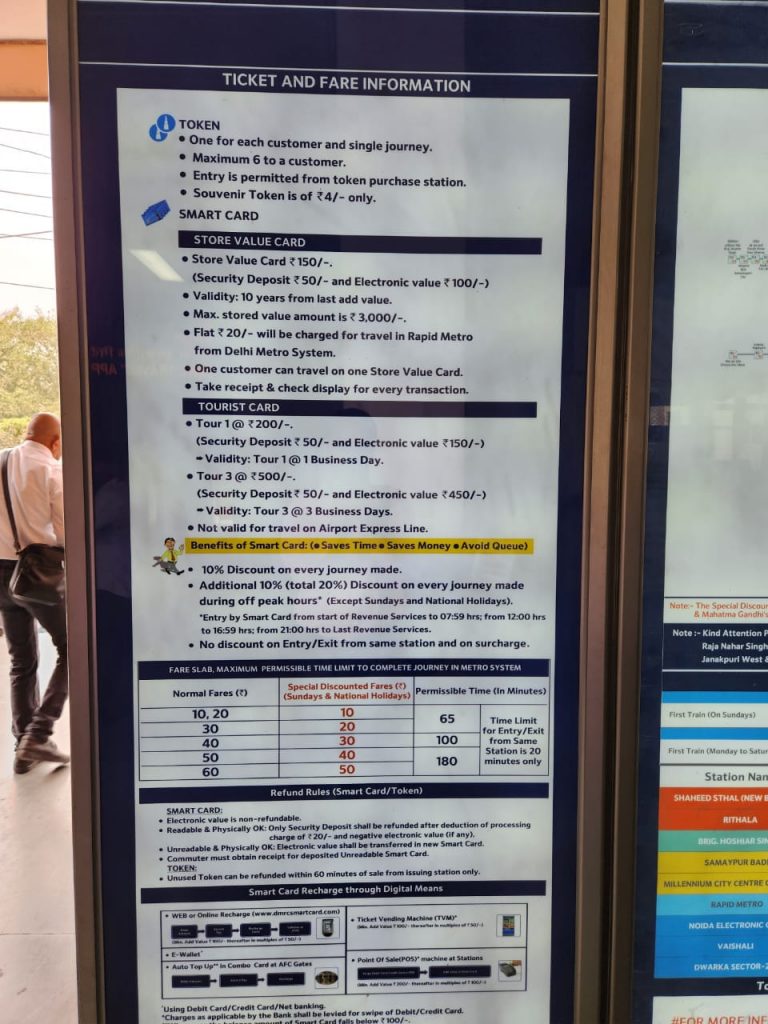 Understanding the Delhi Metro Ticketing System
The Delhi Metro offers various ticketing options to cater to the diverse needs of its passengers. The system is designed to be accessible and user-friendly, making it convenient for everyone, including tourists, daily commuters, and occasional travelers.
Tokens: The most common way to access the Delhi Metro is by using tokens. Tokens are small, plastic coins that passengers purchase at the metro station before entering. They come with a magnetic strip containing information about the fare and validity. Passengers insert the token at the entry gate to enter the system and then return it at the exit gate while exiting the station. The fare is automatically deducted from the token upon exit.
Smart Cards: Delhi Metro smart cards are a more convenient option for regular commuters. These contactless cards can be purchased at metro stations and can be recharged as needed. Smart cards offer various benefits, including discounts on fares and the convenience of not having to stand in line to buy a token for each journey. Additionally, they are more eco-friendly as they reduce the use of paper tokens.To obtain a smart card, passengers need to fill out an application form and provide a passport-size photograph. The card can then be recharged at the metro station or online. Smart card users can also avail of automatic recharge facilities, ensuring that their card always has sufficient balance for their journeys.
Tourist Cards: The Delhi Metro offers tourist cards designed specifically for tourists and visitors. These cards come with a fixed amount, providing unlimited travel within a certain time frame (usually one day or three days). They offer a cost-effective way for tourists to explore the city while using the metro. Tourist cards can be purchased at the metro station or online, making them convenient for travelers arriving in Delhi.
TICKET AND FARE INFORMATION
TOKEN
One for each customer and a single journey.
Maximum 6 to a customer.
Entry is permitted from the token purchase station.
Souvenir Token is of Rs 4/- only.
SMART CARD
Store Value Card Rs 150/-.
(Security Deposit Rs 50/- and Electronic value Rs 100/-)
Validity: 10 years from the last add value.
Max. stored value amount is Rs 3,000/-.
A flat Rs 20/- will be charged for Travel in Rapid Metro from the Delhi Metro System.
One customer can travel on one Store Value Card.
Take the receipt & check the display for every transaction.
Tourist Card
Tour 1 @ Rs 200/-.
(Security Deposit Rs 50/- and Electronic value Rs 150/-)
– Validity: Tour 1 @ 1 Business Day.
Max stored value amount is
Tour 3 Rs 500/-.
(Security Deposit Rs 50/- and Electronic value Rs 450/-)
– Validity: Tour 3 @ 3 Business Days.
Not valid for travel on the Airport Express Line.
Benefits of Smart Card
Saves Time
Saves Money
Avoid Queue
10% Discount on every journey made.
Additional 10% (total 20%) Discount on every journey made
during off-peak hours" (Except Sundays and National Holidays).
Entry by Smart Card from start of Revenue Services to 07:59 hrs: from 12:00 hrs
to 1659 hrs: from 21:00 hrs to Last Revenue Services.
No discount on Entry/Exit from the same station and on surcharge.
Fare Slab, Maximum Permissible Time Limit to Complete Journey in Metro System
Normal Fares (Rs)
Special Discounted Fares
(Sunday & National Holidays)
Permissible Time (In Minutes)
10, 20
10
65
The time left for Entry/Exit from the same station is 20 minutes only.
30
20
40
30
100
50
40
80
60
50
Refund Rules (Smart Card/Token)
SMART CARD
Electronic value is non-refundable.
Readable & Physically OK: Only the Security Deposit shall be refunded after the deduction of processing
charge of 20/- and negative electronic value (if any).
Unreadable & Physically OK: Electronic value shall be transferred in new Smart Card.
Commuter must obtain receipt for deposited Unreadable Smart Card.
TOKEN
Unused Token can be refunded within 60 minutes of sale from issuing station only.
Smart Card Recharge through Digital Means
WEB or Online Recharge (www.dmrcsmartcard.com)
E-Wallet
Ticket Vending Machine (TVM) AdV100/-theater 50/-)
Auto Top Up" in Combo Card at AFC Gates
Point Of Sale(POS) machine at Stations
Using Debit Card/Credit Card/Net banking.
Charges as applicable by the Bank shall be levied for swipe of Debit/Credit Card.
The Delhi Metro's ticketing system and fare structure are designed to offer convenience, accessibility, and affordability to the people of Delhi and its visitors. Whether you are a daily commuter, a tourist exploring the city, or an occasional traveler, understanding the ticketing options, fare structure, and the rules and regulations of the Delhi Metro is essential for a smooth and enjoyable travel experience. By choosing the right ticketing option and adhering to the rules, passengers can make the most of this world-class transportation system while contributing to a sustainable and efficient urban transport network in Delhi.