Delhi Metro QR Code Paper Tickets
Paper tickets with a QR code would be available for usage on the Delhi Metro, with tokens being phased out progressively. Automatic Fare Collection gates and token/customer care counters have been modernised by the Delhi Metro Rail Corporation to accommodate this service. Within 60 minutes of the paper ticket's issue, passengers will be allowed entry. A ticket will become invalid after 60 minutes if the passenger has not entered the system.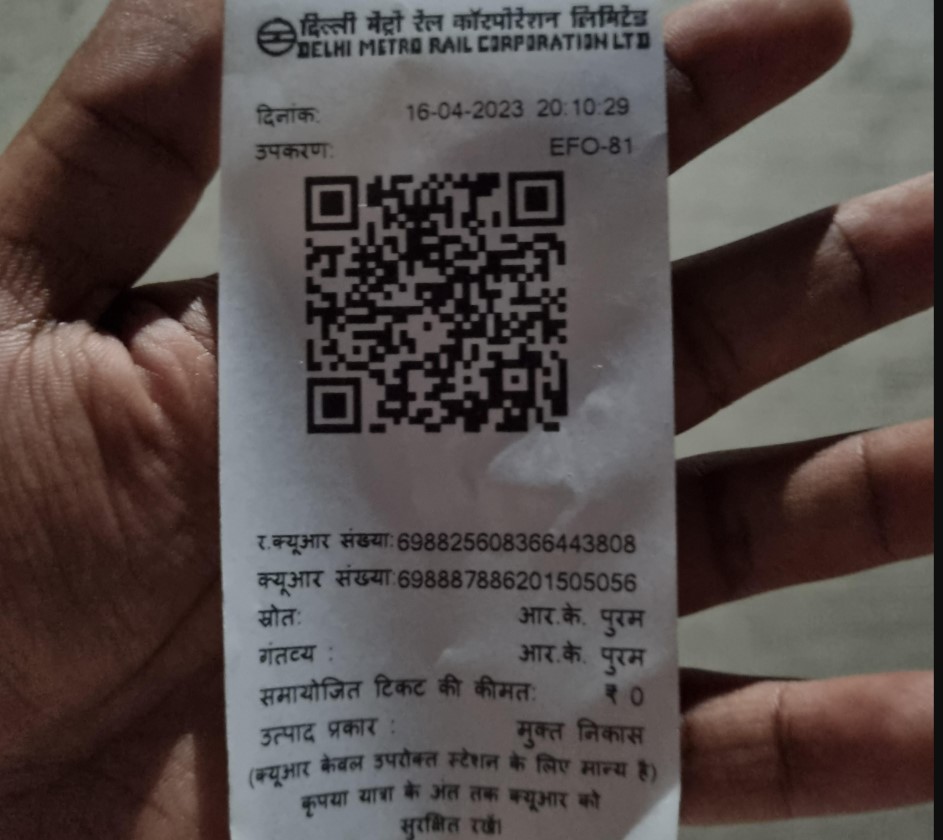 Metro riders can now utilise paper tickets equipped with a QR code thanks to the new facility. DMRC has announced that it has changed its gates and counters to scan the QR codes and collect the fares, calling the new method an alternative to the old tokens and smart cards. The QR counterfoil method has been tested for a while now.
DMRC claims that both the entrance and exit gates at each station are equipped to read QR codes printed on paper tickets. By June, the company hopes to have all the gates and ticket machines' QR code ready.
The Delhi metro system plans to introduce mobile QR tickets by the month's end. Without the need to purchase tickets at the stations or counters, taking the Metro will be even quicker, easier, and more convenient.
With the adoption of these more open and human intervention free and cashless procedures, the concept of issuing tokens will be phased away gradually, allowing for more streamlined, efficient, and error-free transit for its users.
Delhi Metro Ticketing in Delhi Using QR Codes
To begin your trip, visit the station where you wish to depart and purchase a QR-based Paper Ticket (non-refundable) at the Ticket Vending Machine or the Customer Care Counter.
Within 60 minutes of purchase, scan the ticket's QR code at the front entrance to get entry.
The ticket only allows entry at the specific station from where it was purchased.
You'll need to buy a new ticket if you don't scan the old one within 60 minutes.
Reaching your location is as easy as clicking your mouse.
Delhi Metro's Guidelines for Using Paper QR-Code Tickets
Paper tickets with QR codes can only be purchased between two designated stations.
In order to reach your last stop, you must leave from the same station you entered.
Follow these procedures to leave the station at a different location, you must obtain a free exit ticket from the Customer Care operator and present your QR-based Paper Ticket if you wish to exit from a station other than your final destination.
You must pay the difference in fare if you exit from a different station than your final destination.
The representative at Customer Care will issue you a departure slip and retain your QR-based Paper Ticket.
A paper ticket with a QR code cannot be used in place of the original. If you do this, the DMRC will treat you as if you did not have a ticket and will fine you accordingly.
In particular, DMRC is issuing QR-based Paper Tickets on a station-by-station basis. It's no secret that the world is becoming more and more reliant on technology. Because of this, flying will be easier, faster, less stressful, and less prone to mistakes for passengers.