Old Gurugram Metro
Taking an important decision towards the expansion of Metro in NCR, the Central Government has approved the new metro line between HUDA City Center and Cyber City in Gurgaon. This line will be of 28.5 km with a total of 27 stations. Most of the Gurgaon old city area will be covered by this project. A target has been set to complete the entire project in four years. The project will be elevated and will cost Rs 5,452 crore. A spur line (branch line) will also connect it to the Dwarka Expressway. Apart from Delhi, the people going from Noida to Gurgaon will be more benefited by the construction of the new line. After the new line, people will be able to connect to Udyog Vihar in Gurgaon via Metro.
28 km more metro will be built in Gurugram. It will be constructed from HUDA City Center to Cyber City. Its work is expected to start within a month. Chief Minister Manohar Lakh Khattar has given information about this on Wednesday. He told that GMDA is about to start work for City Metroline. Where the metro will pass, they will be benefitted by this. If you also live in this route, then this news is useful for you. Come, let us know here what this route will be.
Old Gurugram Metro Route Map
Here is the proposed route map for Old Gurugram Metro.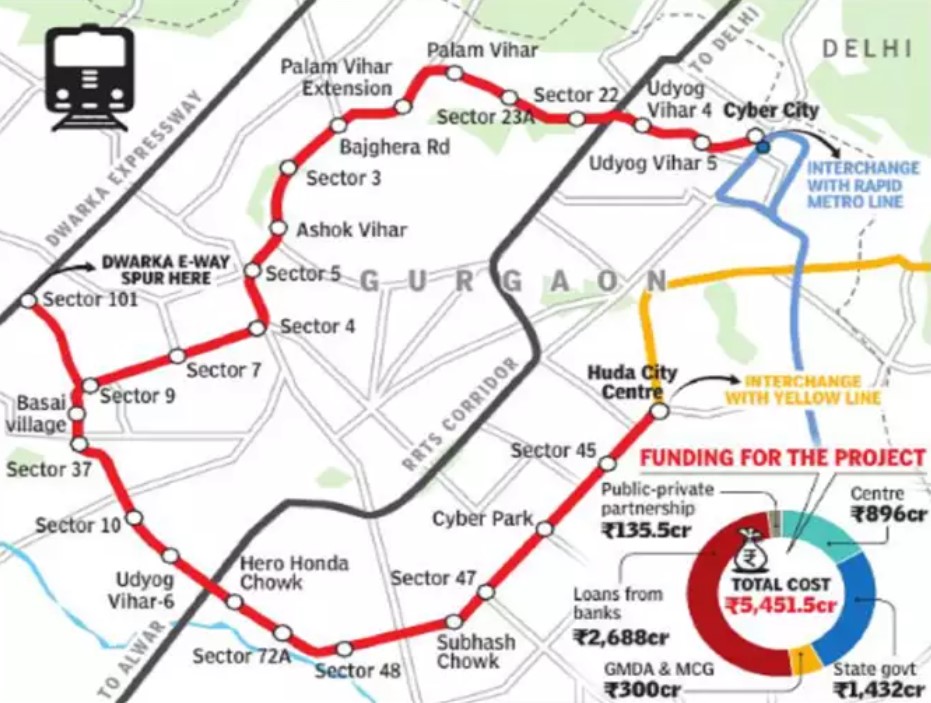 Old Gurugram Metro Stations and Route
People coming from Delhi-Noida work in Palam Vihar, Udyog Vihar, they will get direct benefit. At present, around 45 to 50 thousand people travel every day at 5 metro stations. While after the arrival of Metro in Old City, there will be more than 1.25 lakh ridership. Old City Sector 10, 10A, Sector 9, 9A, Sector 4, Laxman Vihar, Surya Vihar, Sector 4, 7, Ashok Vihar, Palam Vihar, Dundahera, Molahera, Sector 21, 22, 23, Udyog Vihar, Highway Thousands of people of the area, Sarhaul etc. will get direct benefits. Metro station will be at walking distance in most of the areas.
The project has received approval from the Public Investment Board (PIB). The board had given it the green signal in November last year. It is awaiting approval from the Union Cabinet. At present, the length of the metro line in the city is 17 km.
27 stations will be there on this route
Under the Gurugram Metro project, there will be 27 stations on the route. It will be from HUDA City Center to Cyber City. This line will pass through Old Gurugram. The length of this route will be 28.8 km. The metro corridor will start from the Yellow Line at HUDA City Centre. Khattar had announced this while presenting the state budget in February. He told that work on three metro routes including Gurugram Metro Corridor will start in 2023-24.
Who will benefit?
As per the project report, the 27 stations include HUDA City Centre, Sector 45, Cyber Park, Sector 47, Subhash Chowk, Sector 48, Sector 72A, Sector 101, Hero Honda Chowk, Udyog Vihar 6, Sector 10, Sector 37, Basai, Sector 9, Sector 7, Sector 4, Sector 5, Ashok Vihar, Sector 3, Bajghera Road, Palam Vihar Extn, Palam Vihar, Sector 23A, Sector 22, Udyog Vihar 5 and Cyber City.
Easy connectivity to metro station
Presently there are 5 metro stations in Gurgaon. HUDA City Center, IFFCO Chowk, MG Road, Sikandarpur, Guru Dronacharya. Now 25 more metro stations will be built. New route from Prakashpuri Chowk before railway station. 5 will go towards Palam Vihar. The railway station is one km away from Prakashpuri Chowk. This will benefit the people around the railway station. Such people will be able to reach the metro station via city bus or auto.