History of Old Hanuman Mandir at Yamuna Bazar
Legend has it that Lord Hanuman ji rested here in Delhi before setting out for Lanka to deliver the mountain of Sanjivani Booti to Laxman. When Hanuman ji was lifting the mountain, he looked down and saw the river Yamuna below; tired from his efforts, Hanuman ji wanted to rest for a while on the banks of Yamuna ji, therefore the origin of the name Marghat wale Baba Hanuman Mandir. But when Hanuman descended, he saw a cremation ground, and the bad spirits cried out in protest. At the same time, when Lord Hanuman visited Mata Yamuna, then Yamuna also told Hanuman ji that I would come every year to see you and you will have a powerful temple here.
The water level in the Yamuna River rises to the temple every year. Yamuna ji's stream could not reach the temple after the construction work, but the sadhus here tell that after a few years, floods arrive here and when Yamuna ji wants to see Hanuman ji, he grows enormous. She assumes shape and walks to the temple. Even now, there is a cremation site in front of the temple, where Baba Hanuman ji crosses the souls who come here for their final journey.
Every Tuesday and Saturday, thousands of devotees flock to the Baba Hanuman temple in Marghat to seek the blessings of Hanuman Ji.
It would not be incorrect to refer to Lord Hanuman of Kalyug as the deity who corrects bad luck. If someone requests Hanuman ji for something with a real heart and yearning, Hanuman ji never disappoints that devotee. Even today, many people continue to get several proofs of Hanuman ji's presence in Kalyug. Together with India, Hanuman ji has frequently provided proof of his existence to people in other countries. Several Hanuman ji miracles continue to occur even today. In Delhi, there is a similar temple where Hanuman ji arrived thousands of years ago and saved hundreds of wicked spirits. Please tell us about a powerful and important holy site in Delhi where the presence of Hanuman ji, the slayer of evil, may still be found today.
When Hanuman Ji was on his way to deliver Sanjivani to Laxman, legend has it that he stopped and rested here. The Yamuna river used to pass by the side of the temple at that time, and this area used to be utilised as a crematory. Because of this, this temple is known as "Marghat Temple".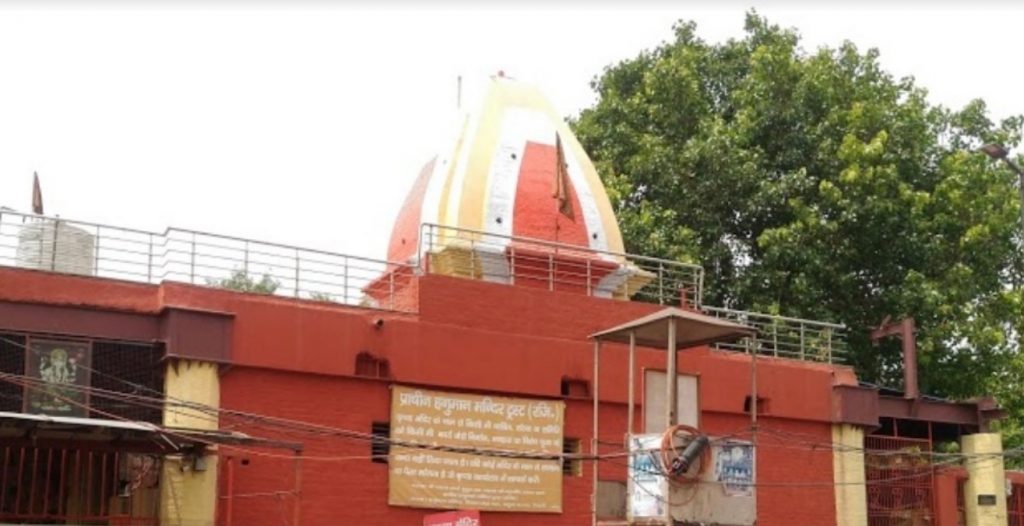 Some Fascinating Details on Marghat Wale Baba
The chamber containing Hanuman's pindi is filled with water during the monsoon when the Yamuna is flowing at its fullest. It was thought that Lord Hanuman himself paid the waters of the Yamuna a visit. The scientists, however, did not think so because of how far distant the Yamuna and the temple were. Testing revealed that the water was actually from the Yamuna river.
What should the water be like was the question at hand. What is even more surprising about this is that no one has ever claimed that Sham Ghat, now known as Nigambodh Ghat, still exists.
Also, it is thought that Baba himself manifested as the idol of Lord Hanuman in the Marghat Wala Hanuman shrine. According to legend, whenever the Yamuna River's water level increases, water naturally enters this temple, submerging the Baba image up to the shoulder. When the Yamuna River's water level falls, the temple fills up with water. The water level also decreases. In close proximity to this temple is a Peepaleshwar Shani Dev ji temple that was built in 2002.
On Tuesdays and Saturdays, when there are the most visitors to the Marghat Wala Hanuman Temple, devotees must wait in line for one to one and a half hours to see Baba. In this temple, the Hanuman Jayanti festival is observed with tremendous pomp, and tableaus are also performed on this day. On the day of Hanuman Jayanti, the temple is open from dawn to dusk.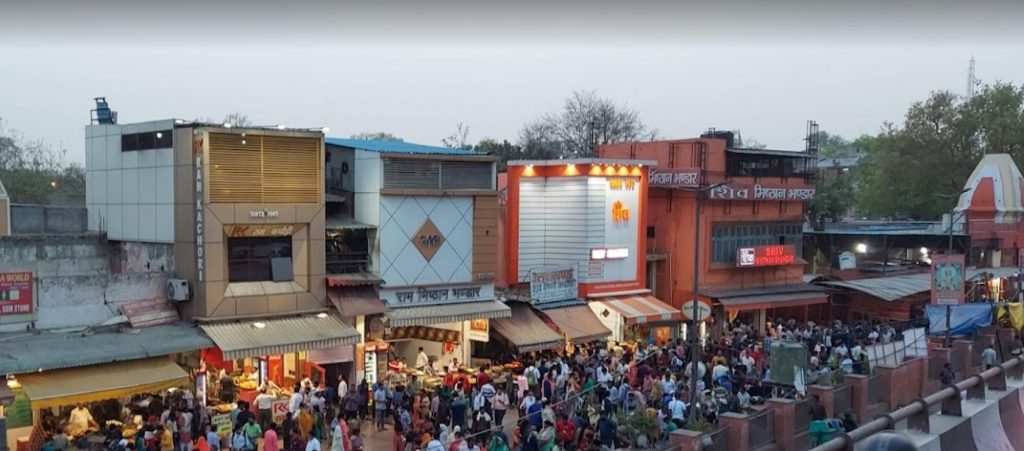 Timings of Marghat Hanuman Mandir Yamuna Bazar
| | |
| --- | --- |
| Monday | 6 am – 11 am, 4 pm – 12 am |
| Tuesday | 6 am – 11 am, 4 pm – 12 am |
| Wednesday | 6 am – 11 am, 4 pm – 12 am |
| Thursday | 6 am – 11 am, 4 pm – 12 am |
| Friday | 6 am – 11 am, 4 pm – 12 am |
| Saturday | 6 am – 11 am, 4 pm – 12 am |
| Sunday | 4 pm – 8:30 pm |
The location of Hanuman temple Jamuna Bazaar
Address –  Yamuna bazar, Kashmere Gate, Delhi.
This powerful Hanuman temple, also known as Marghat Wale Baba Hanuman, is located in Jamuna Bazaar, Delhi. Every day, thousands of Delhi residents flock to Kashmere Gate to see Virajit Hanuman ji. The temple is said to be where Lord Hanuman made his appearance.