Mughal Garden (Amrit Udyan) Opening Days & Time
From January 31st, 2023 to March 26th, 2023, visitors can enjoy the Mughal Garden for free, as there is no ticket cost during this time of the year. It is advisable to get the entry tickets online via official website (Link below).
| | |
| --- | --- |
| Opening Time | 10 am |
| Closing Time | 5 pm |
| Days Open |  Tuesday to Sunday |
| Closed on | Monday |
Please note From March 28th to 31st 2023, Mughal Garden (Amrit Udyan) will only allow the following visitors categories entry:
Farmers on the 28th March 2023
The disabled and the visually impaired on the 29th March 2023 (visually challenged visitors can also access the Tactile garden on the same day)
For military, paramilitary, and police : 30th March 2023.
Women and Tribal women's SHG : 31st  March 2023.
Mughal Garden will be open to visitors from 10:00 AM to 5:00 PM (last entry will be at 4:00 PM).
The Gardens will be closed on:

(a) All Mondays for maintenance
(b) On 1st & 2nd March 2023 (Wednesday & Thursday) on account of G-20 meetings on 8th March 2023 (Wednesday) due to Gazetted Holiday on account of 'HOLI'.
Recently the Government of India has renamed the Mughal Garden to Amrit Udyan. Here, we will provide information on how to book tickets online for the Amrit Udyan (formerly known as the Mughal Garden).
Entry Fees and Charges
Booking of slots and entry to the Gardens of Rashtrapati Bhavan during Udyan Utsav is free of cost.
Mughal Garden Online Tickets Booking
The Mughal Garden, of course, is the famous floral garden in Delhi. People in Delhi and tourists from outside visit to enjoy a peaceful stroll in the lush greenery. Recently, not only has the name of the Mughal Garden changed, but its opening time has also been extended. Now, Amrit Udyan will be open for approximately two months. One can get entry tickets through Online Booking as well as through On-the-spot Bookings.
Online Booking
Online Booking can be done through visiting President of India website (link below).
On-the-spot Booking
Visitors can register at the gate via a registration kiosk or at the information desk.
Location
Rashtrapati Bhavan, Delhi
Name
Udyan Utsav 2023
Entry
From Gate No. 35
Opposite RML Hospital
North Avenue Road
Ticket Price
Free
Opening date
31st January, 2023
Closing Date (Opened till)
26th March, 2023
Timing
10 AM to 5 PM
Last Entry
Till 4 PM
Closed on
Every Monday, 8th March Holi
Official Website
Click Here
The Mughal Garden opens only once a year for a limited time, during the months of February and March. If you want to see Delhi at its most beautiful, this is the best location. To visit the Mughal Garden, you must purchase tickets through the designated channels. Please note that ticket is free (there is no charge for it), but you will need to provide identification documents for entry into the Mughal Garden (Amrit Udyan).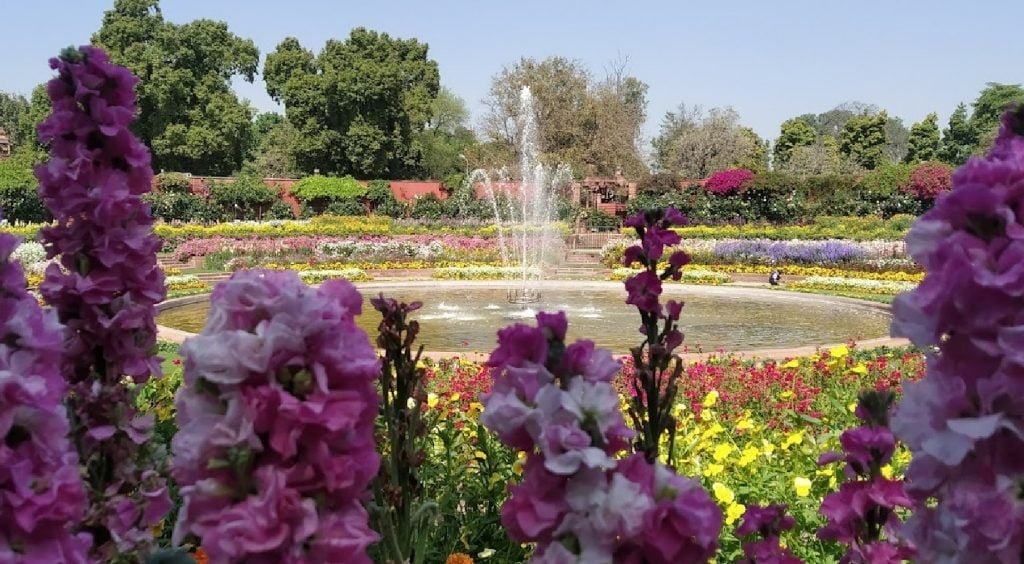 Highlights of the Mughal Garden at Delhi's Rashtrapati Bhavan
The Mughal Garden is one of the world's most exotic and extraordinary gardens. As you breathe in the fragrant air and admire the colorful bouquet of flowers, you'll feel inspired. Here are some of the garden's most interesting features:
An Array of Different Tulip Varieties
Stunning Rose-Flower Carpets
Multiple Water Fountains Throughout the Garden
Air-Purifying Vegetation.
Visitor Information for the Mughal Garden (Amrit Udyan)
Here is the information you need to plan a successful trip to the Mughal Garden. Follow these tips to make the most of your visit:
Check the garden's dates and times online before your trip.
Be aware that all items brought into the garden, including briefcases, water bottles, and backpacks, will be subject to inspection.
Note that there is no admission fee for visiting the garden.
Do not pick or touch the flowers in the garden. Keep these guidelines in mind.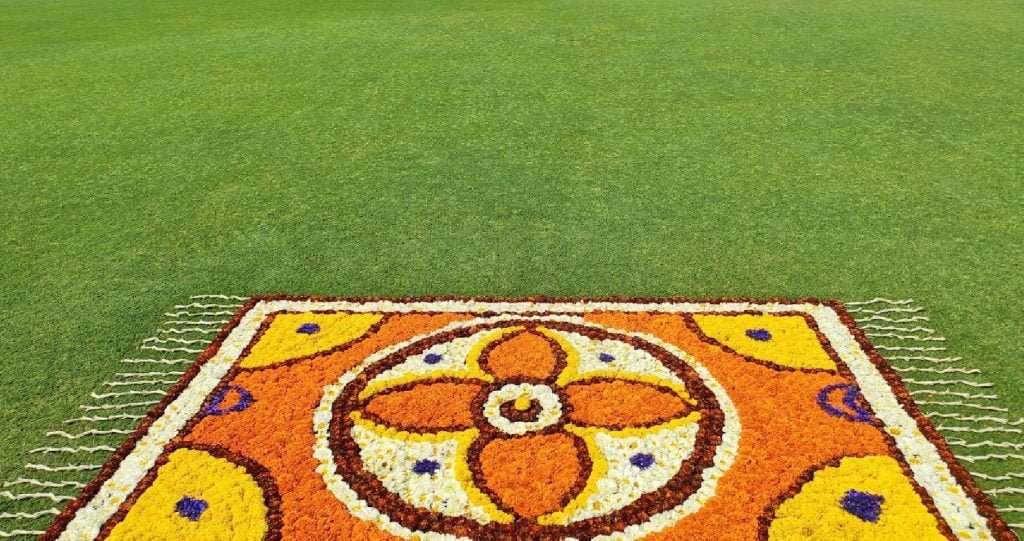 Facilities available in Mughal Garden (Amrit Udyan)
Facilities available inside
Drinking Water, Toilet, First Aid,
Seats for rest, wheelchair for disabled people
Item allowed
Small size ladies purse,
mobile phone, car keys, water bottle
Items not allowed
Big size Bag, Ladies purse, Umbrellas
Eatables, knives or weapons
Note : Please bring your Aadhar Card or Voter id Card or School/College Id card.
Note : (a) Mughal Garden will remain closed on every Monday  for maintenance
(b) 1st and 2nd March 2023 on account of G20 meeting
(c) 8th March 2023 due to GH on account of Holi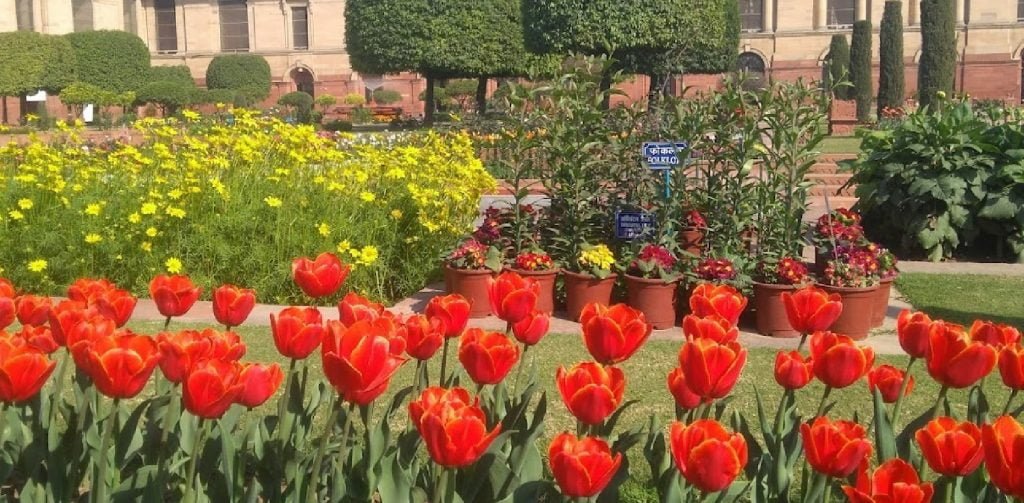 New main Attractions in Mughal Garden
At the Mughal Garden, various new plants that have the ability to absorb pollution particles from the air are on display. Some of these plants include Areca Palm, Phoenix Palm, Bamboo Palm, Boston Fern, Spider Plant, Money Plant, Rubber Plant, Peace Lily, Flamingo Lily, Aglaonema, Dieffenbachia (also known as Dumb Cane), and Aloe Vera.
The garden features an automated irrigation system, which ensures that plants receive the necessary air and water, even if you are unable to water them daily or are going away for a few days. The system can be programmed to deliver the necessary resources at your desired time.
Vertical Garden Exhibition
Learn how to plant flowers and vegetables without soil and using only water. You will also discover how to grow various fruits and vegetables such as cabbage, broccoli, tomato, eggplant, lemon, strawberry, guava, grapes, pomegranate, and chikoo in pots. Here you will get information you need to start your own small kitchen garden.
Location and Contact Information for the Mughal Garden
Mandi House Metro Station is the nearest to Rashtrapati Bhavan Mughal Garden (Amrit Udyan). The Mandi House Metro Station is located on the Blue Line and Violet Line of the Delhi Metro in Delhi. Other than Metro DTC Bus service is also there as a public transport. If you are visiting here by your own vehicle then there is ample parking space around Rashtrapati Bhavan.
Planning a trip to the Mughal Garden (Amrit Udyan) requires all of the details provided here. If you have any problems booking tickets online or need contact number, please use the following information: –
| | |
| --- | --- |
| Address | Rashtrapati Bhavan, New Delhi – 110 004 |
| E-Mail ID | ksamresh.nbt@nic.in |
| Phone No. | 011 23015321, Ext 4751 |
FAQ – Mughal Garden (Amrit Udyan) 2023