The Lalit Hotel Delhi
Nestled in the bustling heart of India's capital city, New Delhi, The Lalit Hotel stands tall as an epitome of opulence and luxury. With its rich heritage, impeccable hospitality, and world-class amenities, The Lalit Hotel Delhi has become synonymous with an unforgettable stay experience. In this article, we will delve into the many facets that make The Lalit Hotel Delhi a sought-after destination for travelers and explore what sets it apart in the competitive hospitality industry.
A Historical Perspective
A Journey Back in Time
The LaLiT, a luxury hotel in Delhi, offers an exceptional blend of work and leisure amenities. With six banquet halls capable of accommodating events of all scales, from intimate corporate meetings to grand weddings, The LaLiT New Delhi is an ideal venue. These banquet facilities can host up to 800 guests, making them a standout among Delhi's hotels. Whether the occasion is a corporate event or a wedding celebration, The LaLiT New Delhi provides the perfect banquet and meeting spaces for your needs.
Key Information about The Lalit Hotel Delhi
| | |
| --- | --- |
| Category | Details |
| Location | Connaught Place, New Delhi |
| Accommodation | Various room and suite options |
| Dining Options | Baluchi, OKO, 24/7, and more |
| Amenities | Spa, fitness center, swimming pool, shopping arcade |
| Business Facilities | Business center, banquet halls |
| Nearby Landmarks | India Gate, Humayun's Tomb, Connaught Place |
| Awards | Recognized for excellence in hospitality |
Luxurious Accommodations
Among its world-class amenities, this 5-star luxury hotel in Delhi features a 24-hour Business Centre, a dedicated Concierge Desk, Foreign Exchange services, a Limousine Service, round-the-clock In-room Dining, Laundry Service, Valet Car Parking, a Shopping Arcade, Doctor on Call, Rejuve – The Spa, and a well-equipped Gymnasium. These facilities are tailored to ensure that business travelers remain productive and that all guests experience a rejuvenating stay.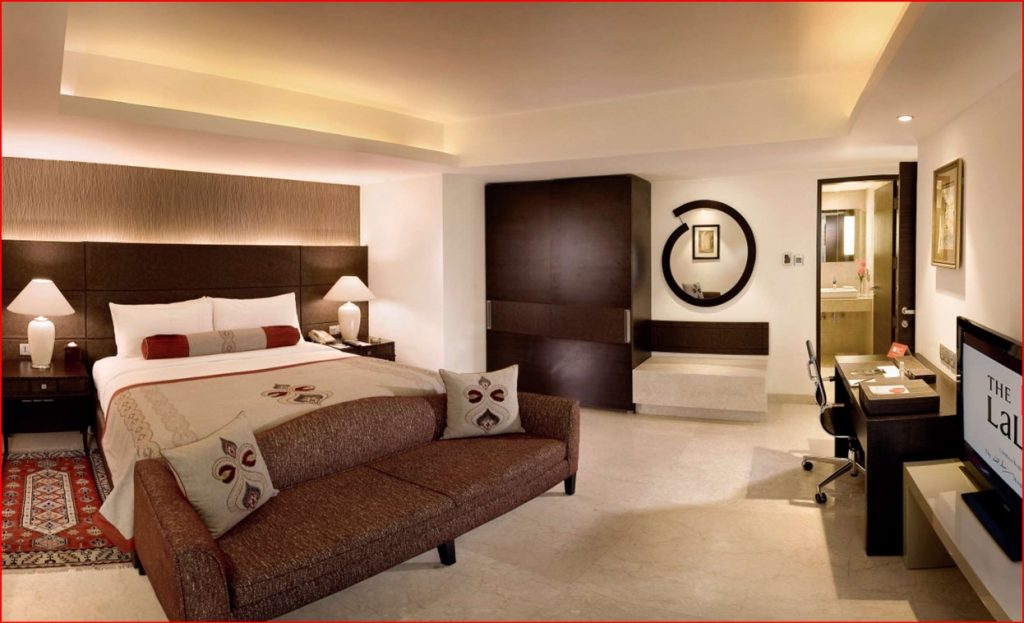 Rooms and Suites
The Lalit Hotel Delhi boasts a wide array of rooms and suites, each designed to cater to the unique preferences of its guests. From elegantly appointed guest rooms to opulent suites with panoramic views of the city, every accommodation option exudes class and comfort. The hotel's rooms are equipped with the latest amenities, ensuring a memorable stay.
Culinary Delights
The culinary experience at The LaLiT, New Delhi, is a journey through the flavors of the world, with four fine-dining restaurants offering a diverse range of cuisines to satisfy every palate. The Woks specializes in authentic Oriental cuisine, while The Grill serves delectable European dishes. For those craving traditional Indian flavors, Baluchi beckons with its authentic Indian cuisine. Meanwhile, 24/7, the multi-cuisine restaurant and bar, is the perfect spot for guests who relish both diverse culinary offerings and engaging interactions with the restaurant's talented chefs. At 24/7, diners can choose from an array of buffet options or opt for dishes from the extensive à la carte menu.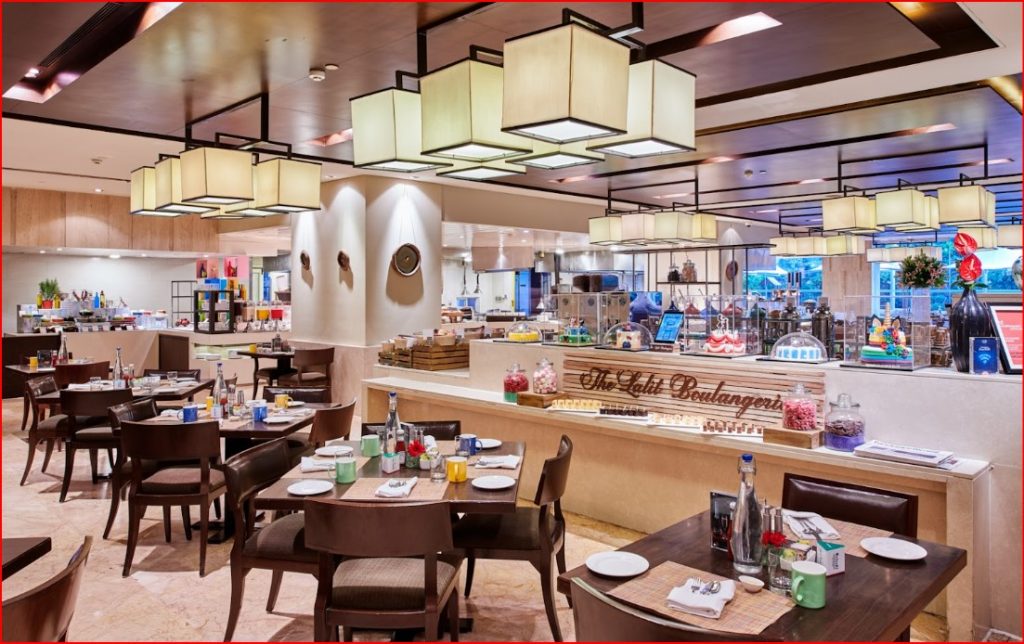 Dining at The Lalit
Dining at The Lalit Hotel Delhi is a culinary journey that transcends borders. The hotel offers a diverse range of dining options, including Baluchi (North Indian cuisine), OKO (Pan-Asian cuisine), and 24/7 (all-day dining). Guests can savor delectable dishes prepared by master chefs, ensuring that every meal is a memorable experience.
Unparalleled Amenities
Beyond the Basics
The Lalit Hotel Delhi goes above and beyond to cater to the needs of its guests. The hotel features a holistic spa and wellness center, Rejuve, where guests can relax and rejuvenate. Additionally, the property houses a state-of-the-art fitness center, a swimming pool, and a shopping arcade, ensuring that guests have everything they need at their fingertips.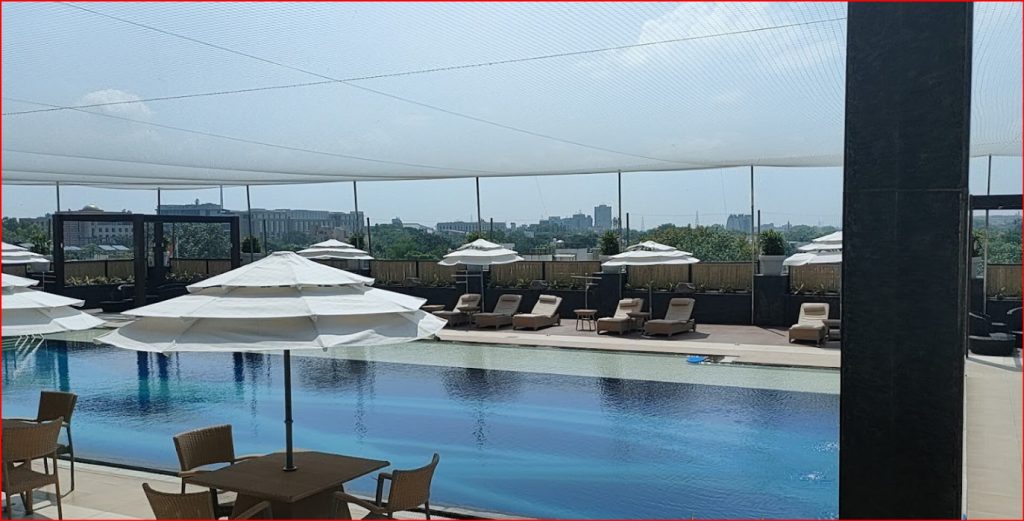 Business and Events
Meetings and Conferences
For corporate travelers, The Lalit Hotel Delhi offers world-class facilities for meetings and conferences. The hotel's well-equipped business center and banquet halls can accommodate a wide range of events, from small board meetings to grand conferences, making it a preferred choice for business travelers.
Unmatched Location
Strategically located in Connaught Place, the heart of the city, The LaLiT New Delhi is an 18-story architectural marvel. It offers convenient access to the city's commercial complexes, conference centers, shopping hubs, and historic landmarks. Impeccable interiors, flawless service, and exquisite cuisine collectively establish The LaLiT New Delhi as an iconic destination within the city. In proximity to historical treasures like India Gate, Jama Masjid, and the Red Fort, it distinguishes itself among other five-star hotels in Delhi. Additionally, it is a mere 35-minute drive from the airport and a quick 5-minute drive from the railway station. The hotel benefits from excellent air and rail connectivity, as well as access to national highways, facilitating travel to major cities across the country. Moreover, it's just a 10-minute drive from the trade fair grounds and a mere 15-minute drive from several embassies. The LaLiT New Delhi truly offers a central and accessible location for all travelers.
Exploring Delhi's Treasures
The Lalit Hotel Delhi's central location is a significant advantage for travelers. It is situated close to some of Delhi's most iconic landmarks, including India Gate, Humayun's Tomb, and the bustling markets of Connaught Place. This proximity allows guests to explore the city's rich cultural heritage with ease.
The Lalit Legacy
Excellence in Hospitality
Throughout its history, The Lalit Hotel Delhi has garnered numerous awards and accolades for its commitment to providing exceptional hospitality. Its unwavering dedication to guest satisfaction and attention to detail have set new standards in the industry, earning it a loyal clientele from across the globe.
Conclusion
In the heart of New Delhi, The Lalit Hotel stands as a beacon of luxury, history, and unparalleled hospitality. Its rich legacy, world-class amenities, and prime location make it the perfect choice for travelers seeking a truly exceptional stay experience. Whether you're visiting for business or leisure, The Lalit Hotel Delhi promises a journey that transcends the ordinary, leaving you with cherished memories of your time in India's vibrant capital city. Book your stay today and discover the magic of The Lalit Hotel Delhi for yourself.