The National Science Centre in Delhi is one of Asia's largest science centres, and its visitors refer to it as "A Dream Castle for One and All." The Centre's unique structure is an example landmark in the field of modern architecture, conveniently situated near India's commercial exposition centre, the Pragati Maidan Complex. The Centre receives more than half a million visitors each year. Nobel Laureates, eminent scientists and technocrats, astronauts, museum professionals, and a slew of other celebrities from many professions frequent the museum. Through thematic exhibitions, interactive educational activities, and outreach programs, the Centre's primary goal is to engage, educate, and entertain visitors.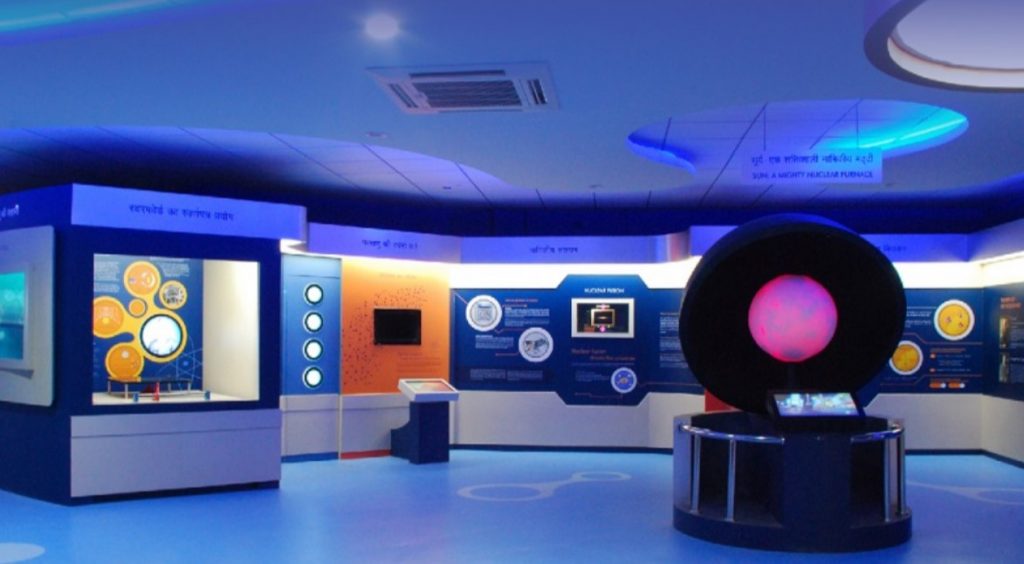 About National Science Center
Shri P V Narsimha Rao, India's then-Prime Minister, opened the National Science Centre in Delhi on January 9, 1992. The National Science Centre in Delhi is part of the National Council of Science Museums (NCSM), which encompasses 27 Science Centres and Science Cities. The Ministry of Culture, Government of India, funds and oversees NCSM.
| | |
| --- | --- |
| Location | Pragati Maidan, Delhi |
| Entry Fee & Timings | Entry Fee Rs 70, 9:30 am to 6:00 pm. |
| Parking Fee | Rs 70 (four wheeler), Rs 30 (two wheeler) |
| Place Type | Science Museum, Museum |
| Place visit with | Family, Kids |
| Nearest Metro | Supreme Court, Pragati Maidan Metro Station (approx. 1 KM) |
Ticket Price – National Science Center 
The National Science Centre, which opened in 1992, is an incredible science museum in India's capital city, Delhi. It is part of the Ministry of Culture and is located near Gate No 1 of Pragati Maidan, overlooking the famed Purana Qila. The National Science Center has produced some of the world's most brilliant scientists.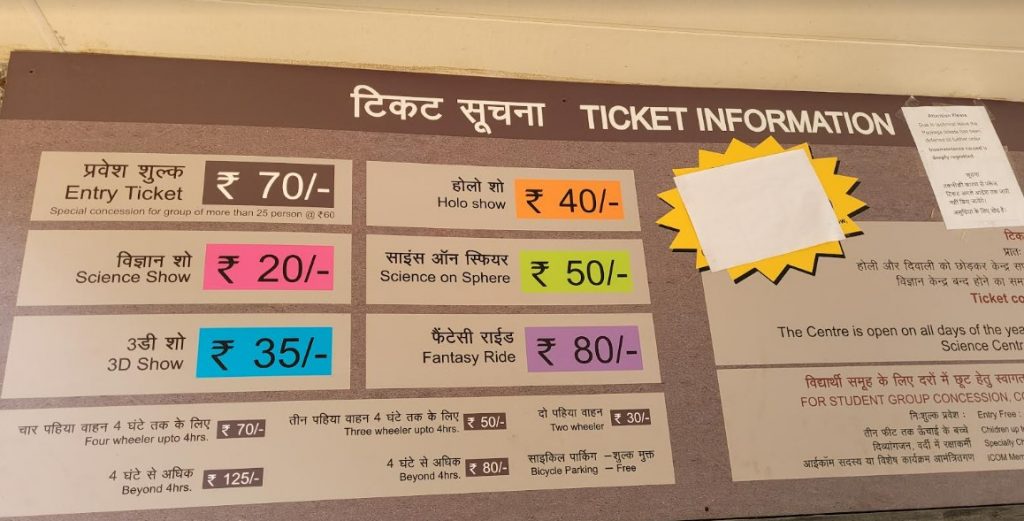 It has aided in the development of technical minds, and the younger generation has benefited greatly from it. It's a fascinating location that discusses science in a rational and engaging manner. The wonders of this place's scientific discoveries will astound you.
Shows and Timings of National Science Center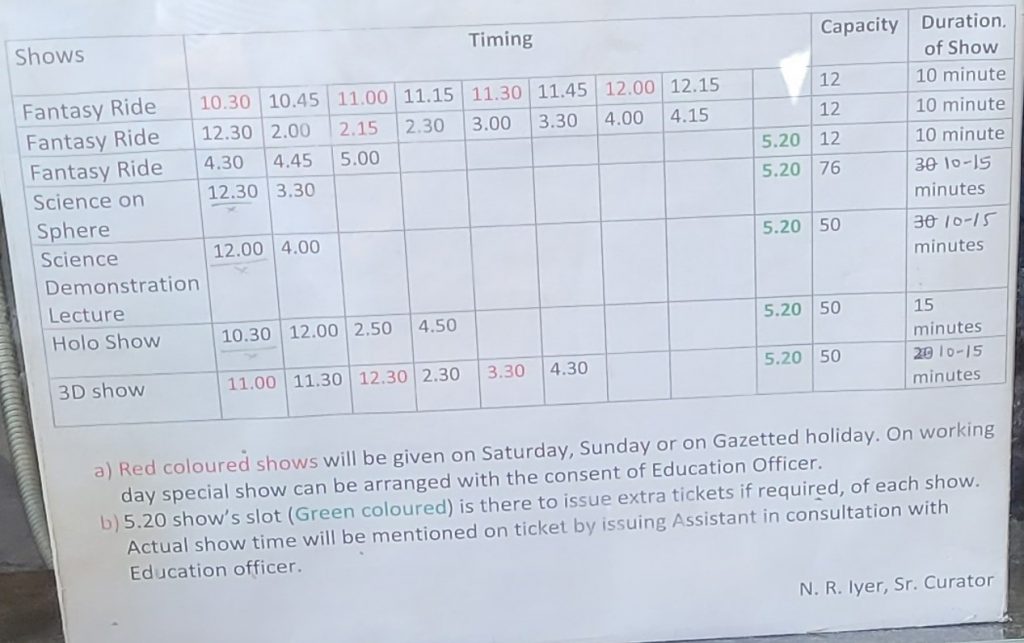 There are various science related shows which run during the whole day in National Science Center, their ticket price along with duration is mentioned here. It is advisable to take show tickets along with Entry ticket in case one has to attend any show to avoid any sort of hassle. Please do confirm the show timings while purchasing the ticket so that you do not miss or wait long for any show.
| | | |
| --- | --- | --- |
| Shows | Ticket Price | Duration |
| Fantasy Ride | Rs 80 | 10 minutes |
| Science on Sphere | Rs 50 | 10 – 15 minutes |
| Science Show | Rs 20 | 10 – 15 minutes |
| Holo Show | Rs 40 | 15 minutes |
| 3D Show | Rs 35 | 10 – 15 minutes |
Design of The National Science Center
The National Science Center was created by Achyuta Kanvinde, a well-known Indian architect. The center's entrance plaza greets guests with a gigantic installation that spans four floors and is one of the world's largest, "The Energy Balls," which consists of six-inch diameter nylon balls that reach fifty feet in height.
National Science Center: Interesting Facts
A visit to the National Science Center Museum in New Delhi is one of the best methods to inspire children's curiosity and get them interested in science.
The museum has a number of interactive science models that visitors can use. These are designed to teach youngsters fundamental scientific facts about how things work.
The models on show at the Human Biology Gallery are the most interesting and fascinating in the museum.
The Dinosaurs gallery showcasing animals from the Mesozoic era is the most popular gallery of the National Science Center Museum.
A library, an inflatable planetarium, and a gift shop on the museum grounds all draw visitors.
The museum also has exhibits about India's contributions to science and mathematics, as well as Nobel laureates.
What is the best way to go to the National Science Center?
By Metro: Pargati Maidan is a 20-minute walk from the National Science Museum Metro Station.
Taking the bus: National Stadium, which is a 9-minute walk away, is the closest bus stop to the National Science Museum.
By Railway: Tilak Bridge is a 33-minute walk from the National Science Museum train station