The Museum of Illusions at New Delhi's Connaught Place is the country's first optical illusion museum. It's a wonderful location to test your senses by exploring exhibits like holograms, an allegedly revolving cylinder, a chamber with no gravity, and rooms with mirrors that distort reality, among other things.
About Museum of Illusions Delhi
The Museum of Illusions, which promises mind-bending illusions, was just opened in CP. This museum, the first in India and the 30th in the world, has its own fan following. The nicest aspect about this facility is that it is camera-friendly and contains 50 bizarre exhibits that will mislead your mind into generating some of the finest illusions. The museum has many sections which create great optical illusions.
One may also view photo illusions with a variety of backdrops or experience a stereogram that is a photograph. It conceals an item that seems three-dimensional when viewed from a particular angle. There is also a Smart Playroom that is designed to stimulate cognitive function; through riddles, mathematical games, building blocks, impossible knots, etc., one may learn. The museum provides several varieties of games, mementos, and little optical illusions.
The Museum of Illusions in New Delhi provides a venue for both social and enjoyable excursions into the realm of illusions. It is an ideal location for gaining new experiences and having fun with friends and family. It is not just a location where children like coming, but also for parents, couples, grandparents, and great-grandparents. So we're here some CRAZY reasons why you should go to this museum at least once. Let's get started on the list!
Head on the platter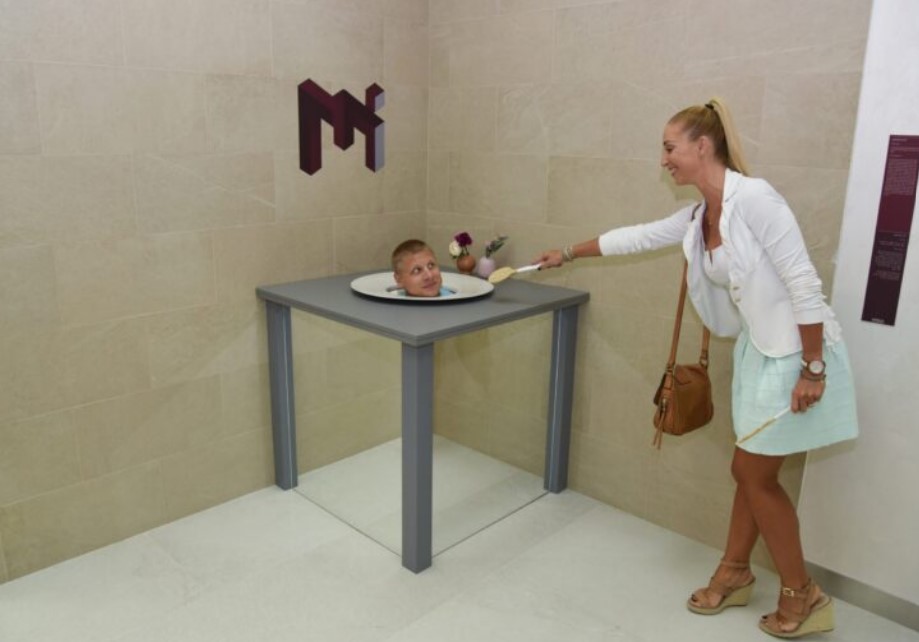 Have you ever wished for someone's "head on a plate"? You may now make your desire come true. Discover the illusions of a "head on a plate" and a concealed body. But don't worry, no one is injured. It's all a trick of the light.
Anti-Gravity Room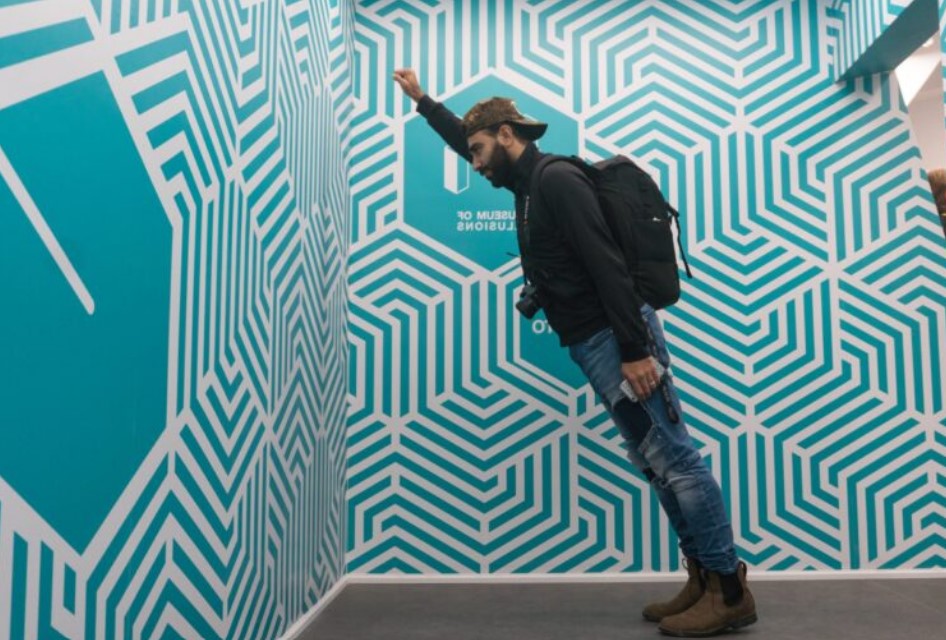 This room will undoubtedly test your brain and question your confidence in physics principles, as your brain and eyes make unconscious judgments about whether you are standing on a flat or inclined surface. You will witness physically impossible feats such as balls moving upwards and water flowing upwards…. The Anti-Gravity Room is a must-see! It is not visually recognised or apparent. Enter a new sensory realm. Prepare to be amazed. Nobody will believe it unless they see it for themselves!
Ames Room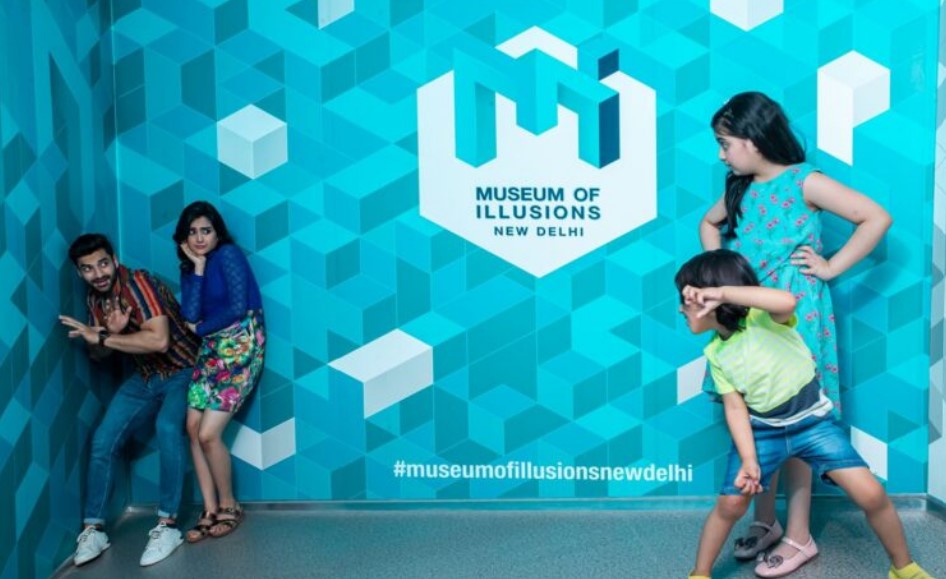 There is a giant in one corner of the room and a dwarf in the other! In this astounding chamber of illusions, see how a person pacing back and forth expands or shrinks before your eyes. It seems to onlookers to be an average room, but it has been carefully warped so that visitors encounter an astonishing optical illusion.
Rotated Room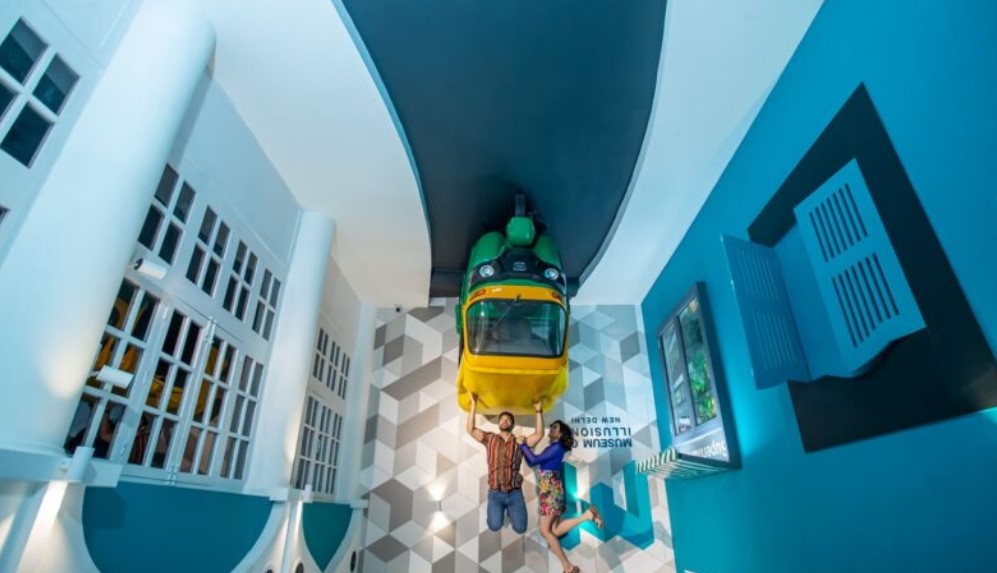 Are you willing to drastically alter your worldview? What about 90 degrees? Have amazing postures photographed! Your imagination is the only limit. Play with your imagination to engage with the illusion that offers an Instagram image!
Infinity Room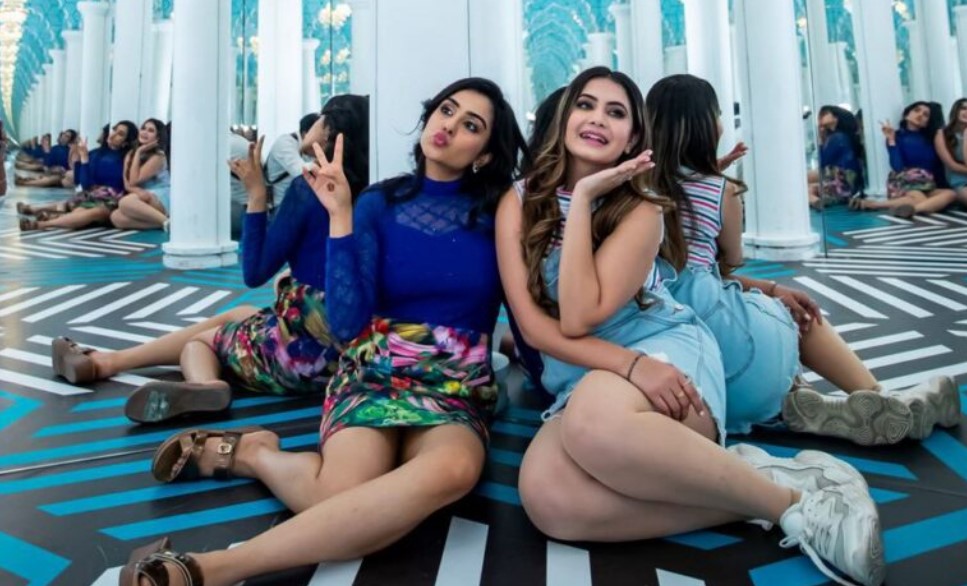 Most of us envisaged a world where enchantment and joy never seemed to stop, seemed to be eternally replicated?! Maybe our Infinity Room's Wonderworld may make your fantasies come true! Enter the Hall of Mirrors! Create your fantasy world in the Infinity Room — the Room of Mirrors! The room walls are full-height mirrors erected all around, producing the visual appearance of endless space. "Millions of Light Years Away Souls." Yayoi Kusama's
The Vortex Tunnel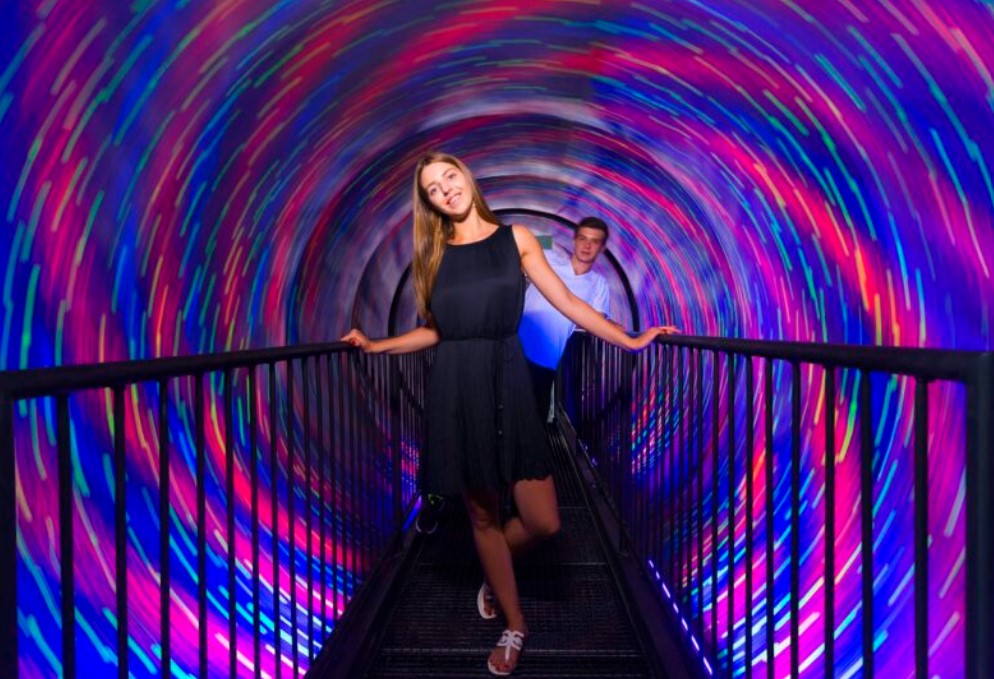 When was the last time someone made your head spin around so fast that it seemed like the earth was being dragged away from beneath your feet? And even though you were convinced you were spinning, you knew the bridge was not moving. You have no control over your body's reaction. Doesn't it feel like love? Or is it simply another deception? In all circumstances, it is critical to let go, therefore don't be scared to abandon everything you know and immerse yourself in the illusion of our Vortex tunnel. The Vortex Tunnel, the only one of its type in this region of the world, will drive you insane and make it appear practically impossible to bring your body into balance via the revolving cylinder – when you are always on a fully stable and flat surface. You are also permitted to yell and laugh!
The Beuchet Chair Illusion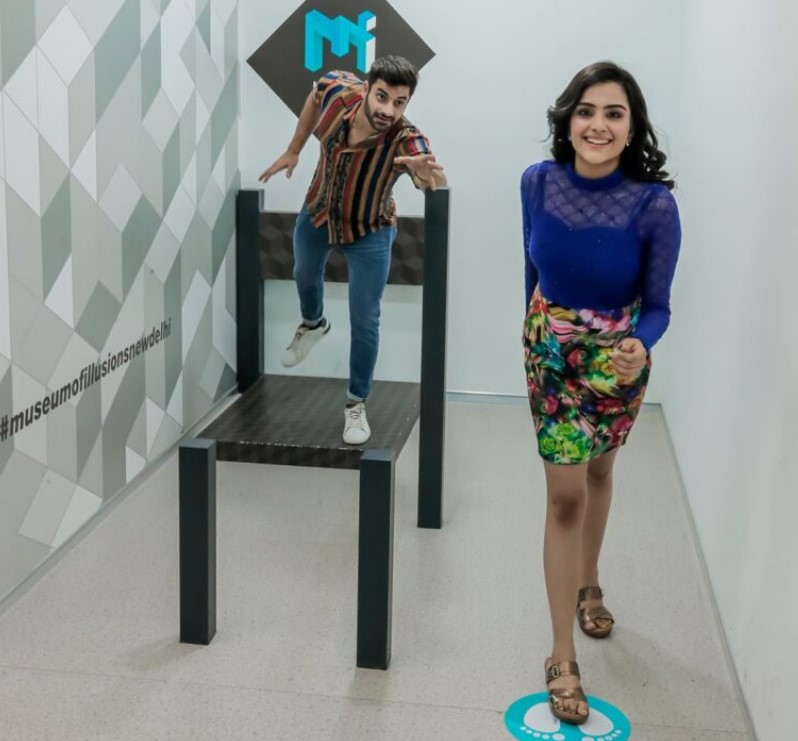 It's incredible how a person's perceived size changes depending on the context indicated by the surrounding things. Explore perceptual rules and experiment with roles and size ratios by just sitting in the Beuchet chair! Test your photographic creativity!
Infinity Well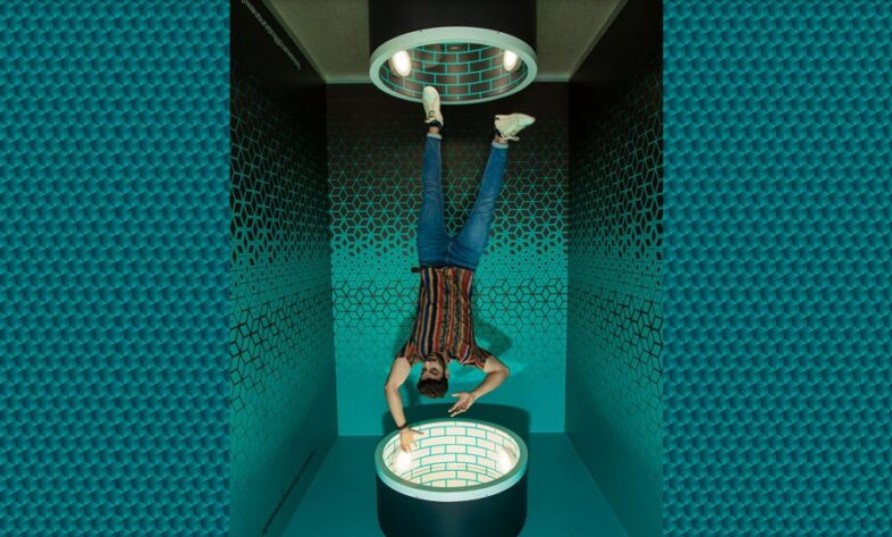 There are many things in life that we prefer to equate to a bottomless pit despite never having seen one. Now is your opportunity. Allow yourself to be drawn into the unknown!
Turntables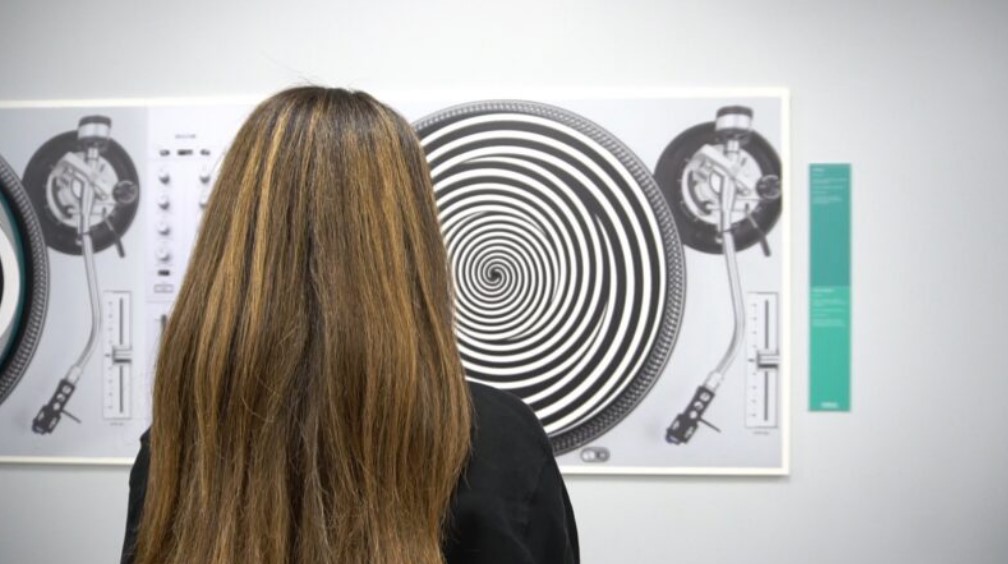 When played on a record turntable, black and white patterns generate dynamic optical illusions. The majority of the designs are in the form of seemingly unending circles. When we spin these 2-dimensional turntable discs, we get a mesmerising effect from this highly strange optical illusion that appears only when we move them.
Museum of Illusions Ticket Price (Entry Fee)
Monday to Thursday – Rs650 (18+ Years Old), Rs 520 (3 to 17 years old)
Friday to Sunday – Rs690 (18+ Years Old), Rs 550 (3 – 17 Years Old)
Museum of Illusions Timings & Address
Timings –  11 AM – 8 PM
A Block, A30-33, 1st Floor, Rajiv Chowk, Connaught Place, New Delhi, Delhi 110001
Official website – https://museumofillusions.in/