The Iskcon Temple Delhi
The ISKCON Delhi, officially recognized as the Sri Sri Radha Parthasarathi Mandir, stands as a renowned Vaishnav temple dedicated to Lord Krishna and Radharani. Its grand inauguration took place on April 5, 1998, under the auspices of the former Prime Minister of India, Atal Bihari Vajpayee. This spiritual haven is nestled in the serene precincts of Hare Krishna Hills, located in the Sant Nagar area, East of Kailash, in South Delhi, India.
Nestled in the heart of India's bustling capital, Delhi, the ISKCON Temple, officially known as the Sri Sri Radha Parthasarathi Mandir, is a spiritual marvel that beckons devotees and tourists alike. This article delves into the temple's rich history, its architectural grandeur, its profound spiritual significance, and the unique experiences it offers to all who visit.
This spiritual movement was ignited by Srila Prabhupada, who possessed the profound insight that happiness is indeed a science that can be explored and comprehended for lasting inner peace. One distinguished center recognized for disseminating India's unparalleled wisdom, rich Vedic knowledge, and cultural heritage is none other than ISKCON Delhi.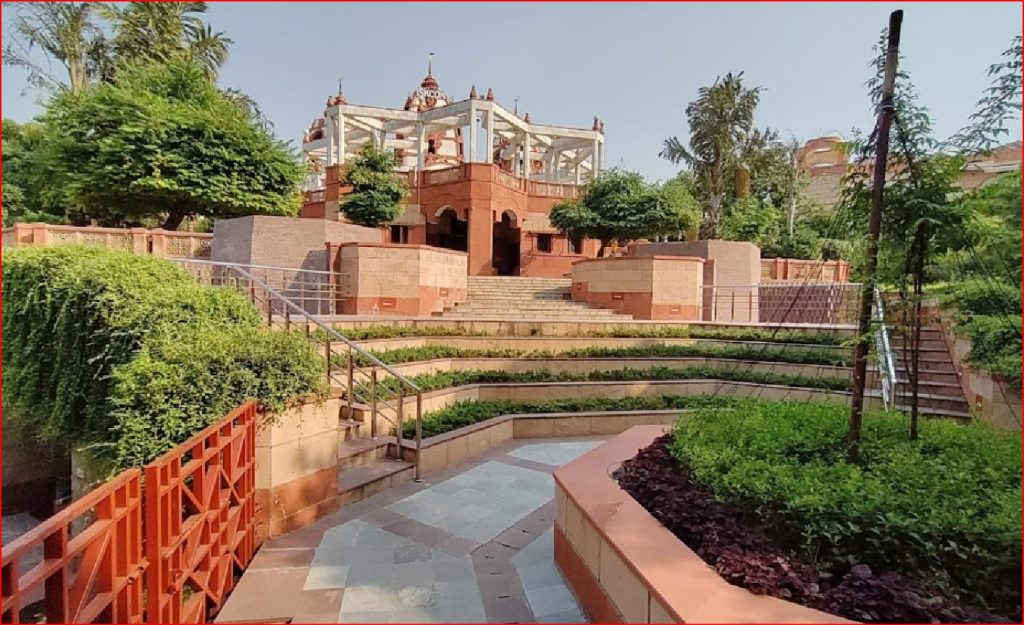 A Glimpse into History
The story of the ISKCON Temple in Delhi takes us back to the visionary founder, His Divine Grace A.C. Bhaktivedanta Swami Prabhupada, and his mission to spread Lord Krishna's teachings and the Bhagavad Gita worldwide. In 1990, the foundation stone was laid for the Delhi temple, marking the beginning of its journey. Finally, on November 5, 1998, the temple was inaugurated, becoming a spiritual beacon in the city.
Architectural Marvel
You can't help but be captivated by the sheer magnificence of the ISKCON Temple in Delhi. Crafted from pristine white marble, this architectural wonder merges traditional Indian temple design with modern aesthetics. Its towering spires, intricate carvings, and meticulously manicured gardens create an atmosphere of serenity and awe that leaves a lasting impression.
At the heart of the temple lies the central shrine, home to the divine deities Sri Sri Radha Parthasarathi, Lord Krishna, and Radha. Stepping inside, you're enveloped in a sense of peace and spirituality that draws thousands of devotees and curious visitors.
Srila Prabhupada, upon receiving guidance from his guru, embarked on his journey westward. During this transformative period, he sojourned in Delhi's bustling Chhipiwada area, a hub teeming with book publishers and entrepreneurs. It was here that he dedicated numerous hours to unraveling the profound wisdom of Srimad-Bhagavatam, crafting articles for his Back to Godhead magazine, and meticulously planning his voyage to the United States. Undoubtedly, Delhi held a special place in his immense heart, serving as the genesis of his spiritual mission.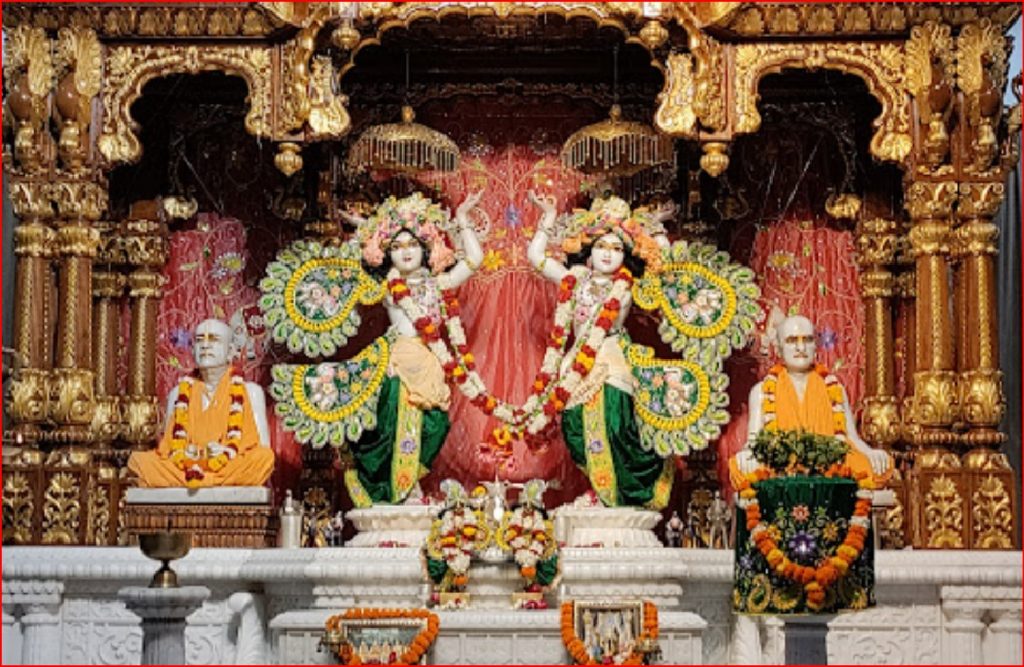 Spiritual Significance
Beyond its stunning exterior, the ISKCON Temple holds profound spiritual significance. It serves as a hub for Bhakti Yoga, the path of devotion to Lord Krishna. Here, devotees gather to chant the Hare Krishna mantra, engage in arati (a form of ceremonial worship), and delve into the teachings of the Bhagavad Gita.
The temple's spiritual library is a veritable treasure trove of ancient Vedic scriptures and books, making it an ideal place for spiritual seekers to deepen their understanding of Hindu philosophy and spirituality.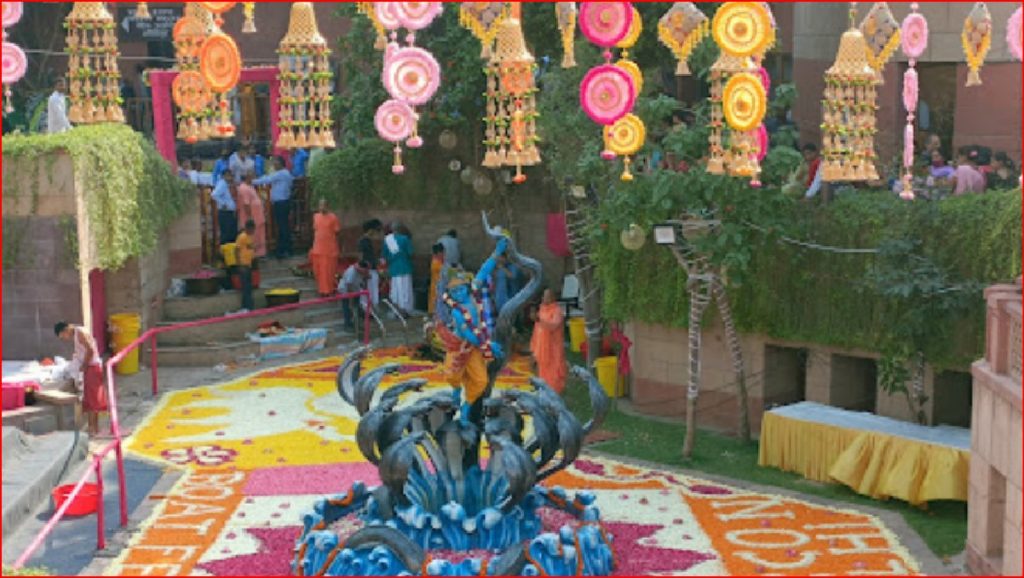 Cultural Hub
This temple isn't just a spiritual retreat; it's a vibrant cultural center. It hosts a wide array of events, from cultural showcases and seminars to workshops and exhibitions. These events celebrate India's rich traditions in music, dance, art, and more. Everyone, regardless of their background, is welcomed to partake in this cultural exchange.
Seva and Community Engagement
The ISKCON Temple in Delhi lives and breathes seva, or selfless service. It's deeply involved in various charitable and humanitarian activities, such as providing free meals to thousands daily through its Govinda's restaurant. Additionally, the temple runs educational programs and vocational training initiatives that empower underprivileged individuals.
Visiting ISKCON Delhi
Visiting the ISKCON Temple in Delhi is a soul-enriching experience. There's no entry fee, and people of all faiths are welcomed with open arms. You can join in the daily aarti, attend enlightening lectures, savor scrumptious vegetarian meals at Govinda's restaurant, and stroll through the temple's serene gardens. The nearest Metro stations for visiting Iskcon Temple are Nehru Place and Okhla NSIC.
Final Thoughts
As time has marched forward, ISKCON Delhi has steadfastly adhered to its mission of transcending its role as a mere temple, transforming into a hub of knowledge and education. Today, it has earned global acclaim as a sought-after destination for both visitors and tourists eager to delve deeper into Hindu culture. The temple extends a warm invitation to school and college students, aiming to foster an enriched understanding and appreciation for Vedic scriptures and traditions.
In the midst of Delhi's urban hustle and bustle, the ISKCON Temple stands as a serene sanctuary where people can connect with the divine and explore the profound teachings of Lord Krishna. It's not just a place of worship; it's a hub of culture, learning, and humanitarian service. With its architectural splendor, spiritual depth, and commitment to community welfare, the ISKCON Temple in Delhi is a must-visit destination for those seeking solace and a deeper understanding of India's timeless traditions. It's a spiritual oasis where all are welcome to embrace the path of devotion and spirituality.