The Garden of Five Senses is a unique and innovative public space in Delhi, India, which provides visitors with an immersive experience of nature and the five senses. Located in the southern part of the city, near the Saket metro station, the garden covers an area of about 20 acres and was designed by the architect Pradeep Sachdeva in collaboration with the Delhi Tourism and Transportation Development Corporation (DTTDC). The garden was opened to the public in February 2003, and since then, it has become a popular destination for locals and tourists alike.
The Garden of Five Senses is not just a traditional garden with flowers and plants; it is a space that engages all five senses – sight, sound, smell, touch, and taste – through a variety of features and installations. The garden is divided into different areas, each with its own theme and unique features. The Khas Bagh, for example, is a formal Mughal-style garden with fountains, water channels, and flower beds, while the Neel Bagh is a blue-themed garden with water bodies and sculptures that evoke a sense of tranquility. This garden is also popular among young couples as they can spend some quality time here in the vicinity of nature. Also, it is known to be a good destination for pre wedding photo shoot.
Garden of Five Senses

Timings
9 am to 5:30 pm
Days Open
All Days, Monday to Sunday
Address
Westend Marg, Saidulajab, Saiyad ul Ajaib,
Saket, New Delhi 110030
Phone no.

011-29536401

Nearest Metro Station
Saket Metro Station
(700 meters away)
Entry Fee
Rs 35 (adults)
Parking 
Rs 50 per hour for 4 wheelers
Camera Fee
Chargeable as per camera
Nearby Restaurants
The Commune,
Karnataka Restaurant
One of the highlights of the Garden of Five Senses is the musical fountain, which is a large water feature that combines music, light, and water to create a mesmerizing show. The fountain is designed to respond to the rhythm and melody of various musical pieces, and visitors can enjoy the show while sitting on the steps surrounding the fountain. Another popular feature is the sculpture park, which showcases contemporary sculptures by Indian artists. The sculptures are made from a variety of materials such as metal, stone, and wood, and they are placed in a natural setting amidst trees and foliage.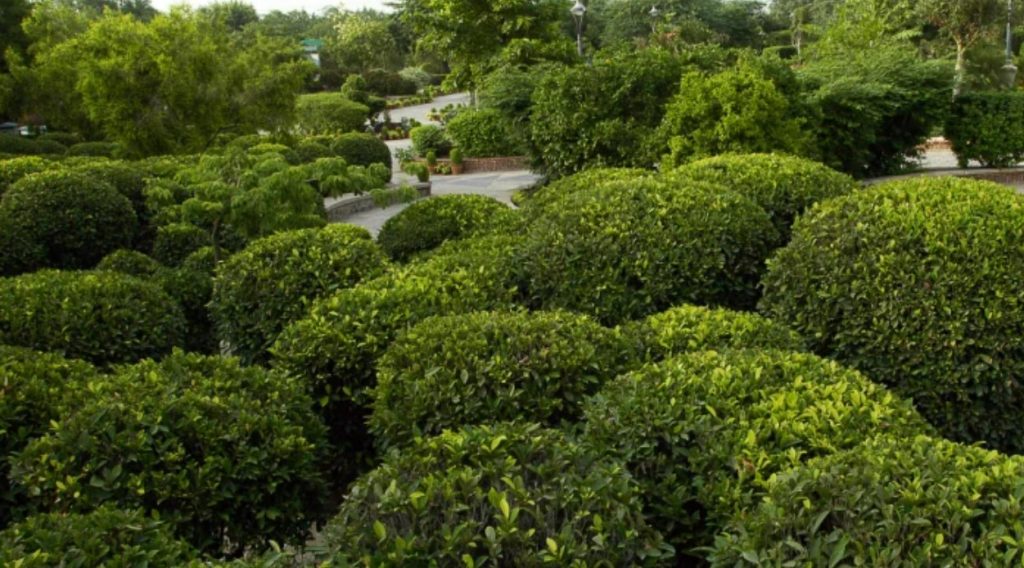 The garden also has a variety of other sensory experiences. For example, the aroma garden has a collection of plants and herbs that are known for their fragrant qualities, such as jasmine, rose, and lavender. The tactile garden, on the other hand, has a variety of plants with interesting textures, such as the soft and fuzzy leaves of the lamb's ear plant or the prickly cactus. The garden also has a variety of food and beverage stalls that offer local snacks and drinks, such as chaat, chole bhature, and lassi.
In addition to its sensory experiences, the Garden of Five Senses is also a popular venue for cultural events and activities. The amphitheater in the garden is used for concerts, plays, and other performances, while the open spaces are used for exhibitions, workshops, and festivals. The garden also has a dedicated area for children's activities, including a sand pit, a maze, and a play area.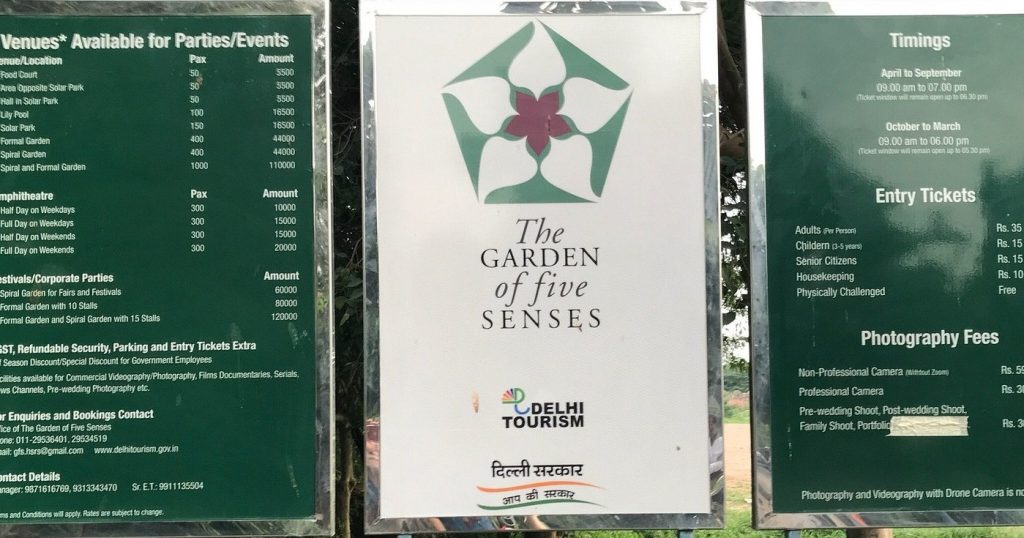 The Garden of Five Senses is not just a space for relaxation and recreation, but it is also an important project for promoting sustainable development and environmental awareness. The garden was designed with a focus on water conservation, energy efficiency, and waste reduction. For example, the garden has a rainwater harvesting system that collects and stores rainwater for use in irrigation, and solar panels that provide energy for the garden's lighting and fountain features.
Moreover, the garden is home to a variety of flora and fauna, including over 200 species of plants and trees, and several species of birds and butterflies. The garden's natural setting provides a habitat for these creatures, and visitors can enjoy bird-watching and butterfly spotting while strolling through the garden. The garden's conservation efforts also extend to its use of organic and sustainable gardening practices, such as composting and the use of natural pesticides.
The Garden of Five Senses is a great example of how public spaces can be designed to promote sustainability and environmental awareness, while providing visitors with a unique and immersive experience of nature. The garden's success has inspired similar projects in other cities in India, and it has become a model for how urban areas can incorporate green spaces and sustainable practices into their development plans.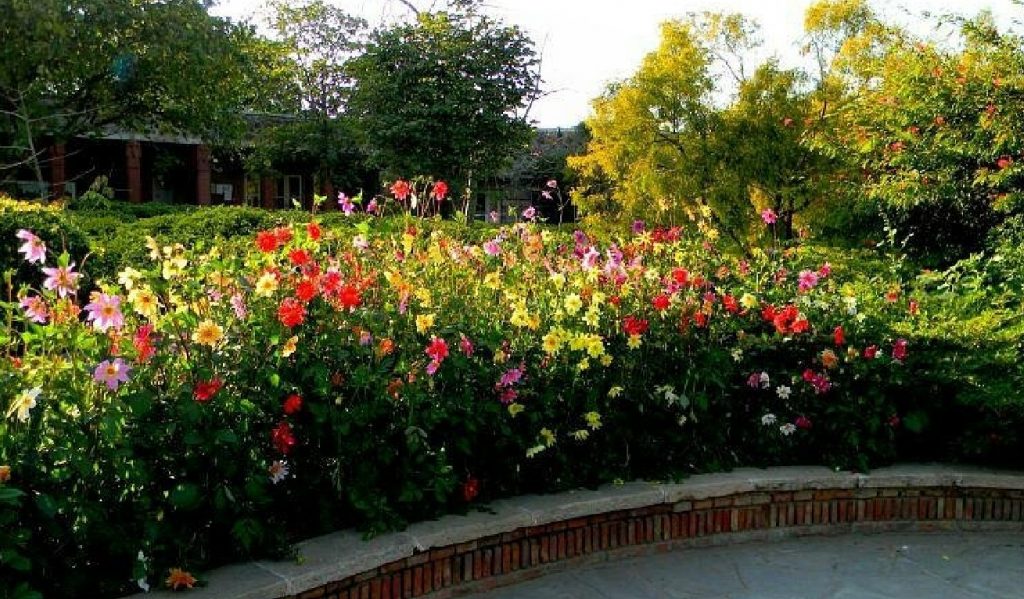 In addition to its environmental and cultural significance, the Garden of Five Senses is also a great place for photography enthusiasts. The garden's unique features and installations provide a variety of interesting subjects for photos, and the natural setting makes for great lighting and backdrops.
The Garden of Five Senses is open every day from 9 am to 5:30 pm, and there is a nominal entry fee for visitors. The garden is accessible by public transport, and there is ample parking available for those who choose to drive. The garden also has a restaurant and a souvenir shop for visitors to enjoy.
Overall, the Garden of Five Senses in Delhi is a unique and innovative public space that offers visitors a sensory experience of nature. With its variety of features and installations, the garden is a great place to spend a day with family and friends, or to attend cultural events and activities. Whether you are a nature lover or someone who appreciates art and culture, the Garden of Five Senses is definitely worth a visit.