Akshardham Delhi Ticket Price in 2023, Online Booking, Location & Timings
The word "Akshardham" refers to a place where God resides. A place of eternal devotion, holiness, and tranquilly. The Swaminarayan Akshardham Mandir in New Delhi is a spiritual and cultural campus devoted to worship, education, and peace. There are echoes of old architecture, vibrant devotional traditions, and ageless Hindu spiritual teachings in the art and architecture. The mandir is a modest memorial to the Hindu religion's avatars, devas, and great sages, including Bhagwan Swaminarayan (1781-1830). On November 6, 2005, the complex was officially opened thanks to the blessings of HH Pramukh Swami Maharaj and the hard work of expert artisans and dedicated volunteers.
Akshardham Delhi Online Booking & Entry Ticket
Entry to Akshardham Mandir Complex and mandir darshan is absolutely FREE and requires no prior appointment. All our volunteers and staff's assistance is also free of charge. But for exhibitions, there are entry tickets:-
EXHIBITION TICKETS
Adults (Age 12+): ₹ 250
Seniors (Age 60+): ₹ 200
Children (Age 4 – 11): ₹ 150
Children (Below Age 4): Free
* Tickets includes: (1) Sahajanand Darshan (2) Neelkanth Darshan & (3) Sankruti Darshan
* Not Available: Separate ticket for an individual exhibition.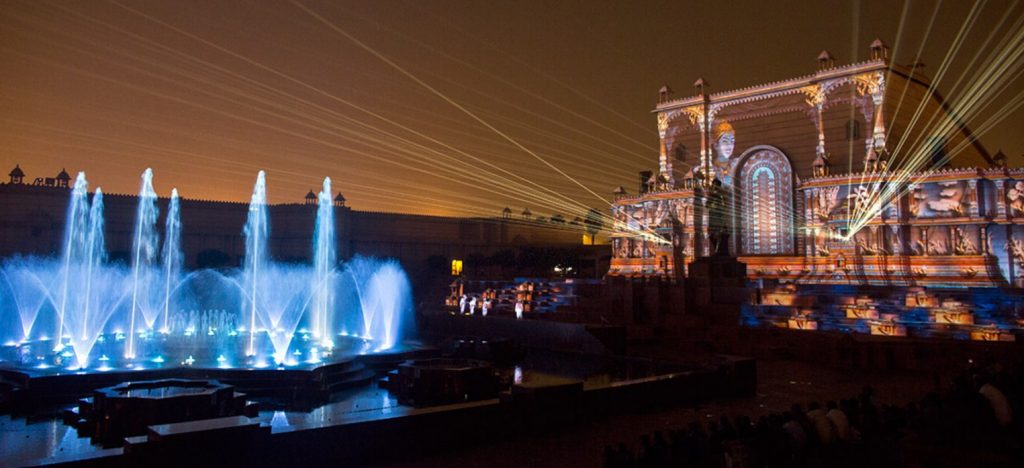 WATER SHOW TICKETS
Adults (Age 12+): ₹ 90
Seniors (Age 60+): ₹ 90
Children (Age 4 – 11): ₹ 60
Children (Below Age 4): Free
ABHISHEK DONATION
Per person: ₹ 50
(Darshan – Free)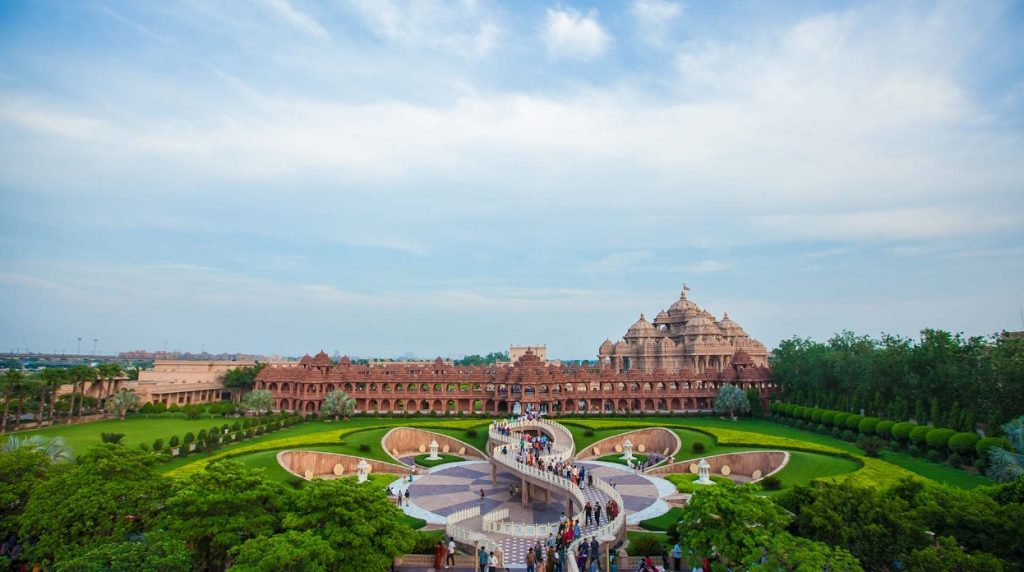 | | |
| --- | --- |
| Article About | Akshardham Delhi 2023 Ticket Price, Online Booking, Location & Timings |
| Name of Temple | Swaminarayan Akshardham Mandir Delhi |
| Type | Hindu Temple |
| Year | 2023 |
| Official Website | https://akshardham.com/ |
Visiting Akshardham will deepen your spirituality. There is spiritual importance in every detail, whether one is contemplating the efficacy of prayer, experiencing the strength of nonviolence, recognising the global nature of Hinduism's ancient teachings, or simply marvelling at the splendour of God's home on Earth.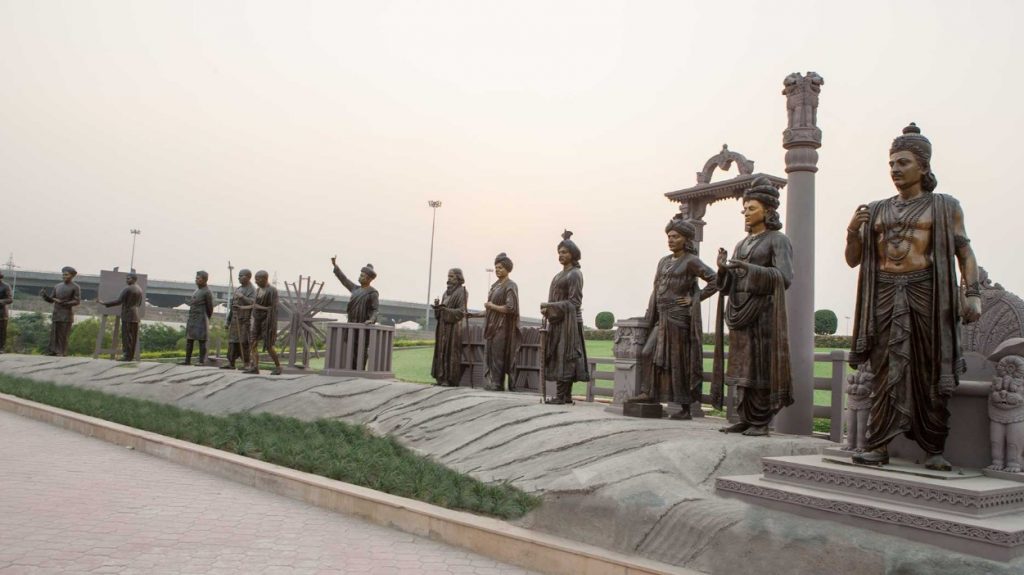 How to Reach Akshardham Mandir Delhi
Swaminarayan Akshardham
NH 24, Pramukh Swami Maharaj Marg, New Delhi 110092
Phone: +91-11-4344 2344
Email: info@akshardham.com
web: akshardham.com
Airport: Indira Gandhi International Airport (DEL) – 21 Km
Railway Stations:
Hazrat Nizamuddin (NZM) – 6 Km
New Delhi (NDLS) – 11 Km
Old Delhi (DLI) – 10 Km
Metro Station: Akshardham Metro – 350 meters (walk)
From Akshardham Metro Station
Exit the Station and Turn Right
Walk 100 meters and Turn Right
Walk 250 meters & Enter Akshardham – Gate 1
From Delhi Airport
Take Orange Line to New Delhi Metro Station
Disembark at New Delhi Metro Station
Take Yellow Line (toward HUDA City Centre)
Disembark at Rajiv Chowk Metro Station
Take Blue Line (Towards Noida City Centre)
Disembark at Akshardham Metro Station
From New Delhi Railway Station
Walk towards Ajmeri Gate Exit
Walk towards New Delhi Metro Station
Take Yellow Line (toward HUDA City Centre)
Disembark at Rajiv Chowk Metro Station
Take Blue Line (Towards Noida City Centre)
Disembark at Akshardham Metro Station
From Old Delhi Railway Station
Walk towards Chandni Chowk Metro Station (350 Meters)
Take Yellow Line (toward HUDA City Centre)
Disembark at Rajiv Chowk Metro Station
Take Blue Line (Towards Noida City Centre)
Disembark at Akshardham Metro Station
Akshardham remains open all days of the week, except Monday.
Tuesday to Sunday
First Entry: 10:00 am
Last Entry: 6:30 pm
(Closed: Every Monday)
Akshardham Delhi Mandir Facilities
Parking
Paid parking facility
Timings: 10:00 am to Gate Closing
Only for visitors (strictly)
No cargo or goods vehicles permitted
First come, first served basis
Parking at owner's own risk
Cloak Room
Only for Visitors
Charge: Free
Timing: 10:00 am to Gate Closing
Electronic Item Deposits: Switch Off (Mandatory)
All deposit items must meet size restrictions
No money or valuables should be deposited
Deposits are at owner's own risk
Lost and Found
Located near Security Check
Restrooms
Available throughout the campus.
Wheelchair
Charge: Free for the physically challenged, elderly and needy
Available: At entrance before security clearance
Refundable Deposit: Rs. 100
Food Court
Pure, fresh vegetarian food and snacks are available at Premvati Food Court.
Telephone Booth
As it is not allowed to take your mobile phone inside Temple premises, a phone booth is available at the Visitors' Center, Food Court, and Exhibition exits.
Food Court
Enjoy pure, fresh, vegetarian cuisine at the Premvati Food Court. In the ambience of the caves of Ajanta, enjoy Indian or Continental food of your choice. School groups and groups over 50 people are advised to contact Akshardham ahead of time.
Photo Memory 
Capture your memories at Akshardham with a special photo from a vantage point in the campus.
Printed Time: Within 20 minutes.
Print Pickup: Available at the Book and Gifts Center (before exiting).
Book and Gift Shop
The Akshardham Books and Gifts Center offers a variety of publications – books, audio or video – and souvenir items as well as authentic Ayurvedic supplements and puja materials. Pick up your photo memory or choose another special way to remember your visit to Swaminarayan Akshardham.
School Visit Booking
Akshardham is proud to be a top choice of schools across New Delhi and NCR for a half-day school trip. Here, students learn about Hinduism, India's art and architecture and it's contribution to the world. Akshardham welcomes students and teachers for a wonderful visit of the complex.
Group Visit Booking
Akshardham is frequently visited in groups by pilgrims, travelers and even corporate employees. You can make your visit a better experience and more memorable by contacting us in advance.
Items that are allowed in Akshardham Temple
WALLET
SHOES
BELTS
PASSPORT
MONEY
LADIES PURSE
JEWELLERY
BABY FOOD
WATER BOTTLE
JACKETS
Items that are not allowed in Akshardham Temple
MOBILE PHONES
CAMERAS
USB/PEN DRIVES
MUSIC DEVICES
ELECTRONIC ITEMS
WEAPONS
UMBRELLA
LUGGAGE
TOYS
PETS
FOOD AND DRINK
TOBACCO, ALCOHOL, DRUGS
Features of Akshardham Mandir Delhi
Opened for Public on November 6th, 2005.
Made by the BAPS (Bochhasanwasi Akshar Purushottam Swaminarayan Sanstha) construction crew.
The teachings of HH Yogiji Maharaj
Light and Sound water show in the evening.
Created by the Supreme Ascended Master Pramukh Swami Maharaj
There were almost 300,000,000 volunteer hours put into the structure's construction.
In its construction, almost 8,000 people from all over the world lent a hand.
Beautifully crafted sandstone and marble mandir
Hindu-themed displays, with a focus on Bhagwan Swaminarayan's life and tenets including meditation, charity, and nonviolence.
A spacious outdoor area with a water feature and a stepped courtyard
The Mandir, the Exhibitions, and even the Gardens at Akshardham all resound with a spiritual significance. There are more than two hundred murtis at the Akshardham mandir, each one representing a different spiritual leader from across the ages. Akshardham's spiritual basis is that every soul has the ability to be divine. Every act of service, whether to one's own family, one's country, one's neighbours, or all living things on Earth, brings us closer to God. Every prayer is an invitation to grow as a person and deepen one's relationship with God.