Adventure Island Delhi
Looking for an exciting and fun-filled day out with family and friends in Delhi? Adventure Island Delhi is the perfect destination. Located in Rohini, this amusement park is one of the largest and most popular theme parks in the city. With a wide range of thrilling rides, attractions, and entertainment options, it offers an unforgettable experience for visitors of all ages.
Adventure Island is a great place for both locals and visitors to get away in Delhi. It is next to the Rithala Metro Station in New Delhi's Rohini sub-city. There are lots of fun rides and things to do at the amusement park for people of all ages. Adventure Island is on 62 acres of land and is split into two parts: the Amusement Park and the Lagoon, which is an artificial lake. The two parts are connected by a bridge. The amusement park is great for thrill-seekers, while the Lagoon is a unique place to go boating. Several popular Bollywood movies were made here, such as Ladies vs. Ricky Bahl, PK, and Pyar Ka Punchnama. The safety standards of the European Union are followed by the adventure park.
In this article, we will take a closer look at Adventure Island Delhi and explore its various features and attractions.
Adventure Island Ticket Price (Unlimited Rides)
Weekday Rates
Adult
Child
Sr. Citizen
Rs 500
Rs 500
Rs 500
Weekend Rates
Adult
Child
Sr. Citizen
Rs 600
Rs 600
Rs 600
Adventure Island Timings
Park Timings
| | |
| --- | --- |
| Open Time | 11 AM |
| Closing Time | 7 PM |
Ticket Counter Time
| | |
| --- | --- |
| Open Time | 10:30 Am |
| Closing Time | 6 PM |
Before visiting Adventure Island, here is some extra information that will help
School and college groups get special rates and a tailored package for certain times of the day. This includes some water rides, international rides that you can ride as much as you want, the MAD (Music, Acrobatics, and Dance) Circus, the rain dance, a live DJ, and the teachers' lounge. The place will also take care of your food needs.
Adventure Island's green lawns can be used for a wide range of activities and events, such as annual events, Teacher's Day, wedding parties, birthday parties, and kitty parties. This service is only offered if there are at least 30 people at the event.
Adventure Island Delhi also takes bookings from businesses for team-building activities, client outings, family day trips, events, and promotions. For team-building exercises, the park has sound effects and music, as well as an emcee and a coordinator.
Adventure Island adds a lot of fun surprises to kids' birthday parties. There are special gifts for the birthday girl or boy, and cartoon characters are there to keep people entertained. Puppet shows, magic shows, and games make the event fun.
There is a large parking lot that is surrounded by walls and kept safe by trained security staff. This parking lot is 3 acres big and can fit 1000 two-wheeled vehicles and 1500 cars.
If you want to go on water rides, bring a towel and a change of clothes because you can't rent or buy costumes at Adventure Island.
There are no lockers to store bags and other things. Adventure Island Delhi suggests that you don't bring expensive items or cameras and bring only the things you need. Also, bags aren't allowed on the rides, and it's up to the owner to take care of the things he or she brought with them.
Children who are under 90 cm tall can get into the theme park for free. But at Adventure Island Rohini, they can only go on a few rides.
Wheelchairs are available on the property for people who have trouble walking or are older. You can get these things at the Metro Walk.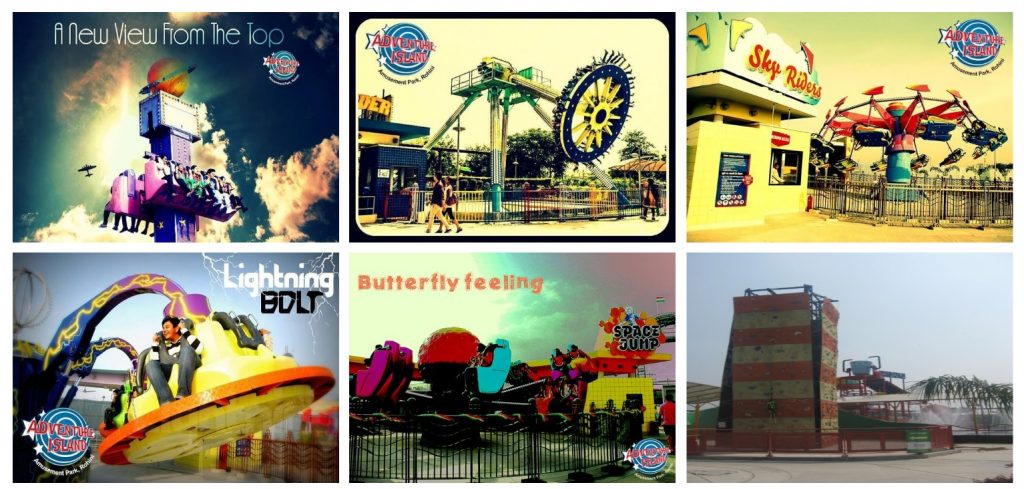 Rides and Attractions
Adventure Island Delhi has something for everyone, from young children to adults. The park is designed to cater to visitors of all ages, and it has a separate section for kids called Planet POGO, which is based on the popular children's TV channel.
Here are some of the most popular rides and attractions at Adventure Island Delhi:
Twister: Twister is a thrilling roller coaster that takes riders on a high-speed journey through twists, turns, drops, and loops. It is one of the most popular rides at the park and is not for the faint-hearted.
Cyclone: Cyclone is another popular roller coaster at Adventure Island Delhi. It features a vertical drop and a series of twists and turns that will leave you breathless. It is one of the most thrilling rides in the park.
Flip Out: Flip Out is a unique ride that simulates the experience of being on a trampoline. It features multiple trampoline-like surfaces that bounce riders up and down. It is a fun and exciting ride that is suitable for all ages.
Wild Wheels: Wild Wheels is a bumper car ride that allows riders to bump into each other and have a good time. It is a fun ride that is suitable for families with kids.
Splash Down: Splash Down is a water ride that takes riders on a raft through a series of drops and splashes. It is a great way to cool off on a hot day and is suitable for all ages.
Sky Riders: Sky Riders is a chairlift ride that takes riders on a scenic journey above the park. It offers a bird's eye view of the entire park and is a great way to relax and enjoy the scenery.
Z-Force: Z-Force is a ride that simulates the experience of flying like a superhero. It features a harness that allows riders to fly through the air, performing loops and spins. It is a thrilling ride that is sure to leave you feeling exhilarated.
Apart from these rides, Adventure Island Delhi also features a 7D theater, a laser tag arena, and a number of food and beverage outlets.

Safety Measures
Adventure Island Delhi takes the safety of its visitors very seriously. All rides and attractions are regularly inspected and maintained to ensure that they are safe to use. The park also has a team of trained and certified staff who operate the rides and ensure that visitors follow all safety guidelines.
Visitors are required to follow certain safety guidelines when using the rides. This includes wearing appropriate clothing and footwear, securing loose articles, and following all instructions given by the park staff.