Wine is an alcoholic beverage made from fermented grapes. Yeast consumes the sugar in the grapes and converts it to ethanol, carbon dioxide, and heat. Different types of wines are made depending on the type of grape, the amount of time the grapes are left to ferment, and whether or not they are filtered.
Wine has been around for thousands of years and is thought to have originated in either Georgia or Iran. The earliest evidence of wine comes from 8,000 year old pottery found in China. Wine quickly spread throughout the world and became a popular drink among many cultures.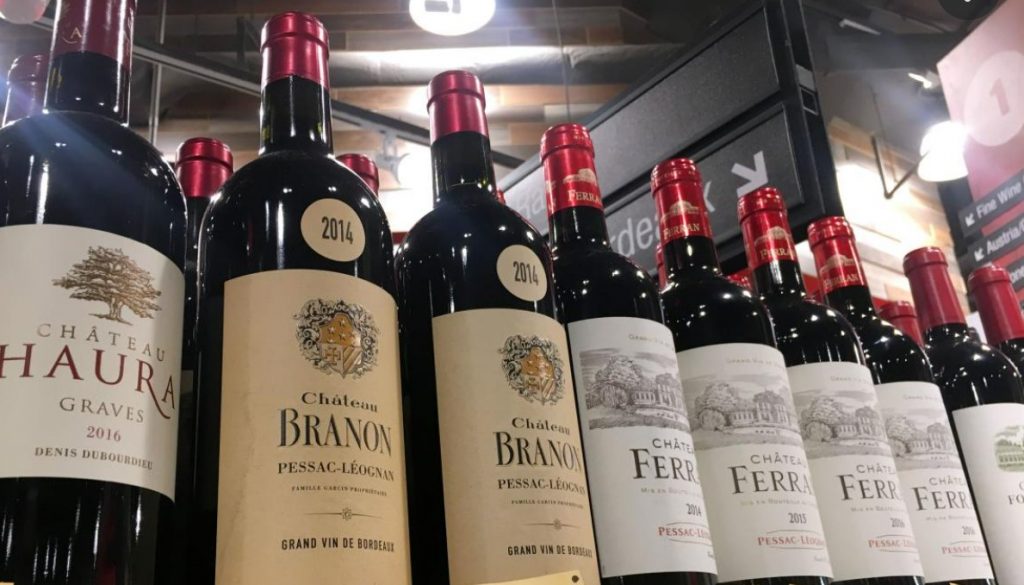 In most cases, grapes are fermented into wine, which is an alcoholic beverage. The sugar in the grapes is fermented by the yeast into ethanol and carbon dioxide, with the byproducts being released as heat. The grapes and yeasts used to make a wine play a significant role on the final product's character. These variations emerge from the interplay between the biological maturation of the grape, the reactions that occur during fermentation, the grape's growing environment (terroir), and the winemaking process. Appellation laws are in place in many countries to establish standards for wine quality and identity. These often place limits on the allowed grape types, where the grapes may be grown, and the regions from which the wine can be produced. Rice wine and other fruit wines, like plum, cherry, pomegranate, currant, and elderberry, are examples of wines not manufactured from grapes.
Today, wine is produced all over the world. Some of the most famous wine regions include France, Italy, Spain, Chile, and Australia. India is also becoming a major producer of wine, with Delhi being one of the country's main wine-producing regions.
Here are the latest price of Wine in Delhi 2022 :-
| | | |
| --- | --- | --- |
| Brand | Volume | Price |
| Dia Red | 750 Ml | Rs 560 |
| Dia White | 750 Ml | Rs 560 |
| Fratelli Cabernet Franc Shiraz | 375 Ml | Rs 465 |
| Fratelli Cabernet Franc Shiraz | 750 Ml | Rs 940 |
| Fratelli Cabernet Sauvignon | 375 Ml | Rs 465 |
| Fratelli Cabernet Sauvignon | 750 Ml | Rs 940 |
| Fratelli Chardonnay | 375 Ml | Rs 520 |
| Fratelli Chardonnay | 750 Ml | Rs 1050 |
| Fratelli Chennin Blanc | 375 Ml | Rs 410 |
| Fratelli Chennin Blanc | 750 Ml | Rs 830 |
| Fratelli Classic Chenin | 375 Ml | Rs 355 |
| Fratelli Classic Chenin | 750 Ml | Rs 720 |
| Fratelli Classic Merlot | 375 Ml | Rs 410 |
| Fratelli Classic Merlot | 750 Ml | Rs 830 |
| Fratelli Classic Shiraz | 375 Ml | Rs 355 |
| Fratelli Classic Shiraz | 750 Ml | Rs 720 |
| Fratelli Merlot | 750 Ml | Rs 1220 |
| Fratelli Sangiovese | 750 Ml | Rs 1220 |
| Fratelli Sangiovese Bianco | 750 Ml | Rs 1050 |
| Fratelli Sauvignon Blanc | 375 Ml | Rs 440 |
| Fratelli Sauvignon Blanc | 750 Ml | Rs 890 |
| Fratelli Sette | 375 Ml | Rs 1110 |
| Fratelli Sette | 750 Ml | Rs 2220 |
| Fratelli Shiraz Rose | 750 Ml | Rs 830 |
| Ghungroo Cabernet Franc Shiraz | 750 Ml | Rs 900 |
| Ghungroo Chenin Blanc | 750 Ml | Rs 820 |
| Ghungroo Sparkling | 750 Ml | Rs 980 |
| Hillsberg | 330 Ml | Rs 205 |
| J Noon India I Red | 750 Ml | Rs 4450 |
| J Noon India I White | 750 Ml | Rs 2780 |
| Jcb No 47 Sparkling | 750 Ml | Rs 3890 |
| Madera Nashik Valley Collection Red | 750 Ml | Rs 600 |
| Madera Nashik Valley Collection White | 750 Ml | Rs 600 |
| Miamy | 330 Ml | Rs 130 |
| Mosaic Red | 750 Ml | Rs 660 |
| Mosaic White | 750 Ml | Rs 660 |
| Ms Chardonnay/Sauvignon Blanc | 750 Ml | Rs 1420 |
| Ms Sangioves Rose | 750 Ml | Rs 1420 |
| Ms Sangiovese/Cabernet Franc/Syrah | 750 Ml | Rs 1420 |
| No Label Original Mead | 330 Ml | Rs 150 |
| No Label Original Mead | 20000 Ml | Rs 8660 |
| Noi Sparkling | 375 Ml | Rs 520 |
| Noi Sparkling | 750 Ml | Rs 1050 |
| Noi Spritzer Classico | 250 Ml | Rs 165 |
| Rio Strong Extra Dry | 330 Ml | Rs 140 |
| Rio Strong Fizzy Port | 330 Ml | Rs 140 |
| Samara Nashik Valley Collection Red | 750 Ml | Rs 470 |
| Samara Nashik Valley Collection White | 750 Ml | Rs 470 |
| Sula Brut Tropicale Crement De Nashik | 750 Ml | Rs 1340 |
| Sula Brut Tropicale Crement De Nashik | 1500 Ml | Rs 2670 |
| Sula Dhindori Res Viog Wh | 750 Ml | Rs 850 |
| Sula Dindori Shiraz Oak Aged – Red | 375 Ml | Rs 640 |
| Sula Dindori Shiraz Oak Aged – Red | 750 Ml | Rs 1280 |
| Sula Nashik Seco Methode Classique | 750 Ml | Rs 830 |
| Sula Rasa Cabernet Sauvignon Barrel Aged – Red | 750 Ml | Rs 2400 |
| Sula Rasa Syrah | 750 Ml | Rs 1600 |
| Sula Rasa Zinfandel | 750 Ml | Rs 1510 |
| Sula Satori Nashik Valley Tempranillo | 375 Ml | Rs 470 |
| Sula Satori Nashik Valley Tempranillo | 750 Ml | Rs 940 |
| Sula Shiraz Cabernet- Red | 180 Ml | Rs 205 |
| Sula Shiraz Cabernet- Red | 375 Ml | Rs 410 |
| Sula Shiraz Cabernet- Red | 750 Ml | Rs 820 |
| Sula Sparkling Shiraz Methode Traditionelle | 750 Ml | Rs 1620 |
| Sula Vineyards Nashik Chenin Blanc | 180 Ml | Rs 220 |
| Sula Vineyards Nashik Chenin Blanc | 375 Ml | Rs 445 |
| Sula Vineyards Nashik Chenin Blanc | 750 Ml | Rs 890 |
| Sula Vineyards Nashik Sauvignon Blanc | 375 Ml | Rs 460 |
| Sula Vineyards Nashik Sauvignon Blanc | 750 Ml | Rs 920 |
| Sula Zinfandel Red | 750 Ml | Rs 780 |
| Sula Zinfandel Rose | 375 Ml | Rs 330 |
| Sula Zinfandel Rose | 750 Ml | Rs 660 |
| The Source Grenache Rose | 750 Ml | Rs 1260 |
| The Source Sauvignon Blanc Reserve | 750 Ml | Rs 1440 |
| Tilt Bubbly | 250 Ml | Rs 190 |
| Tilt Bubbly Rose | 250 Ml | Rs 190 |
| Tilt Red | 250 Ml | Rs 190 |
| Tilt White | 250 Ml | Rs 190 |
| Vero Bianco | 750 Ml | Rs 560 |
| Vero Rose | 750 Ml | Rs 560 |
| Vero Rosso | 750 Ml | Rs 560 |
| Alexis Lichine Bordeaux 1Er | 750 Ml | Rs 1700 |
| Alta Vista Vive Malbec | 750 Ml | Rs 2380 |
| Angel Senorita Chardonnay | 750 Ml | Rs 1100 |
| Angel Senorita Merlot | 750 Ml | Rs 1100 |
| Antigal Uno Cabernet Sauvignon | 750 Ml | Rs 4500 |
| Antigal Uno Malbec | 750 Ml | Rs 4500 |
| B&G Cabernet Sauvignon Reserve | 750 Ml | Rs 1820 |
| B&G Saint Emilion Merlot | 750 Ml | Rs 3800 |
| Bad Boy Bordeaux Rouge | 750 Ml | Rs 6430 |
| Barefoot Cabernet Sauvignon | 750 Ml | Rs 2670 |
| Barefoot Shiraz | 750 Ml | Rs 2670 |
| Barolo Grimaldi Docg | 750 Ml | Rs 5570 |
| Baron Gauthier Bordeaux Red | 750 Ml | Rs 2370 |
| Baron Philippe De Rothschild Cadet D'Oc Cabernet Sauvignon Pay'S D'Oc | 750 Ml | Rs 1270 |
| Baron Philippe De Rothschild Cadet D'Oc Chardonnay Pays D'Oc | 750 Ml | Rs 1270 |
| Baron Philippe De Rothschild Cadet D'Oc Merlot Pay'S D'Oc | 750 Ml | Rs 1270 |
| Baron Philippe De Rothschild Mouton Cadet Blanc Aoc Bordeaux | 750 Ml | Rs 2870 |
| Baron Philippe De Rothschild Mouton Cadet Rouge Bordeaux | 750 Ml | Rs 3320 |
| Black Tower Dornfelder Pinot Noir | 750 Ml | Rs 1650 |
| Black Tower Pinot Noir Rosel | 750 Ml | Rs 2560 |
| Black Tower Riesling | 750 Ml | Rs 1660 |
| Blue Nun Pink | 750 Ml | Rs 1500 |
| Blue Nun Riesling | 750 Ml | Rs 1600 |
| Bodega Norton | 750 Ml | Rs 1400 |
| Bodegas Roda Selal | 750 Ml | Rs 6380 |
| Bolgheri Rosso Doc | 750 Ml | Rs 7060 |
| Bonnachi Brunello Di Montalcino | 750 Ml | Rs 5790 |
| Born West Cabernet Sauvignon | 750 Ml | Rs 2060 |
| Born West Chardonnay | 750 Ml | Rs 2060 |
| Bosio Barolo Docg | 750 Ml | Rs 4500 |
| Bosio Gavi Docg | 750 Ml | Rs 2200 |
| Bottega Gold Prosecco Brut Doc | 750 Ml | Rs 5250 |
| Bottega Rose Gold Prosecco Doc | 750 Ml | Rs 5250 |
| Brancaia Ilatraia Super Tuscan | 750 Ml | Rs 15430 |
| Brancaia Tre Super Tuscan | 750 Ml | Rs 4820 |
| Bush Ballad Chardonnay | 750 Ml | Rs 1240 |
| Bush Ballad Shiraz | 750 Ml | Rs 1240 |
| Camas Igp Oc Cabernet Sauvignon Pay'S D'Oc | 750 Ml | Rs 1070 |
| Camas Igp Oc Sauvignon Blanc Pay'S Doc | 750 Ml | Rs 1070 |
| Camas Merlot Pays D'Oc | 750 Ml | Rs 1330 |
| Camas Pinot Noir Pays D'Oc | 750 Ml | Rs 1530 |
| Camas Syrah Rose Pays Doc | 750 Ml | Rs 930 |
| Cantine Pavero Barbera D Asti | 750 Ml | Rs 2560 |
| Casa Bottega Prosecco Brut | 750 Ml | Rs 3330 |
| Casa Bottegaprosecco Rose | 200 Ml | Rs 1015 |
| Casa Bottegaprosecco Rose | 750 Ml | Rs 3430 |
| Casa Ei Unico Chardonnay | 750 Ml | Rs 2010 |
| Casa Ei Unico Tempranillo | 750 Ml | Rs 2030 |
| Casa Portuguesa | 750 Ml | Rs 2050 |
| Castello Banfi 'Le Rime' Pinot Grigio & Chardonnay | 750 Ml | Rs 1990 |
| Castello Di Querceto Chianti Classico Riserva | 750 Ml | Rs 5490 |
| Chapoutier Marius Blanc | 750 Ml | Rs 2250 |
| Chapoutier Marius Rouge | 750 Ml | Rs 2250 |
| Charles Rousseau Chardonnay | 750 Ml | Rs 2530 |
| Charles Rousseau Grenache Cinsault | 750 Ml | Rs 2530 |
| Charles Rousseau Merlot | 750 Ml | Rs 2530 |
| Charles Roux Cuvee Rose Brut | 750 Ml | Rs 2270 |
| Chateau Bonnet Bordeaux Red | 750 Ml | Rs 3360 |
| Chateau De Terrefort-Quancard Bordeaux Superieur | 750 Ml | Rs 2980 |
| Chateau Lacoste Garzac | 750 Ml | Rs 2030 |
| Chateau Timberlay Aoc Bordeaux Superieur | 750 Ml | Rs 3840 |
| Chateau Timberlay Cremant De Bordeaux Brut | 750 Ml | Rs 4320 |
| Chateauneu F Du Pape Pere Anselme | 750 Ml | Rs 6180 |
| Chateauneuf Du Pape Chemin Des Papes | 750 Ml | Rs 6500 |
| Chateuaneuf Du Pape Victor Berard | 750 Ml | Rs 7870 |
| Chehvalquancard Reserve – Bordeaux Blanc | 750 Ml | Rs 2980 |
| Chevalier Alexis Lichine Chardonnay | 750 Ml | Rs 1500 |
| Chevalier Alexis Lichine Merlot | 750 Ml | Rs 1500 |
| Chianti Docg Prestige 2021 | 750 Ml | Rs 1850 |
| Chinakara Sapphire Bay Shiraz | 750 Ml | Rs 4100 |
| Chinkara Sapphire Bay Cabernet Sauvignon | 750 Ml | Rs 4100 |
| Chinkara Sapphire Bay Chardonnay | 750 Ml | Rs 4100 |
| Chinkara Sapphire Bay Pinot Noir | 750 Ml | Rs 4100 |
| Codorniu Clasico Brut Cava | 750 Ml | Rs 2370 |
| Concha Y Toro Casillero Del Diablo Merlot | 750 Ml | Rs 2230 |
| Concha Y Toro Reserva Casillero Del Diablo Cabernet Sauvignon | 750 Ml | Rs 2920 |
| Cosecha Cabernet Sauvignon | 750 Ml | Rs 1050 |
| Cosecha Chardonnay | 750 Ml | Rs 1060 |
| Cosecha Merlot | 750 Ml | Rs 1060 |
| Dante Di Fiorenza Chianti Docg | 750 Ml | Rs 1240 |
| Dassai 45 | 300 Ml | Rs 4000 |
| Dassai 45 | 720 Ml | Rs 7500 |
| Dbr Les Legendes Bordeaux Rouge | 750 Ml | Rs 3540 |
| Devaux Brut Champangne | 750 Ml | Rs 7470 |
| Don Darias Tinto | 750 Ml | Rs 1580 |
| Dr Loosen 'Dr L' Riesling | 750 Ml | Rs 2680 |
| Duckhorn Napa Valley Merlot | 750 Ml | Rs 8860 |
| Duque De Sevilla Garnacha Rosado | 750 Ml | Rs 1200 |
| Duque De Sevilla Garnacha Tempranillo | 750 Ml | Rs 1200 |
| Duque De Sevilla Viura Chardonnay | 750 Ml | Rs 1200 |
| Fattori Delle Venezie Pinot Grigio | 750 Ml | Rs 2380 |
| Fincas Valdemacuco Roble | 750 Ml | Rs 4370 |
| Fishing Cat Cabernet Sauvignon | 750 Ml | Rs 1340 |
| Fishing Cat Merlot | 750 Ml | Rs 1340 |
| Fishing Cat Pinot Grigio | 750 Ml | Rs 1340 |
| Fishing Cat Rosato | 750 Ml | Rs 1340 |
| Fleurs De Prairie Vin De Provence | 750 Ml | Rs 3030 |
| Four Cousins Natural Sweet Red | 750 Ml | Rs 1090 |
| Four Cousins Natural Sweet White | 750 Ml | Rs 1090 |
| Four Cousins Sweet Rose | 750 Ml | Rs 1250 |
| Frontera Chardonnay | 750 Ml | Rs 1420 |
| Frontera Merlot | 750 Ml | Rs 1420 |
| Frontera Shiraz | 750 Ml | Rs 1420 |
| Garnacha Centenaria | 750 Ml | Rs 3690 |
| Glenside Dvine 2020 Shiraz | 750 Ml | Rs 1760 |
| Golden Sparrow Chardonnay Rubicone Italian White | 750 Ml | Rs 1380 |
| Golden Sparrow Pinot Grigio | 750 Ml | Rs 1670 |
| Golden Sparrow Sangiovese Rubicone Italian Red | 750 Ml | Rs 1690 |
| Gran Sello Tempranillo Syrah | 750 Ml | Rs 2380 |
| Hakushika Yamada Nishiki Honjojo | 200 Ml | Rs 760 |
| Hakushika Yamada Nishiki Honjojo | 720 Ml | Rs 3800 |
| Hakusturu Awayuki Sparkling Sake | 300 Ml | Rs 1315 |
| Hakutsuru Draft Junmaishu Nama Chozo | 300 Ml | Rs 1325 |
| Hakutsuru Excellent Junmai Sake. | 720 Ml | Rs 3085 |
| Henkell Rose Finest Sparkling | 750 Ml | Rs 2350 |
| Henkell Trocken Finest Sparkling | 200 Ml | Rs 725 |
| Henkell Trocken Finest Sparkling | 750 Ml | Rs 2250 |
| I Heart Pinot Noir | 750 Ml | Rs 2090 |
| I Heart Riesling | 750 Ml | Rs 2090 |
| Izadi Crianza Rioja | 750 Ml | Rs 3220 |
| Just Roberto Chianti Docg | 750 Ml | Rs 1430 |
| Just Roberto Pinot Grigio Trebbiano Teree Di Chieti | 750 Ml | Rs 1430 |
| Just Roberto Prosecco Extra Dry | 750 Ml | Rs 2030 |
| Kaon Sake Hakushika | 720 Ml | Rs 3005 |
| La Fiole Cotu Du Rhone | 750 Ml | Rs 2520 |
| Lancers Rose | 750 Ml | Rs 1880 |
| Luis Canas Crianza | 750 Ml | Rs 3980 |
| Maboroshinotaki Junmaiginjo | 720 Ml | Rs 6185 |
| Man Family | 750 Ml | Rs 2490 |
| Marchesi Di Barolo Barbera D'Alba Ruvei Doc | 750 Ml | Rs 4240 |
| Marchesi Di Barolo Gavi Classico Docg | 750 Ml | Rs 4150 |
| Mateus Rose' | 750 Ml | Rs 1720 |
| Mg Estate By Montgras Carmenere | 750 Ml | Rs 2020 |
| Mg Estate By Montgras Sauvignon Blanc | 750 Ml | Rs 2020 |
| Mirabeau Classic Cotes De Provence Rose | 750 Ml | Rs 4020 |
| Monte Pacifico Chardonnay | 375 Ml | Rs 1010 |
| Monte Pacifico Chardonnay | 750 Ml | Rs 1800 |
| Monte Pacifico Merlot | 375 Ml | Rs 1010 |
| Monte Pacifico Merlot | 750 Ml | Rs 1800 |
| Monte Pacifico Reserva Pinot Noir | 750 Ml | Rs 2740 |
| Monte Pacifio Reserva Cabernet Sauvignon | 750 Ml | Rs 2720 |
| Montepulciano D Abruzzo 2021 Rocca | 750 Ml | Rs 1500 |
| Montes Merlot | 750 Ml | Rs 1860 |
| Montes Cabernet Sauvignon | 750 Ml | Rs 1860 |
| Montes Chardonnay | 750 Ml | Rs 1830 |
| Morgan Bay Cellars Cabernet Sauvignon | 750 Ml | Rs 3580 |
| Morgan Bay Cellars Chardonnay | 750 Ml | Rs 3580 |
| Moulin De Gassac Chardonnay | 750 Ml | Rs 2680 |
| Moulin De Gassac Pinot Noir | 750 Ml | Rs 3330 |
| Mythic Mountain Chardonnay | 750 Ml | Rs 2940 |
| Mythic Mountain Malbecl | 750 Ml | Rs 2940 |
| Nederburg Pinotage | 750 Ml | Rs 2550 |
| Pater Sang Iovese Toscana | 750 Ml | Rs 2240 |
| Penfolds Bin 28 Shiraz | 750 Ml | Rs 7520 |
| Phoenix Estate Shiraz | 750 Ml | Rs 1740 |
| Phoenix Estates Cabernet Sauvignon | 750 Ml | Rs 1740 |
| Pinot Grigio Delle Venezie 2021 Rocca | 750 Ml | Rs 1500 |
| Pinot Grigio Delle Venezie Serenissima Doc | 750 Ml | Rs 1550 |
| Principesco Merlot | 750 Ml | Rs 1110 |
| Prosecco Spumante Doc Ca Del Doge Extra Dry | 750 Ml | Rs 2000 |
| Querciabella Chianti Classico | 750 Ml | Rs 7550 |
| Reserve Mont-Redon Cotes Du Rhone Red | 750 Ml | Rs 3530 |
| Reserve Mont-Redon Cotes Du Rhone White | 750 Ml | Rs 3530 |
| Riunite Lambrusco Emilia | 750 Ml | Rs 1440 |
| Rosso | 750 Ml | Rs 1940 |
| Saint Clair Pinot Noir | 750 Ml | Rs 5000 |
| Saint Clair Savignon Blanc | 750 Ml | Rs 4300 |
| Saint Cosme Cote Du Rhone Rouge | 750 Ml | Rs 3820 |
| San Simone Prosecco Il Concerto Doc Brut | 750 Ml | Rs 1750 |
| San Simone Rose Il Concerto Spumante Brut | 750 Ml | Rs 1750 |
| Sangiovese Toscana | 750 Ml | Rs 1750 |
| Sartori Di Verona Prosecco Brut Doc Ti Amo | 750 Ml | Rs 1640 |
| Sartori Vino Spumante Rose Ti Amo | 750 Ml | Rs 1620 |
| Senorita Angel Cabernet Sauvignon | 750 Ml | Rs 900 |
| Senorita Angel Malbec Reserve | 750 Ml | Rs 1430 |
| Sensi Shiraz | 750 Ml | Rs 2300 |
| Skinny Witch Prosecco Rose Doc | 750 Ml | Rs 3350 |
| Skinny Witch Prosecco Superiore Conegliano Valdobbiadene Docg | 750 Ml | Rs 3000 |
| Solo Roberto Le Rose | 750 Ml | Rs 1430 |
| Solo Syrah Tirio | 750 Ml | Rs 1640 |
| St Cosme Little James' Basket Press Blanc | 750 Ml | Rs 3380 |
| St Cosme Little James' Basket Press Rouge | 750 Ml | Rs 3380 |
| St Urbans Hof Riesling Qba Old Vines | 750 Ml | Rs 4300 |
| Susana Balbo Crios Malbec | 750 Ml | Rs 3990 |
| Tenuta Sant Antonio Scaia Corvina Red | 750 Ml | Rs 3540 |
| Tenuta Sant Antonio Scaia White | 750 Ml | Rs 3540 |
| The Chocolate Block om | 750 Ml | Rs 6990 |
| The Wolftrap Red | 750 Ml | Rs 2680 |
| Thelema Cabernet Sauvignon | 750 Ml | Rs 8000 |
| Tombacco Biferno Rosso Riserval | 750 Ml | Rs 1970 |
| Torresella Merlot Veneto | 750 Ml | Rs 2000 |
| Twe Lindeman'S Premier Selection Chardonnay | 750 Ml | Rs 1050 |
| Twe Lindeman'S Premier Selection Shiraz Cabernet | 750 Ml | Rs 1050 |
| Twe Penfolds Bin 389 Cabernet Shiraz | 750 Ml | Rs 14900 |
| Twe Penfolds Koonunga Hill Chardonnayl | 750 Ml | Rs 2310 |
| Twe Penfolds Koonunga Hill Shiraz | 750 Ml | Rs 2280 |
| Two Oceans Sauvignon | 750 Ml | Rs 1620 |
| Two Oceans | 750 Ml | Rs 1640 |
| Ultimate Provence | 750 Ml | Rs 5760 |
| Velho Pires Red | 750 Ml | Rs 1180 |
| Velho Pires Rose | 750 Ml | Rs 1180 |
| Velho Pires White | 750 Ml | Rs 1180 |
| Ventisquero Clasico Cabernet Sauvignon | 750 Ml | Rs 1850 |
| Ventisquero Clasico Carmenere | 750 Ml | Rs 1780 |
| Ventisquero Clasico Sauvignon Blanc | 750 Ml | Rs 1750 |
| Villa Fassini Toscano Rosso | 750 Ml | Rs 1180 |
| Villa Maria 'Private Bin' Pinot Noir | 750 Ml | Rs 3410 |
| Villa Maria 'Private Bin' Sauvignon Blanc Marlborough | 750 Ml | Rs 2810 |
| Villa Vistarenni Chianti Docg Red | 750 Ml | Rs 2560 |
| Vina Pomal Crianza | 750 Ml | Rs 3020 |
| Vina Tarapaca Cabermet Sauvignon | 750 Ml | Rs 1650 |
| Vina Tarapaca Chardonnay | 750 Ml | Rs 1650 |
| Vina Tarapaca Reserva Caarmenere | 750 Ml | Rs 2010 |
| Vina Tarapaca Reserva Cabernet Sauvignon | 750 Ml | Rs 2010 |
| Vina Tarapaca Reserva Merlot | 750 Ml | Rs 2010 |
| Vina Temprana Macabeo | 750 Ml | Rs 680 |
| Vina Temprana Old Vines Tempranillo | 750 Ml | Rs 680 |
| Vina Temprana Rosado Rose | 750 Ml | Rs 840 |
| Volcances Tectonia Grenache Petite Sirah & Mourvedre | 750 Ml | Rs 4980 |
| Warwick The First Lady Chardonnay | 750 Ml | Rs 2380 |
| Warwick The First Lady Pinotage | 750 Ml | Rs 2380 |
| Wente Morning Fog Chardonnay | 750 Ml | Rs 3830 |
| Wente Vineyards Southern Hills Cabernet Sauvignon | 750 Ml | Rs 4530 |
| Wente Vineyeards Beyer Ranch Zinfandell | 750 Ml | Rs 4360 |
| Zonin Chardonnay Italiano White | 750 Ml | Rs 1800 |
| Zonin Merlot Italiano Red | 750 Ml | Rs 1800 |
| Zonin Pinot Grigiofriuli Doc | 750 Ml | Rs 2490 |
| Zoninprosecco Brut Doc | 750 Ml | Rs 2680 |
| Zoninripasso Valpolicella Superiore Doc | 750 Ml | Rs 3940 |