Teacher's is a renowned brand name in the world of premium Scotch because of its long and illustrious history. Its whiskies have weathered the test of time and gained acclaim from drinkers all across the globe. These four whiskies from Teacher's will impress even the most seasoned drinkers.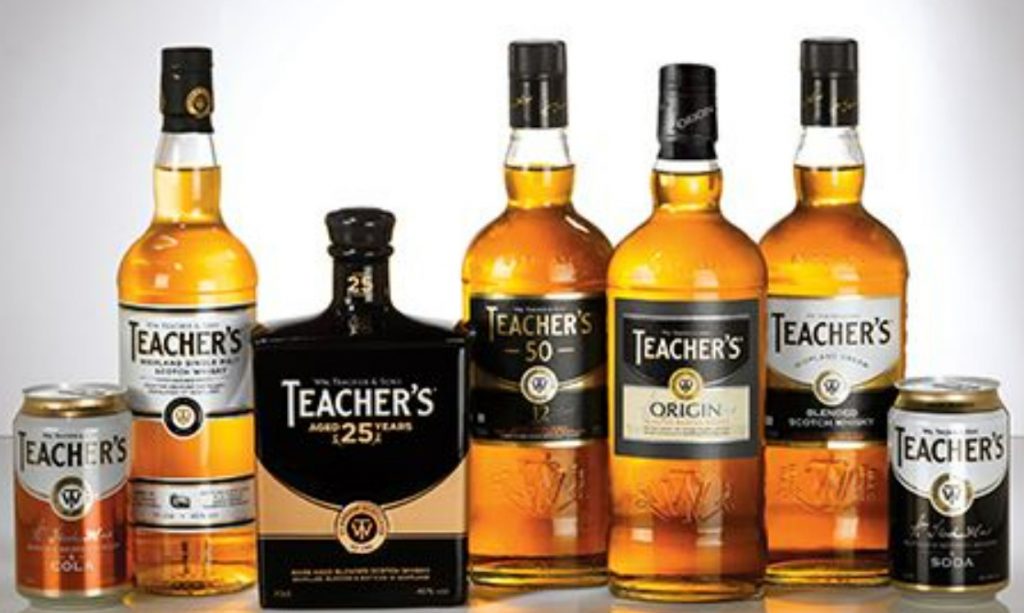 Teacher's 50
To celebrate 50 years since India's freedom, this was released in 1997. Since then, it has progressed greatly, earning a fixed spot in the hearts (and on the shelves) of many Indians. This unique mixture of Scotch whiskies is made up of 50% Scotch Malt and 50% Scotch Grain whiskies, giving it a full flavour and silky texture.
Teacher's Highland Cream
This Scotch whisky has maintained its status as one of India's most sought-after imports. It is also widely available in other parts of the world, giving Indians the chance to enjoy a truly global product. The blend has a lengthy history, having been registered for the first time in 1884. More than 30 different single malt whiskies are blended together to create this one-of-a-kind, long-lasting spirit.
Teacher's Origin
This one-of-a-kind recipe was created to honour the man who gave his name to a product that has gone on to become a global phenomenon. This is an updated version of William Teacher's original recipe, which featured a larger percentage of Malt whisky for a more refined taste. The unusual flavour and aroma of this 65% Malt Whisky is the result of its ageing in classic 18th-century fashioned quarter casks.
Teacher's Golden Thistle 12-Years-Old Islay Cask Finish
This unique whisky takes its cue from Scotland's national flower, the thistle. It represents the pinnacle of whisky quality and artistry in Teacher's collection. It is still the only blended Scotch whiskey to undergo a 12-year double maturation in American and European oak casks before being completed in the legendary Islay Casks, which impart a rich, lightly smokey flavour.
Pricing for Teacher's Whisky in Delhi is as follows :-
| | | | |
| --- | --- | --- | --- |
| Brand | Q | P | N |
| Teacher's 50 Blended Scotch Whisky | Rs 2030 | Rs 1015 | RS 505 |
| Teacher's 50 Blended Scotch Why 60Ml | | | Rs 165 |
| Teacher's Highland & Cream Smooth Scotch | Rs 1550 | Rs 775 | Rs 385 |
| Teacher's Highland Cream Smooth Scotch (1000Ml) | Rs 2060 | | |
| Teacher's Highland Cream Smooth Scotch (60Ml) | | | Rs 125 |
| Teacher's Golden Thistle Scotch Whisky | Rs 2330 | | |
| Teacher's Highland cream Reserve Scotch | Rs 1870 | Rs 935 | Rs 465 |