Delhi Meerut RRTS
The Delhi-Ghaziabad-Meerut RRTS is the first of three priority corridors planned for implementation in Phase 1 in India, followed by the Delhi-Gurugram-SNB-Alwar and Delhi-Panipat corridors.
The total length of the Delhi-Meerut corridor is 82 km and will be completed in one hour. The first phase will include five stations: Sahibabad, Ghaziabad, Guldhar, Duhai and Duhai Depot. The project is built at a total cost of Rs 30,274 crore. The project also received funding from the Asian Development Bank, the New Development Bank and the Asian Infrastructure Investment Bank.
The RapidX train will look like a metro train, but according to documents shared by NCRTC, RRTS is completely different from a metro train. The project is being developed by the National Capital Region Transport Corporation (NCRTC), a joint venture between the Government of India and the governments of Delhi, Haryana, Rajasthan and Uttar Pradesh.
The RRTS train will have premium class carriages with wider seats, more leg room and hangers.  These trains will be equipped with modern amenities such as automatic doors, integrated air conditioning, storage compartments, separate carriages for women, WIFI, USB charging points and CCTV cameras.
The RRTS train is designed to run at a speed of 180 km/h, making it India's fastest urban transport system. Each train will have 407 seats arranged in 2X2 size. RRTS can cover 100 km in just one hour, while the metro needs three hours to do the same.
Delhi Meerut RRTS Station List
Delhi Meerut RRTS has a total length of 82.15 km, with underground and elevated stations. There are a total of 22 stations in this stretch, these are as follows:-
| | |
| --- | --- |
| Serial No. | Station Name |
| 1 | Nizamuddin / Sarai Kale Khan |
| 2 | New Ashok Nagar |
| 3 | Anand Vihar |
| 4 | Sahibabad |
| 5 | Ghaziabad |
| 6 | Guldhar |
| 7 | Duhai (EPE) |
| 8 | Murad Nagar |
| 9 | Modi Nagar South |
| 10 | Modi Nagar North |
| 11 | Meerut South |
| 12 | Partapur |
| 13 | Rithani |
| 14 | Shatabdi Nagar |
| 15 | Brahmapuri |
| 16 | Meerut Central |
| 17 | Bhaisali |
| 18 | Begum Pul |
| 19 | MES Colony |
| 20 | Daurli |
| 21 | Meerut North |
| 22 | Modipuram |
Delhi Meerut RRTS Route Map
The RRTS will run parallel to the National Highway 24 for most of its length. It will also intersect with the Delhi Metro at several stations, including Sarai Kale Khan, Anand Vihar, and Ghaziabad.
Only some of the line's 22 stations were built as underground stations. These metro stations include Anand Vihar, Meerut Central, Bhaisali and Begumpul. The remaining stations are all built as elevated subway stations. Of the total 82.5 km, 11.5 km of metro lines are part of underground facilities.
Partapur, Rithani, Brahmapuri, Meerut Central, Bhaisali, MES Colony, Daurli and Meerut North stations will come under the MRTS metro service. Sarai Kale Khan Station is connected to the Delhi Metro Pink Line. One can reach Hazrat Nizamuddin Railway Station and Sarai Kale Khan ISBT from the railway station. Anand Vihar Metro Station is connected to the Pink Line. This station is connected to Anand Vihar ISBT and Anand Vihar railway station. RRTS Delhi's new Ashok Nagar, Anand Vihar and Sahibabad stations in Meerut are connected to the Delhi Metro Blue Line.
Here is the route map for Deli Meerut RRTS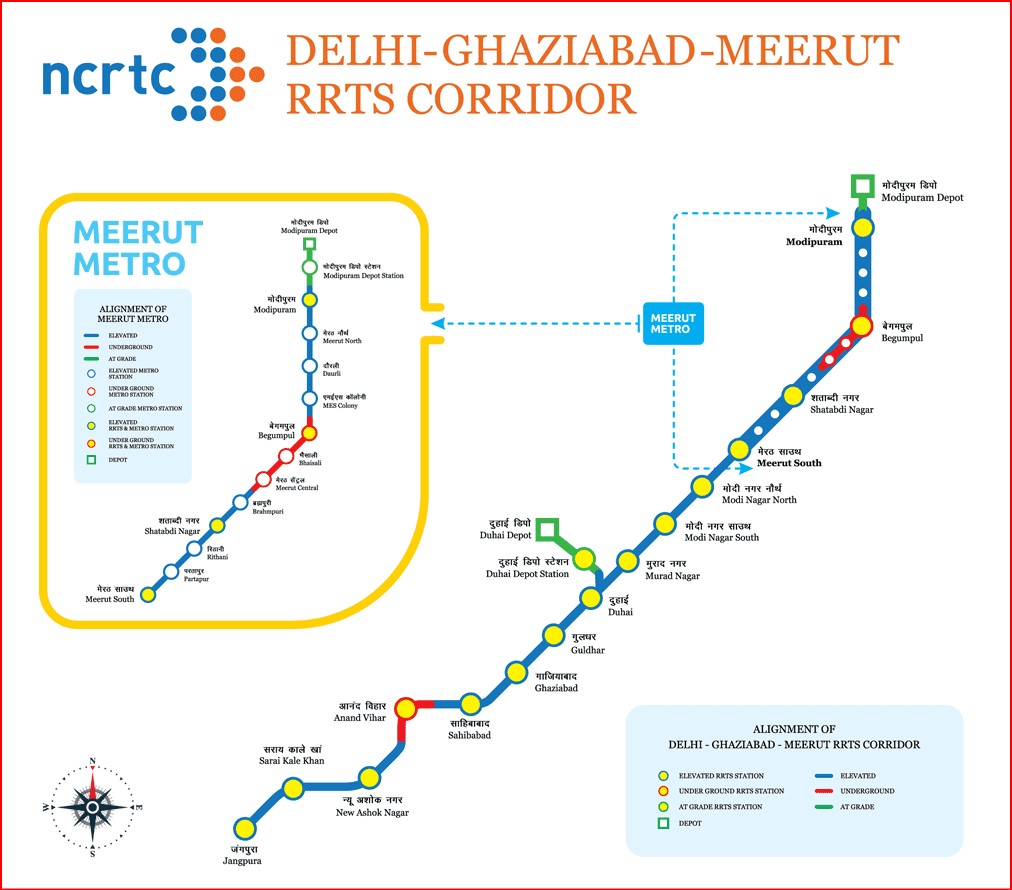 Delhi Meerut RRTS Ticket Price
Though the Fare for Delhi Meerut has not been decided yet, the ticket price for the RRTS is expected to be around Rs 2 per km. This means that the minimum fare can be between Rs 15 to Rs 20, while the maximum fare can be kept up to Rs 160.
Benefits of the RRTS
The Delhi-Meerut RRTS is expected to provide a number of benefits to the region, including:
Reduced travel time between Delhi and Meerut
Reduced traffic congestion on National Highway 24
Improved air quality
Increased economic activity in the region
The RRTS is also expected to play a vital role in the development of the National Capital Region (NCR). It will make it easier for people to live in Meerut and work in Delhi, and vice versa.
Overall, the Delhi-Meerut RRTS is a major infrastructure project that is expected to have a significant impact on the region. It will provide a fast, efficient, and environmentally friendly way to travel between Delhi and Meerut.