You may find the Patanjali Yog Gram Booking Pricing 2023 here, in addition to the Online Registration /Application Form. Patanjali Wellness Yog Gram Portal is also accessible via its official website, which may be found at yoggram.divyayoga.com. In addition, we'll fill you in on the Patanjali Yogapeeth room rates/ fees, room availabilities, services, and more. Patanjali Yog Gram 'Yoghpeeth' Booking 2023 Details are also available on the website. The Patanjali Wellness Centre's online booking registration, price list, etc. are all discussed in today's post. All readers should continue to follow this post and the subsequent article.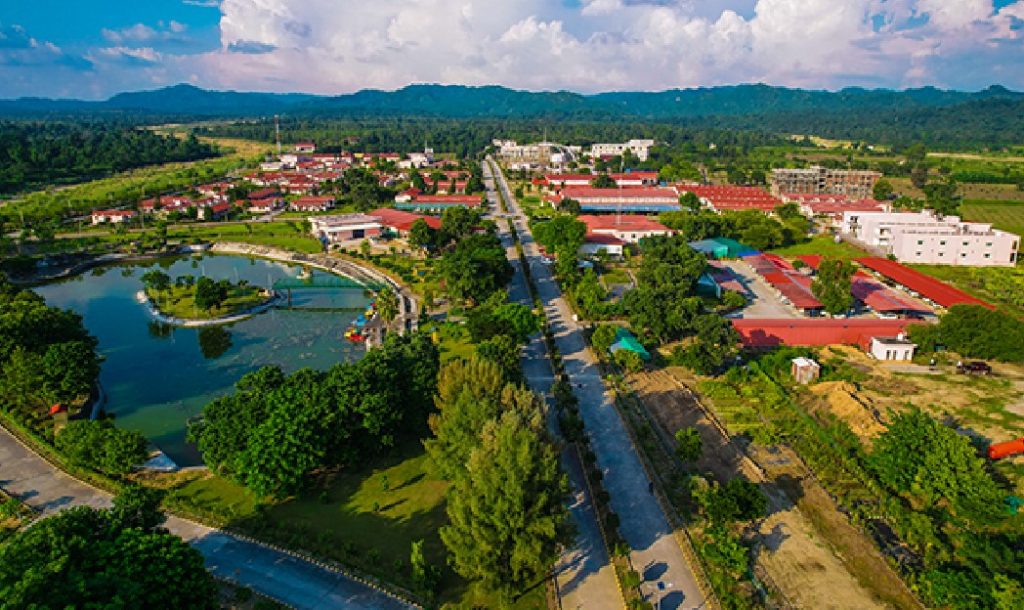 Patanjali Yoga Retreats 2023: Reserve Your Vacation Now!
Patanjali Yog Gram, also known as Yogpeeth, is a wellness centre located in Haridwar, Uttrakhand, as many of you likely already know. On June 8, 2008, it was officially opened by Shri B.C. Khaunduri, a former chief minister of Uttrakhand. Swami Ramdevji Maharaj and Acharya Balkrishnaji oversee its daily operations. The Patanjali Wellness Yog Gram helps those with terminal illnesses regain their mental, emotional, and spiritual well-being. Patanjali Wellness offers a holistic and comprehensive approach to health care.
Yoga, acupuncture, naturopathy, and the usage of nontoxic plants and herbs are all part of the therapy approach. These days, consumers seeking health care are increasingly drawn to Naturopathy clinics. The benefits of Yoga to a person's physical well-being are becoming increasingly well-known, too.
People from all over the world travel to India to study mindfulness practices like Yoga. People are also becoming more informed about Ayurveda and other forms of alternative medicine. If you, too, are sick and are interested in using Ayurveda or naturopathy as a means of recovery, read on. If so, a trip to Haridwar, Uttrakhand's Yogpeeth Healing Center is in order.
Registration for the Patanjali Health and Wellness Center
Article about
Patanjali Yog Gram Booking 2023
Name
Yogpeeth – Patanjali Wellness Center
Operated By
Swami Ramdevji Maharaj and Acharya Balkrishnaji
Organization
Patanjali
Application Mode
Online
Official website
www.patanjaliwellness.com

www.yoggram.divyayoga.com
Most people avoid pharmaceuticals with chemical ingredients and instead seek treatment here. One can find natural healing and the usage of ayurvedic medications at the Patanjali Yogpeeth. At this health spa, you can combine the benefits of Yoga (for mind-body harmony), Panchkarma therapies (for total-body purification), and a host of other restorative practices. Most significantly, all treatments are administered in a clean, green space under the watchful eye of a licenced physician and therapist.
But, anyone with an interest in visiting Patanjali Yog Gram is welcome to do so. However, Patanjali Yog Gram Booking requires online registration before a visit to the Yogpeeth. Since it is conducted online, you need not be in India to schedule a visit to the Patanjali Yogpeeth. In addition, before signing up, you should research the Yogpeeth's rules, service offerings, etc. Also, the Patanjali Wellness Center is only accepting applications from people who think they would be a good fit.
The first step in the therapy process involves an inspection upon arrival at the centre.
Second, there is a strict program in place from the first day of treatment onwards.
Furthermore, those in search of wellbeing are not permitted to bring outside food into the facility.
Dietary recommendations made by medical professionals should be adhered to religiously.
Those who are concerned with their health should make sure to keep their immediate area clean.
First and foremost, anything including animal products, eggs, alcohol, pan masala, tobacco, gutkha, narcotics, or smoking is not allowed.
Anybody looking to improve their health should refrain from teasing birds, animals, insects, or reptiles and from picking flowers or leaves.
In addition, make sure the area is clean and safe for them to be in.
Visitors to the lake for health reasons are expected to dress modestly and are not allowed to swim in the water.
If you misbehave while attending classes at the Patanjali Yogpeeth, the administration has the power to expel you from the facility without a refund.
Accommodation Costs & Services at Patanjali Yogpeeth
A summary of the assistance offered to people looking for medical care is presented below.
Superior medical care centres
Room, power, water, and other necessities for living are provided.
Recreational amenities such as boats, and a library.
Per Day Patanjali Yogpeeth Charges/ Price List
| | |
| --- | --- |
| Room Charges | Charges Per Day |
| Rajrishi Cottage | ₹7,500/- |
| Muniraj Cottage | ₹7,000/- |
| Maharishi Cottage | ₹6,000/- |
| Tapasvi Cottage | ₹5,000/- |
| Nisarg Cottage | ₹5,000/- |
Patanjali Yog Gram Online Booking Procedure
Please follow the instructions below to complete your Patanjali Yog Gram Online Booking Registration 2023.
Get started with Patanjali Yog Gram by visiting their official website.
The "Register" button can be found on the website's main page.
The next step is to visit Yog Gram 2023 Online Registration.
Afterward, proceed to the online application by clicking the corresponding link.
In 48 hours following acceptance, you will receive your login credentials.
Then, enter your login information as a patient or health seeker.
After that, finish booking your accommodations and see what's available.
The Yog Gram fee must also be paid online.
After 48 hours, we'll send you the confirmation information. After that, you'll be all set to register.
You may easily make a reservation online by following these instructions.