Old Monk Rum probably doesn't need any introduction, do they? Since 1954, Old Monk has been the most popular dark rum in India despite being both inexpensive and well regarded for its quality. Old Monk is a cheap, easily accessible, and delicious liqueur that features a mild flavour profile that includes vanilla, cola, cinnamon, roasted coffee beans, and caramel.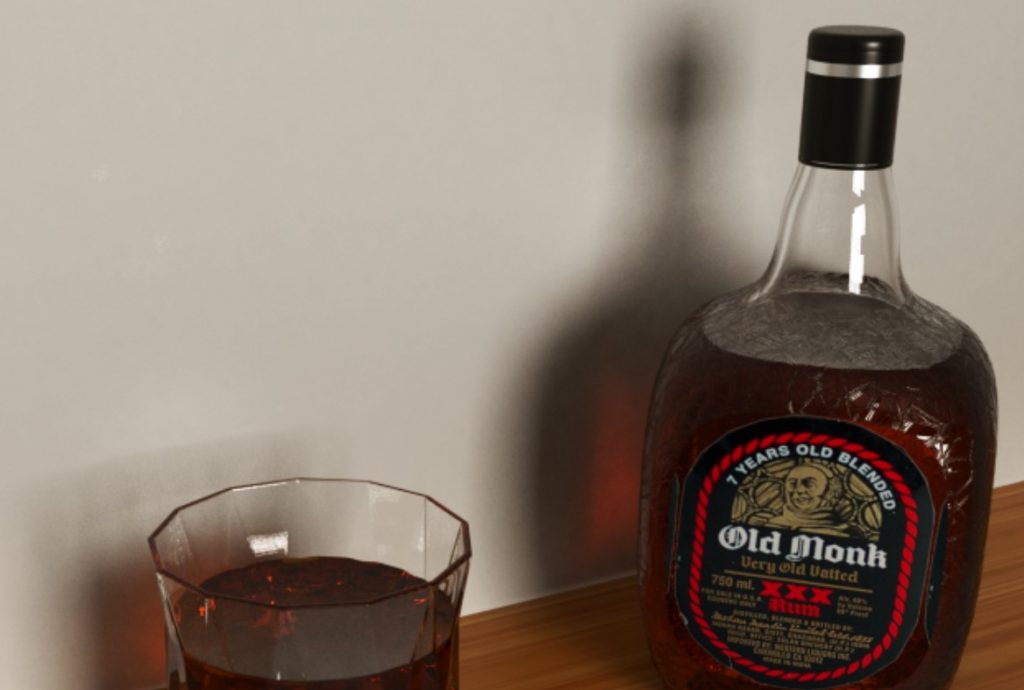 Invented by Mohan Meakin's former MD, Ved Rattan Mohan, Old Monk made its debut in India in the '60s. Colonel Ved Mohan, Kapil Mohan's brother, was influenced by the drinks Benedictine monks prepared while living an ascetic lifestyle in the Himalayas. And so the beverage was given its name. It quickly rose to prominence as a top-tier dark rum around the world and a top contender for the title of most popular IMFL (Indian-Made Foreign Liquor) brand in the country on the strength of its reputation for being superior in taste and possibly even quality to Hercules, at least according to brand loyalists. Their tactic of offering low prices has also proven successful.
Originally introduced in 1954, Old Monk Rum is a classic vatted Indian black rum. It's 42.8% proof and comes with a strong vanilla flavour in a dark rum. Despite having an official headquarters in Solan, Himachal Pradesh, production takes place in Ghaziabad, Uttar Pradesh. There is no marketing at all, rather, its success is due to satisfied repeat consumers. Although being the best-selling dark rum, Old Monk was dethroned in 2013 by McDowell's No.1 Celebration Rum. For a long time, Old Monk has been the most popular brand of IMFL (Indian Made Foreign Liquor).
Old Monk Rum comes in several varieties, which are as follows :-
Old Monk Supreme Rum
Old Monk Gold Reserve Rum
Old Monk XXX Rum
Old Monk Deluxe XXX Rum
Old Monk White Rum
Old Monk Legend – Limited Edition
Old Monk – The Connoisseur Collection
Here is the price list of Old Monk Rum in Delhi :-
| | | |
| --- | --- | --- |
| Brand | Size / Volume | Price in Delhi |
| Old Monk Gold Reserve Deluxe Premium Rum | 180 | Rs 125 |
| Old Monk Gold Reserve Deluxe Premium Rum | 375 | Rs 250 |
| Old Monk Gold Reserve Deluxe Premium Rum | 750 | Rs 500 |
| Old Monk Matured Xxx Select Rum Vov | 180 | Rs 105 |
| Old Monk Matured Xxx Select Rum Vov | 375 | Rs 205 |
| Old Monk Matured Xxx Select Rum Vov | 500 | Rs 270 |
| Old Monk Matured Xxx Select Rum Vov | 750 | Rs 410 |
| Old Monk Supreme Premium Xxx Rum Very Old Vatted | 750 | Rs 610 |
| Old Monk The Legend Deluxe Premium Rum Very Old Vatted | 180 | Rs 200 |
| Old Monk The Legend Deluxe Premium Rum Very Old Vatted | 375 | Rs 400 |
| Old Monk The Legend Deluxe Premium Rum Very Old Vatted | 750 | Rs 800 |
| Old Monk White Deluxe Premium Rum | 180 | Rs 130 |
| Old Monk White Deluxe Premium Rum | 375 | Rs 260 |
| Old Monk White Deluxe Premium Rum | 750 | Rs 520 |