Whisky lovers in Delhi are in for a treat with the availability of the premium Oaken Glow whisky. This exquisite blend is a favorite among connoisseurs of the drink, and it boasts a unique taste that is hard to find in other whiskies. The brand has gained significant popularity in the city, and its prices have been a point of interest among customers. In this article, we will discuss the Oaken Glow whisky price in Delhi and what makes it so special.
Oaken Glow is a premium blend whisky that is known for its smoothness and delicate flavor. The drink is made from a blend of fine malts and grains, which are carefully selected to create a unique taste. The drink is aged for a minimum of 12 years, which adds to its smoothness and complexity.
In Delhi, Oaken Glow whisky is available in various liquor stores across the city. The price of the drink varies depending on the size of the bottle and the store that is selling it. One of the reasons why Oaken Glow is so popular among whisky lovers in Delhi is its unique taste. The drink has a smooth and delicate flavor, which is complemented by its complex aroma. The drink is perfect for sipping on its own or mixing in a cocktail.
Oaken Glow is layered and rich. The smokiness of peat smoke found inside the distinctive malts produced at the modern yet historic Dalmunach Distillery on the banks of the River Spey in Scotland's legendary Highlands is the very essence of the spirit.
The whisky that goes into Oaken Glow was matured in Scotland before being shipped to India for bottling. Together with National Distillers, Schenley, and Hiram Walker, Seagram's was one of the "big 4" American whisky businesses that controlled the market after Prohibition.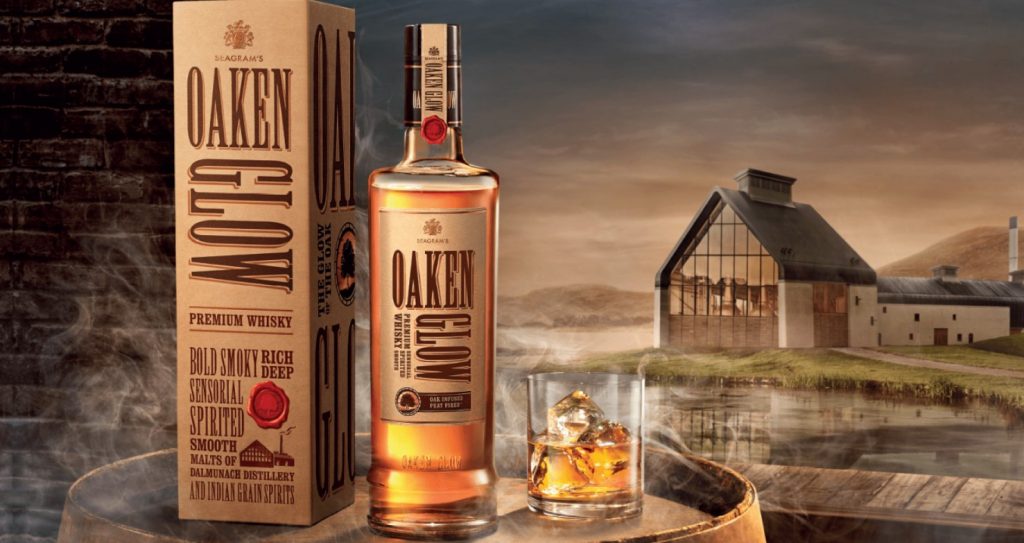 Another factor that contributes to Oaken Glow's popularity is its packaging. The whisky comes in an elegantly designed bottle that is shaped like a decanter. The bottle is made of high-quality glass and features a beautiful label that highlights the brand's name and logo. In Delhi and Gurgaon, Oaken Glow is available in Private liquor and Government liquor shops.
Pricing for Oaken Glow Whisky in Delhi is as follows:-
| | | |
| --- | --- | --- |
| Brand | Volume | Price |
| Oaken Glow Premium Whisky | 750 Ml | Rs 1200 |
| Oaken Glow Premium Whisky | 375 Ml | Rs  600 |
| Oaken Glow Premium Whisky | 180 Ml | Rs 300 |