Shatabdi Express trains are a line of quick passenger trains that Indian Railways runs between major cities for tourists, pilgrims, and business travellers. In India, these trains are known as Superfast. The Shatabdi Express is a day train, and it makes a daily return trip to its starting point.
In a single day, Shatabdi Expresses go to and from the locations. With the exception of the Bhopal Shatabdi, which travels across the New Delhi-Agra segment at a maximum allowable speed of 150 km/h (93 mph), Shatabdi Expresses are only permitted to travel at a maximum speed of 130 km/h. The Shatabdi trains will gradually be replaced with the newer Train 18 "Vande bharat" Trainsets, according to the Indian Railways.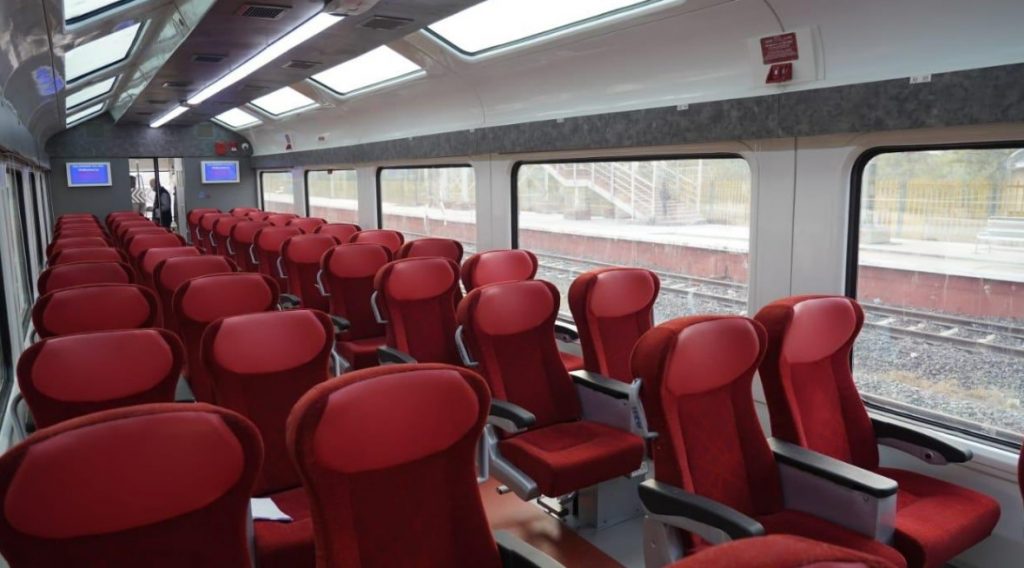 Only a few intermediate stations and quick connectivity are provided by Shatabdi Express trains. They are far more luxurious and fully air-conditioned than the majority of Indian trains. Bottled water, juice, coffee or tea, and meals appropriate for the time of day of travel are offered to Shatabdi passengers.
Shatabdi Express coaches contain just seats and no berths because they are day trains that return to the station of origin the same day. They are all equipped with AC chairs. However, there are usually one or two Executive Class carriages on Shatabdi Express trains. Anubhuti Class seating has just become available on select Indian Railways trains, and some of them include Vistadome coaches with seating and a partially transparent ceiling.
Here is the list of Shatabdi trains that start from Delhi or has a destination station as  Delhi.
| | | | |
| --- | --- | --- | --- |
| Train | From | To | Days |
| 12001 NDLS SHATABDI | Rani Kamlapati (Bhopal) | New Delhi | Daily |
| 12002 BHOPAL SHTBDI | New Delhi | Rani Kamlapati (Bhopal) | Daily |
| 12003 SWARAN SHATABDI | Lucknow Ne | New Delhi | Daily |
| 12004 LJN SWRAN SHTBD | New Delhi | Lucknow Ne | Daily |
| 12005 KALKA SHTBDI EX | New Delhi | Kalka | Daily |
| 12006 KALKA SHTBDI EX | Kalka | New Delhi | Daily |
| 12011 KLK SHATABADI | New Delhi | Kalka | Daily |
| 12012 KLK SHATABADI | Kalka | New Delhi | Daily |
| 12013 ASR SHTBDI EXP | New Delhi | Amritsar Jn | Daily |
| 12014 ASR SHTBDI EXP | Amritsar Jn | New Delhi | Daily |
| 12015 AJMER SHATABDI | New Delhi | Ajmer Jn | Daily |
| 12017 DDN SHTBDI EXP | New Delhi | Dehradun | Daily |
| 12018 DDN SHTBDI EXP | Dehradun | New Delhi | Daily |
| 12029 ASR SHTBDI EXP | New Delhi | Amritsar Jn | Except Thu |
| 12030 ASR SHTBDI EXP | Amritsar Jn | New Delhi | Except Thu |
| 12031 ASR SHATBDI EXP | New Delhi | Amritsar Jn | Th |
| 12033 SHATABDI EXP | Kanpur Central | New Delhi | Except Sun |
| 12034 NDLS CNB SHT | New Delhi | Kanpur Central | Except Sun |
| 12039 NDLS SHATABADI | Kathgodam | New Delhi | Daily |
| 12040 KGM SHTBDI EXP | New Delhi | Kathgodam | Daily |
| 12045 NDLS CDG SHTBDI | New Delhi | Chandigarh | Except Wed |
| 12046 CDG NDLS SHT EX | Chandigarh | New Delhi | Except Wed |
| 12049 GATIMAAN EXP | Virangana Lakshmibai (Jhanshi) | Hazrat Nizamuddin | Except Fri |
| 12050 GATIMAAN EXP | Hazrat Nizamuddin | Virangana Lakshmibai (Jhanshi) | Except Fri |
| 22435 VANDE BHARAT EX | Varanasi Jn | New Delhi | Tu W F Sa Su |
| 22436 VANDE BHARAT EX | New Delhi | Varanasi Jn | Tu W F Sa Su |