About Kingfisher Beer 
Brand "Kingfisher" has continually received acclaim on a global scale and has garnered several honours at international beer festivals. Our most popular beer, Kingfisher Premium Lager, is presently offered in 69 nations and dominates the international market for Indian beverages.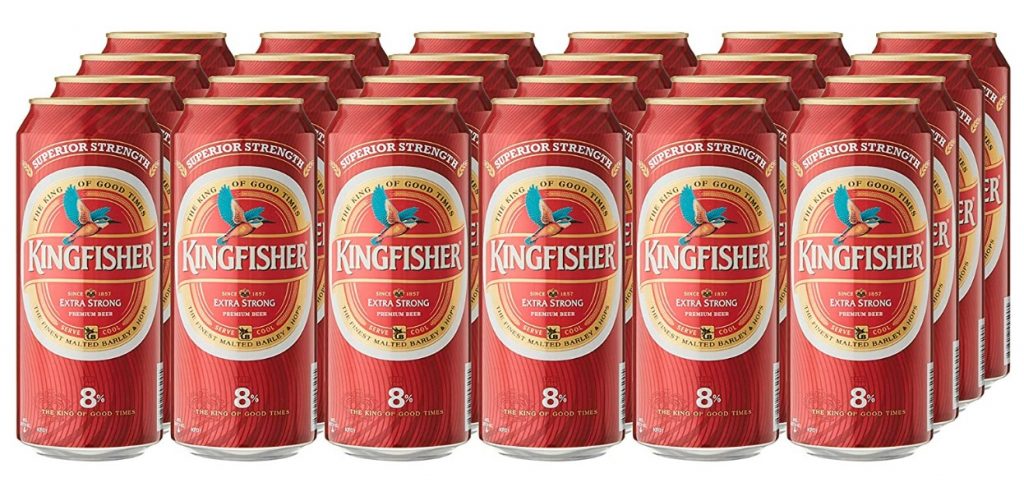 India's favourite beer, Kingfisher, is produced by United Breweries Limited, the country's largest brewery. International acclaim has always been accorded to the United Breweries Limited-produced and promoted beer brands for their high calibre. In India, the term Kingfisher is linked with beer and represents energy, youth, and friendship.
This Indian Lager, which combines the distinct flavour and quality of Kingfisher with a strong beer, is crisp and energising with a smooth flavour that comes from the increased strength.
Kingfisher Strong, the beer that has received widespread appreciation across the world, is a symbol of power, style, youth, and fun. reflecting the characteristics that make up contemporary India. The brand has a distinctive, reviving flavour since it was made with the best malted hops. A fantastic beer to pair with authentic Indian food or hot curries.
Kingfisher Beer Price
Here is the the price list of King Fisher beer in Delhi :-
| | | | |
| --- | --- | --- | --- |
|  Brand | Full | Half | Quarter |
| King Fisher Premier Lager Beer(330) | | 55 | |
| Kingfisher Fine Lager Beer | 130 | | |
| Kingfisher Fine Lager Beer 330Ml | | 70 | |
| Kingfisher Fine Lager Beer 500Ml | | 105 | |
| Kingfisher Fine Strong Beer | 130 | | |
| Kingfisher Fine Strong Beer 330Ml | | 70 | |
| Kingfisher Fine Strong Beer 500Ml | | 105 | |
| Kingfisher Premier Lager Beer | 100 | | |
| Kingfisher Premier Lager Beer330Can | | 55 | |
| Kingfisher Premier Lgr Beer Can 500 | | 80 | |
| Kingfisher Strong Platinum Beer 330 Ml | | 70 | |
| Kingfisher Strong Platinum Beer 500 Ml | | 85 | |
| Kingfisher Strong Platinum Beer | 130 | | |
| Kingfisher Ultra Fine Lager Beer | 170 | | |
| Kingfisher Ultra Fine Lgr Beer 330 | | 90 | |
| Kingfisher Ultra Fine Lgr Beer 500 | | 130 | |
| Kingfisher Ultra Witbier Beer | 185 | | |
| Kingfisher Ultra Witbier Beer 330Ml | | 95 | |
| Kingfisher Ultra Witbier Beer 500Ml | | 160 | |