Beer from Kingfisher is a better value in India than it is in other nations. Among India's breweries, Kingfisher has a sizable portion of the market. The United Breweries Group in Bangalore produces Kingfisher, India's most popular beer. Company expansion into the non-alcoholic beverage market as well has begun. It also has a branch in the United Kingdom called Kingfisher Beer Europe Ltd. (KBE). Kingfisher Beer is available across Delhi in almost all the leading private and government Wine and Liquor shops.
With a biggest share of the Indian beer market, Kingfisher beers are the most popular choice for beer drinkers across the country. Kingfisher makes a wide variety of beers, including low and high alcohol options including Kingfisher Premium and Kingfisher Lager. Kingfisher beers have a refreshingly light flavour that strikes a good balance between malty and fruity aromas. Kingfisher's Premium is a best-seller because of its outstanding quality and reasonable cost.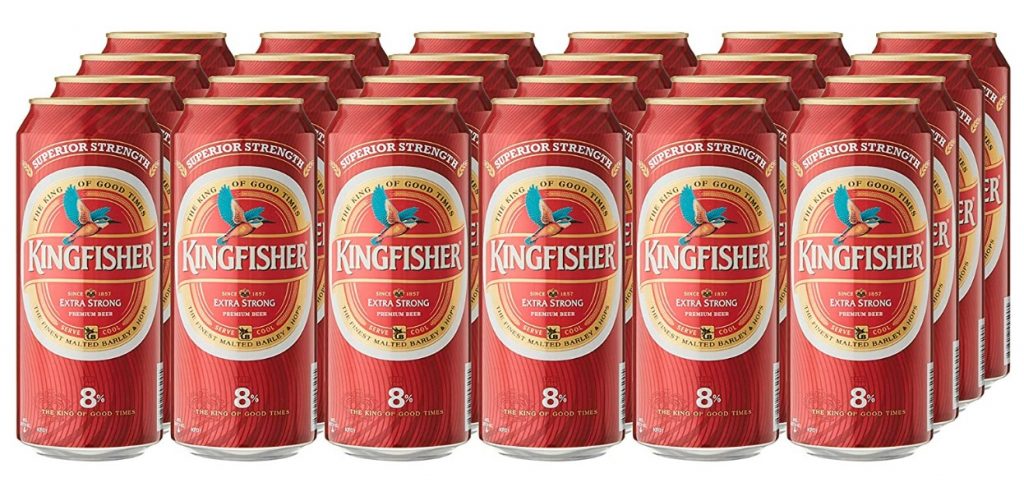 There are four packaging options for Kingfisher beer.
330ml (24 x 330ml cases)
(24 x 330ml cases)
Pint or half-pint Kegs (650 ml)
(12 × 650 ml case)
Kingfisher Beer comes in following verities :-
Kingfisher Buzz
Kingfisher Storm Beer
Kingfisher Ultra
Kingfisher Ultra Max
Kingfisher Strong
Kingfisher Premium
Pricing for Kingfisher Beer in Delhi is as follows :-
| | |
| --- | --- |
|  Brand | Price  |
| Kingfisher Premium Lager Beer 330 Ml | Rs 55 |
| Kingfisher Fine Lager Beer 330Ml | Rs 70 |
| Kingfisher Fine Lager Beer 500Ml | Rs 105 |
| Kingfisher Fine Strong Beer | Rs 130 |
| Kingfisher Fine Strong Beer 330Ml | Rs 70 |
| Kingfisher Fine Strong Beer 500Ml | Rs 105 |
| Kingfisher Premium Lager Beer | Rs 100 |
| Kingfisher Premier Lager Beer330Can | Rs 55 |
| Kingfisher Premier Lager Beer Can 500 | Rs 80 |
| Kingfisher Strong Platinum Beer 330 Ml | Rs 70 |
| Kingfisher Strong Platinum Beer 500 Ml | Rs 85 |
| Kingfisher Strong Platinum Beer | Rs 130 |
| Kingfisher Ultra Fine Lager Beer | Rs 170 |
| Kingfisher Ultra Fine Lager Beer 330 | Rs 90 |
| Kingfisher Ultra Fine Lager Beer 500 | Rs 130 |
| Kingfisher Ultra Witbier Beer | Rs 185 |
| Kingfisher Ultra Witbier Beer 330Ml | Rs 95 |
| Kingfisher Ultra Witbier Beer 500Ml | Rs 160 |