Are you in search of an unparalleled destination where your children can revel in exhilarating moments while acquiring invaluable life skills? Look no further than KidZania, Noida! This innovative edutainment center presents an immersive and interactive encounter that amalgamates education, entertainment, and adventure, catering to children of every age. Within this comprehensive guide, we will delve into the captivating realm of KidZania, Noida, providing essential details regarding ticket prices, operating hours, and the location. Join us on this exhilarating expedition and uncover why KidZania, Noida, stands as the ultimate haven for children and families.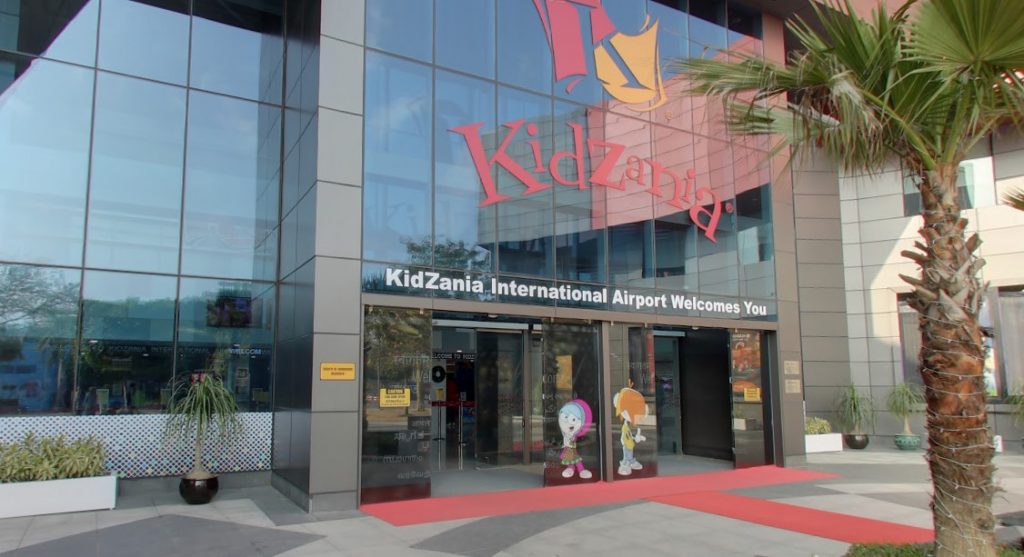 KidZania, an indoor theme park located in Delhi-NCR, is a popular destination for both children and adults. This secure and meticulously designed park emulates a miniature city, complete with paved roads, buildings, battery-operated cars, and even its own currency. It offers a diverse range of engaging role-playing activities aimed at inspiring and educating children in an enjoyable and interactive manner.
The park provides an excellent opportunity for children to learn about various professions, career paths, money management, social values, and other real-world concepts in a simplified and exciting way. With over 100 role-playing activities available, kids can participate and acquire a wide range of life skills.
Exploring the Wonders of KidZania, Noida
Immerse Your Child in a World of Boundless Imagination
Embark on a remarkable voyage into the enchanting realm of KidZania, Noida, where children can unleash their boundless creativity and partake in diverse real-life role-playing activities. From aspiring to become a medical professional, aviator, culinary artist, or firefighter, to relish the thrill of being a radio presenter, KidZania offers a vast array of career-themed experiences that are both educational and enjoyable.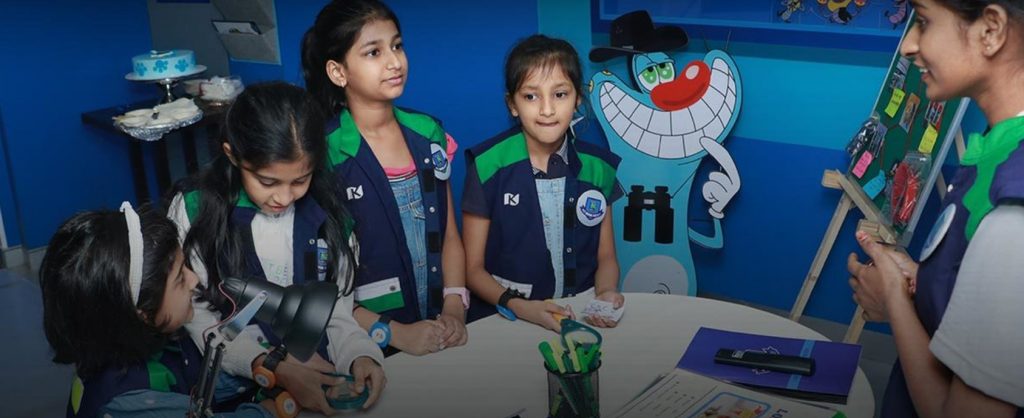 Ticket Prices and Packages
To ensure a seamless experience for visitors, KidZania, Noida, provides various ticket options. The prices of tickets differ based on the child's age and the chosen package. If you're planning a trip to this remarkable indoor entertainment and learning center, here's some essential information about KidZania's location, ticket prices, operating hours, and more.
The ticket price for KidZania is free for babies below the age of 2. Additionally, the park offers early bird packages for the last 3 hours of operation.
Kidzania Noida Ticket Prices
Full Day Pass
Babies (<2 Years)
FREE
Toddlers (2-4 Years)
Rs 700 onwards
Kids (4-16 Years)
Rs 1450 onwards
Adults (17-59 Years)
Rs 700 onwards
Sr. Citizen
Rs 350 onwards
Ticket Price For Any 3 Hours
Babies (<2 Years)
FREE
Toddlers (2-4 Years)
Rs 550 onwards
Kids (4-16 Years)
Rs 1100 onwards
Adults (17-59 Years)
Rs 550 onwards
Sr. Citizen
Rs 350 onwards
Ticket Price For Any 3 Hours
Babies (<2 Years)
FREE
Toddlers (2-4 Years)
Rs 600 onwards
Kids (4-16 Years)
Rs 1300 onwards
Adults (17-59 Years)
Rs 650 onwards
Sr. Citizen
Rs 350 onwards
Above mentioned prices are applicable for Weekdays, but weekend prices differ slightly.
It is recommended to consult the official KidZania website or reach out to their customer support for the most up-to-date information regarding ticket prices and available packages.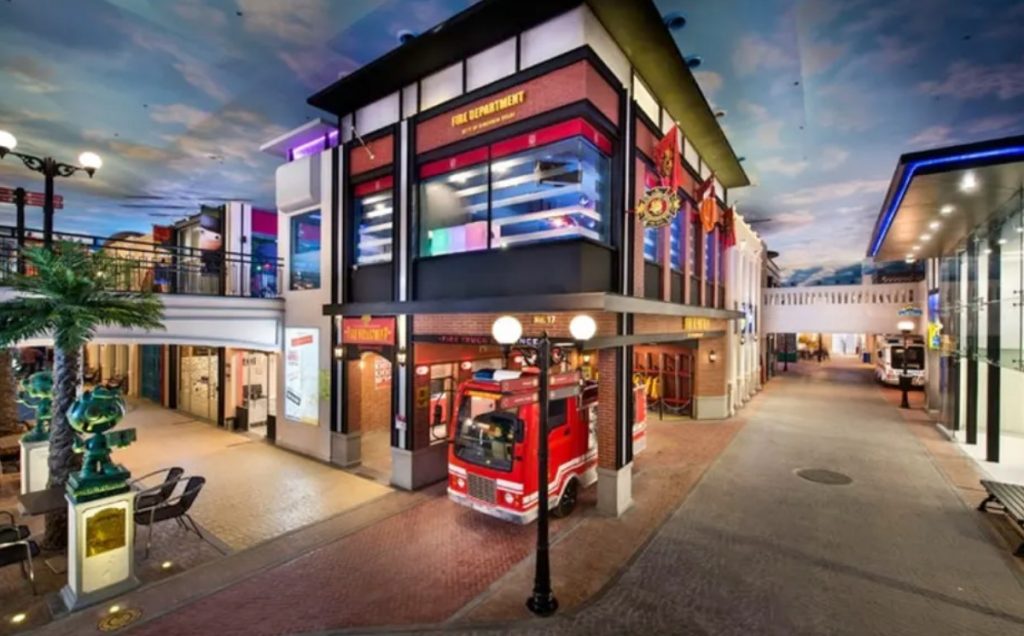 Operating Hours and Essential Details
KidZania, Noida, adheres to specific operating hours, ensuring visitors can enjoy an optimal experience. It is crucial to plan your visit in advance and familiarize yourself with the essential details to make the most of your time at this extraordinary destination. The center may have designated sessions or time slots for different age groups or activities, guaranteeing each child receives undivided attention and guidance.
Opening Times
Open (All Days Monday – Sunday)
10 AM – 9 PM
Location and Accessibility
Situated in the heart of Noida, KidZania boasts convenient accessibility through various modes of transportation. Its central location caters to families residing in and around the Delhi-NCR region. Whether you opt for self-driven transport, public transit, or ride-sharing services, reaching KidZania, Noida, is a hassle-free endeavor.
Address
KIDZANIA DELHI NCR – Entertainment City, Gate No. 11, Near The GIP Mall, Sector 38A, Noida 201 301.
KidZania Information and Activities Let's take a look at the diverse range of activities offered by KidZania for both kids and adults:
Activities for kids (2-16 years): KidZania offers over 60 captivating role-playing and other activities specifically designed for toddlers and kids, promoting the development of psychomotor, cognitive, emotional, and social skills. Some popular activities include:
Delivery Services: Kids can immerse themselves in role-playing activities, such as pretending to be delivery experts at DHL or learning how to assemble modular furniture at Pepperfry. Role-playing as Dabbawalas also provides an excellent opportunity for collaboration, communication, and motor skill development.
Factory Tours: In this fascinating section, kids learn the step-by-step process of making biscuits, candies, donuts, and other items. Working in teams, they enhance their communication skills while experiencing the joy of creating. KidZania's Factory Tours include visits to the Kinder Joy product factory, Parle biscuit and candy factory, and M.O.D donut factory.
Talent Zone: Designed for children with artistic talents and interests in activities like dancing, acting, and painting, this zone offers the perfect platform for honing their skills. Kids can rehearse lines, learn acting and dancing techniques, and showcase their talent on stage and at KidZania's flashmobs and street parades. The painting school within this zone allows children to explore mural painting, portrait painting, stained glass painting, and more. Talent Zone includes Bollywood, Dance Academy, ArtZ and Crafts Studio, and ArtZ Painting Studio.
Shopping Hubs: KidZania provides a wonderful place for young shoppers to learn about browsing and shopping at the Big Bazaar Supermarket and Department Store. Additionally, children gain insights into stock management and customer service.
Archaeological Site: In this exciting activity, children can assume the role of archaeologists and paleontologists as they explore the remnants of an ancient civilization. This activity fosters the utilization of psychomotor, cognitive, and social skills as children search for prehistoric fossils and artifacts.
Hospital Emergency Room: Children can engage in the role-playing activity of paramedics in the Dettol Hospital and Emergency Room. This fun and simple activity teaches children about attending to injured individuals and administering first aid. They also gain an understanding of various medical equipment, develop empathy, and learn the value of teamwork while treating a patient.
Aviation Academy: The aviation academy offers a wonderful opportunity for kids to learn about the different tasks involved in being a pilot before, during, and after each flight. Those interested can also learn about the responsibilities of cabin crew members, such as giving safety instructions and serving meals.
In addition to these activities, KidZania offers Amiown preschool, a party hub, a police department, a courthouse (Supreme Court), Bajaj Culinary School, and the Nick Dubbing Studio, among other interesting options for little ones.
Activities for Adults (17+ years): Adults visiting KidZania with their children can also enjoy various activities designed specifically for them within the theme park. Here are a few examples:
Parachute Hair Spa: Adults have the option to have their hair styled or learn how to style someone else's hair. They can also receive advice on maintaining long and healthy hair.
Sport's Hub – Games Room: Parents can engage in different games with their children or simply relax at the sports hub. Games such as Foosball, Pool, and Mini Golf are available. The games room also offers a selection of interesting board games.
Steel Structure: This captivating activity involves participants navigating through a steel structure that resembles a construction site. They must overcome obstacles while performing specific tasks.
Parents can also participate in or observe their children's engagement in various activities. KidZania provides a Parent's Lounge where adults can relax, watch TV, play games, and browse the internet. The lounge offers ample space and comfortable couches, providing an opportunity to read books and magazines that are available. Numerous food kiosks nearby offer a variety of food and beverages.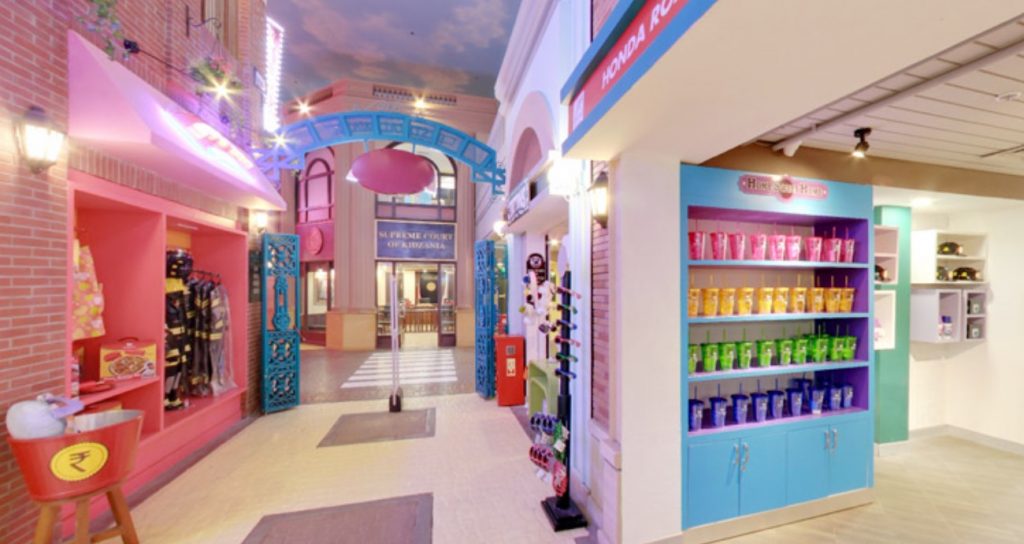 Why KidZania, Noida Stands Out
A Secure Haven for Endless Fun
At KidZania, your child's safety takes precedence. The center strictly adheres to rigorous safety protocols, ensuring a secure environment for children to learn, explore, and derive joy. Trained staff members are present at every activity, ensuring the safety and engagement of children in meaningful experiences.
Interactive Learning at Its Finest
KidZania, Noida, transcends the boundaries of textbooks and classrooms, offering interactive learning experiences. Through active participation in various role-playing activities, children develop vital life skills such as teamwork, problem-solving, decision-making, and effective communication. The hands-on experiences facilitate their personal growth and overall development.
Fun for the Entire Family
KidZania, Noida, is not exclusively for children! It promises a delightful experience for the entire family. While children indulge in their chosen activities, parents can unwind in designated areas, savor a cup of coffee, or engage in their own leisurely pursuits. KidZania wholeheartedly recognizes the significance of creating an inclusive and enjoyable experience for the entire family unit.
In Conclusion
KidZania, Noida, stands as a world-class destination that seamlessly intertwines education and entertainment, presenting children with a unique platform to learn, play, and flourish. With its immersive role-playing experiences, stringent safety measures, and an extensive range of activities, KidZania has garnered acclaim as an enriching and delightful destination for both children and families. Do not miss the opportunity to visit KidZania, Noida, and witness the radiant smiles, resounding laughter, and incredible learning experiences it has to offer!
To ensure the safety and security of visitors, the theme park provides special RFID bracelets for children and parents. Each child's bracelet is linked to the parent's bracelet, allowing for easy tracking and monitoring of the child's location. This feature provides peace of mind regarding the safety of children.
Things to keep in mind when visiting KidZania, NCR: To avoid long queues, it is advisable to purchase KidZania tickets online. Remember to carry a printed copy of your ticket and a valid ID proof. Outside food is not permitted within the theme park. Please note that certain activities may be temporarily closed due to operational issues.