A delectable traditional North Indian dessert called kaju katli is created with cashew nuts, sugar, and cardamom powder. Here, "Kaju" means "cashews" in Hindi, while "katli" means "thin slices." Rich, beautiful, and incredibly decadent, kaju katli has a texture that melts in your lips. An Indian delicacy resembling a barfi is called kaju katli, which translates as "cashew slice" or "kaju barfi." Barfi is commonly produced by thickening milk with sugar and other ingredients; Kaju is the Hindi word for cashew (such as dry fruits and mild spices). Saffron is a component in kesar kaju katli.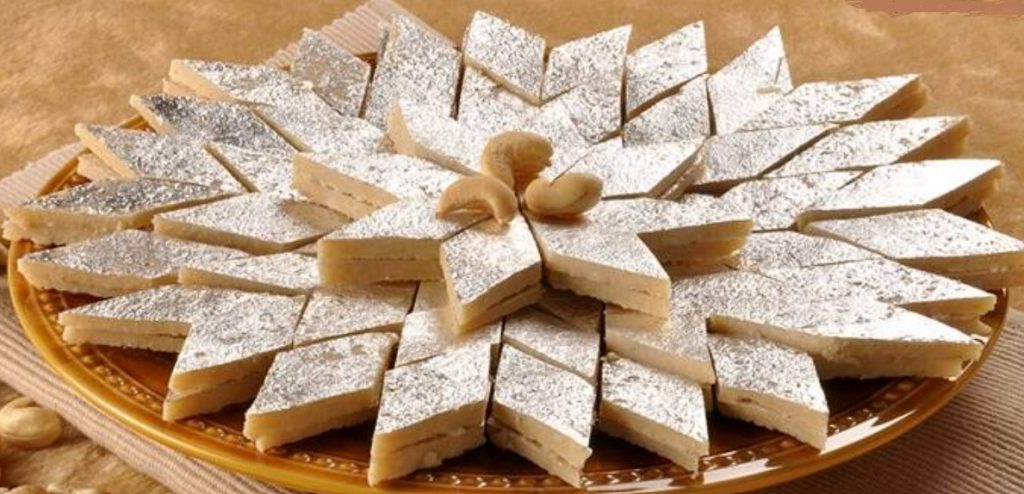 kaju katli is one of the most popular Indian sweets sold all year long at mithai shops and Indian stores? Yes, it is a favourite among people of all ages, and they adore it for its subtle tastes, mouthwatering, very addicting texture. Kaju katli is the ideal present to share the happiness of any special event, including festivals and festivities. If you reside in India, it's common for visitors to give you a box of kaju katli for special occasions like Diwali, special occasions, Navratri, or Holi.
Almost all the sweets shops sell Kaju Katli in their shops, depending upon the quality, brand, ingredients and most importantly the locality where the sweets like kaju Katli are being sold,  rates are decided. For Example, a local sweet shop located in area like Laxmi Nagar or Shahdara will sell Kaju Katli at much cheaper rates as compared to a local shop selling kaju Katli in area like South Extension and Vasant Kunj in Delhi.
For rest of the brands like Haldiram and Bikanervala, rates are almost same regardless of the area where kaju Katli is being sold. Here is the approximate price for Kaju Katli In Delhi.
| | |
| --- | --- |
| Haldiram | Rs 990/kg |
| Bikanervala | Rs 980/kg |
| Om Sweets | Rs 840/kg |
| Hira Sweets | Rs 900/kg |
| Aggarwal Sweets | Rs 700 – 850 /kg |
| Local Sweet Shop | Rs 650 – 800 /kg |