International Driving License in Delhi
An international driver's license and other labour department certifications will soon be available online, eliminating the need for citizens to physically visit government buildings.
The Delhi government has chosen to expand its 'doorstep delivery' scheme to include an additional 58 services across four departments, bringing the total number of services available through the initiative to 158.
The Mukhyamantri Tirth Yatra Yojana, payment of ex gratia, establishment 1icense from the labour department, change of name in driving license, vehicle fitness certificate, permit renewal of passenger vehicles, and transfer of permit in case of death of the holder are just some of the new services for which residents of Del- hi will no longer need to make several trips to government offices.
International Driving License in Delhi- How to Apply
Half of the services are currently in the process of providing relevant training to staff and mobile sahayak, who will be visiting the applicants. Coordination meetings between the senior officers of the remaining services and the administrative reforms department, which manages the scheme, have been held.
International Driving License in Delhi – Information
Article about
International Driving
License in Delhi
Helpline Number
1976
No. of Departments currently
providing doorstep service
14
Certificates/documents/ permits
issued till 31st march 2023
5.6 lakh
Official website
Click Here
14 different government agencies (including the revenue, transport, Delhi Jal Board, social welfare, and food and supplies) are responsible for providing services such as electrical connections, ration cards, driver's licences, drug licences, and bus tickets.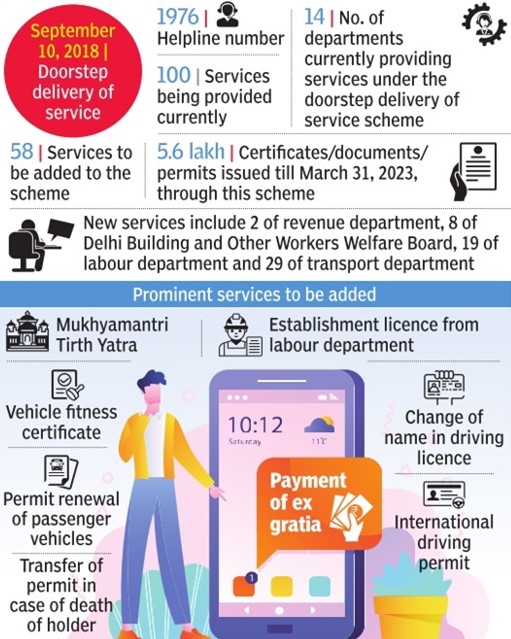 New mobile sahayak hires, however, necessitate extensive background checks. Comfort should not come at the expense of safety. It has been claimed to triple the number of doorstep services to 300 so that people in Delhi wouldn't have to spend time, money, or energy travelling to other locations to use their services.
The government has sent over 5.6 million documents to Delhi residents as of March of this year. Calling 1076 to schedule a service will have a "mobile sahayak" come to the applicant's home to gather the necessary paperwork, saving the applicant time and effort.
The government has contracted with two staffing agencies, CSC e-Governance and Core Doc2, to collect the documents via mobile sahayaks and upload them to the portal. Problems with operations have also been fixed in recent weeks and months. Over the past few years, the service's backend has undergone a number of improvements in an effort to better serve users.