This year's edition of the summer's most-anticipated event is shaping up to be bigger and better than ever before. Horn Alright, foodies: the 10th annual Happy Food Festival is here, and it's going to be bigger and better than ever.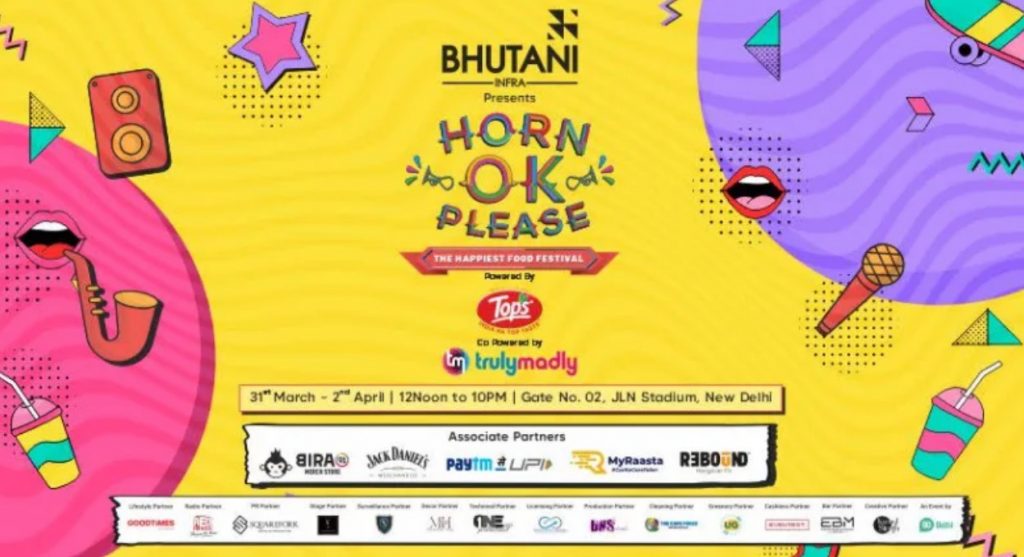 Horn Ok Please Delhi Food Festival
If you want to win someone over, they say the best method is through their stomach, in which case, Horn Fine. Please get the memo and will be back this summer to earn your love all over again. From momos and nukkad ki chat to the famous restaurants of Chandni Chowk and the newest in global cuisine, the options in Delhi are practically endless. Horn OK Please is an epicurean paradise, with over 200 different cuisine vendors to choose from. To cool off from the summer heat, stop by one of the many bars for a pint of cold beer or one of the many cocktails or mocktails.
Artist Lineup
Day 1
1:00 – 2:15 Yash Jain
2:15 – 3:30 Cloud 7
3:30 – 4:45 Joy Band
4:45 – 6:00 The Lost Fireflies
6:00 – 7:15 Rooh The Fusion Project
7:15 – 8:30 Sanam Singh
8:30 – 10:00 Gurnazar
Day 2
1:00 – 2:15 Nargis Khatoon
2:15 – 3:30 Rajat Midha
3:30 – 4:45 Dr Prashant
4:45 – 6:00 The Limited Experience
6:00 – 7:15 Nooran Sisters
7:15 – 8:30 Kamal Khan
8:30 – 10:00 Nasha Boy Akhil Sachdeva
Day 3
1:00 – 2:15 Vatsal
2:15 – 3:30 Shreya Live
3:30 – 4:45 Navjot Ahuja x Waqt Ka Khel
4:45 – 6:00 Shivaya Band
6:00 – 7:15 Sameer Walizada Live
7:15 – 8:30 Bismil Ki Mehfil
8:30 – 10:00 Parmish Verma
Experience the quirkiness of the Quirk Bazaar flea market, swing and dance to the tunes of local independent musicians and artists, and indulge in fun activities like face painting, hair braiding, tarot reading, and more.
Take advantage of the venue's abundant photo opportunities and dress the part to capture the event's lively atmosphere on social media. In March, Delhi will have its largest food festival to date, so get ready to bring your friends and family for a weekend of nonstop fun!
Entry Fee – Rs 499 onwards.
Note –  kids under 8 go in for free.