Gazetted Holidays in Delhi 2023
Typically Gazetted Holidays in Delhi include national holidays such as Independence Day, Republic Day, and Mahatma Gandhi's birthday, as well as religious holidays like Diwali, Eid al-Fitr, and Christmas.
With India's diverse population, there are a variety of holidays celebrated throughout the year. From national holidays to religious festivals, this is a list of some of the most popular and important days that people in India celebrate. India is a country of diverse culture and festivals. With the onset of the holiday season, India celebrates numerous holidays throughout the year. From religious festivals to national holidays, there's something for everyone to celebrate. Here's a list of some of the biggest and best holidays in India that you should check out this year!
Delhi, the capital city of India, has a diverse culture and a rich history. The city is home to people from different backgrounds, religions, and cultures. To celebrate and honor these diverse traditions, the Government of Delhi has declared a list of Gazetted Holidays for the year 2023.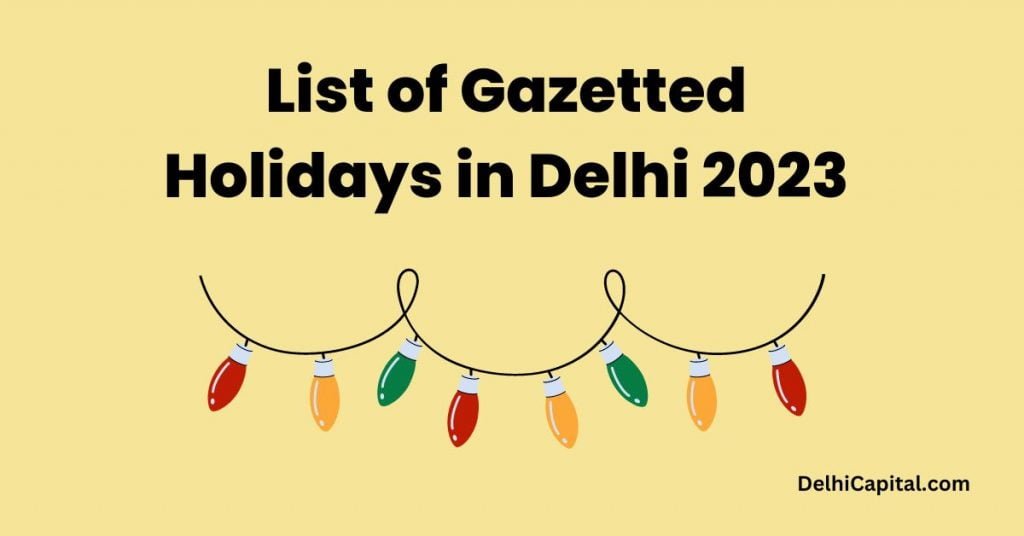 These Gazetted holidays provide an opportunity for the people of Delhi to come together and celebrate the diversity and richness of their culture. It is a reminder of the unity and harmony that exists in the city, despite the differences in religion, language, and culture.
It is worth noting that, these are not the final list of holidays, and the government may announce more holidays as per requirement. It's always good to check with the Government of Delhi's official website or contact the concerned department for the updated list of holidays.
The Lieutenant Governor of NCT Delhi is pleased to declare that the days specified in the following schedule be observed as holidays in all Government offices under Government of National Capital Territory of Delhi during the year 2023, here is the list of gazetted holidays in Delhi for the Year 2023 :-
Name

Date

Day

Holiday List January 2023

Republic Day
26 January
Thursday
Holiday List March 2023
Ram Navami
30 March
Thursday
Holiday List April 2023
Mahavir Jayanti
04 April
Tuesday
Good Friday
07 April
Friday
Eid-ul-Fitar
22 April
Saturday
Holiday List May 2023
Buddha Purnima
05 May
Friday
Holiday List June 2023
Id-ul-Zuha /Bakrid
29 June
Thursday
Holiday List July 2023
Muharram
29 July
Saturday
Holiday List August 2023
Independence Day
15 August
Tuesday
Holiday List September 2023
Janmashtami
07 September
Thursday
Milad un-Nabi
28 September
Thursday
Holiday List October 2023
Mahatma Gandhi Jayanti
02 October
Monday
Dussehra
24 October
Tuesday
Maharishi Valmiki Jayanti
28 October
Saturday
Holiday List November 2023
Diwali
12 November
Sunday
Guru Nanak Jayanti
27 November
Monday
Holiday List December 2023
Christmas
25 December
Monday
In addition to the holidays specified in above schedule an employees is entitled to avail himself/herself of any two holidays out of the restricted holidays during the year 2023 as mentioned below :
Name

Date

Day

Holiday List January 2023

New Year's Day
01 January
Sunday
Makar Sankranti/Bihu
14 January
Saturday
Lohri
14 January
Saturday
Republic Day/Basant Panchami
26 January
Thursday

Holiday List February 2023

Guru Ravidas Jayanti
05 February
Sunday
Hazarat Ali's Birthday
05 February
Sunday
Maharishi Dayanand Saraswati Jayanti
15 February
Wednesday
Maha Shivaratri
18 February
Saturday
Shiva ji Jayanti
19 February
Sunday
Holika Dahan, Dolyatra
7 March
Tuesday
Holiday List March 2023
Dolyatra
07 March
Tuesday
Holika Dahana
07 March
Tuesday
Holi
08 March
Wednesday
Chaitra Sukhladi
22 March
Wednesday
Ugadi
22 March
Wednesday
Gudi Padwa
22 March
Wednesday
Ram Navami
30 March
Thursday
Holiday List April 2023
Mahavir Jayanti
04 April
Tuesday
First day of Passover
06 April
Thursday
Maundy Thursday
06 April
Thursday
Good Friday
07 April
Friday
Easter Day
09 April
Sunday
Vaisakhi
14 April
Friday
Ambedkar Jayanti
14 April
Friday
Mesadi / Vaisakhadi
15 April
Saturday
Jamat Ul-Vida
21 April
Friday
Eid-ul-Fitar
22 April
Saturday
Holiday List May 2023
International Worker's Day
01 May
Monday
Buddha Purnima
05 May
Friday
Birthday of Rabindranath
09 May
Tuesday
Mother's Day
14 May
Sunday
Holiday List June 2023
Rath Yatra
20 June
Tuesday
Holiday List July 2023
Guru Purnima
03 July
Monday
Holiday List August 2023
Friendship Day
06 August
Sunday
Parsi New Year
16 August
Wednesday
Vinayaka Chathurthi
20 August
Sunday
Onam
29 August
Tuesday
Raksha Bandhan (Rakhi)
30 August
Wednesday
Holiday List September 2023
Janmashtami
6 September
Wednesday
Ganesh Chaturthi
19 September
Tuesday
Holiday List October 2023
Mahatma Gandhi Jayanti
02 October
Monday
First Day of Sharad Navratri
15 October
Sunday
First Day of Durga Puja Festivities
20 October
Friday
Maha Saptami
21 October
Saturday
Maha Ashtami
22 October
Sunday
Maha Navami
23 October
Monday
Maharishi Valmiki Jayanti
28 October
Saturday
Holiday List November 2023
Karva Chauth
01 November
Wednesday
Naraka Chaturdasi
12 November
Sunday
Diwali
12 November
Sunday
Govardhan Puja
13 November
Monday
Bhai Duj
15 November
Wednesday
Chhat Puja
19 November
Sunday
Guru Tegh Bahadur's Martyrdom Day
24 November
Friday
Holiday List December 2023
Christmas Eve
24 December
Sunday
New Year's Eve
31 December
Sunday