Delhi to Mumbai Expressway
The long-awaited segment of the Delhi-Mumbai Expressway between Sohna and Dausa opened to traffic on February 12, 2023. Time spent getting from Delhi to Jaipur now takes just two hours thanks to this development. After the motorway is finished, the travel time between Delhi and Mumbai will drop to about 12 hours. The route layout, present state, and expected completion date of the Delhi-Mumbai Expressway, as well as other relevant interesting statistics, are detailed below.
One of India's most anticipated projects is the Bharatmala Pariyojana-planned Delhi-Mumbai Expressway, commonly known as the Delhi-Mumbai Industrial Corridor. Delhi and Mumbai, two of the largest cities in India, will be linked by an expressway. If the projected Greenfield highway is built and the speed limit is increased to 120 km/h, the travel time between the two major cities will be cut in half, from 24 hours to 12 hours. Increases in capacity are being made to the Delhi–Mumbai Expressway so that it can continue to serve as a superhighway. Hence, there are entry and exit gates equipped with automatic toll collection features every 50 kilometres. When you use your FastTag to enter the motorway, the system will log the location and time of your entry, then deduct the appropriate amount from your account balance. In addition, we can talk about advanced traffic management systems (ATMS).
Delhi and Mumbai Expressway : Some Fascinating Information
A fully automated traffic management system, complete with features like plentiful charge stations for electric vehicles, rain water harvesting, and so on, will be installed.
Its 1,386 km length makes it India's longest expressway.
The distance from Gurgaon to Jaipur could be cut in half with the recently opened section between Sohna and Dausa.
Connections would be made between Kota, Indore, Jaipur, Bhopal, Vadodara, and Surat, as well as 40 other key cities.
When completed, the expressway will slash the time it takes to drive between Aurangabad and Pune to just two hours.
The expressway will cut the current distance between Delhi and Mumbai by 12 percent, from 1,424 km to 1,242 km. Travel time from one location to another will be cut in half, from approximately 24 hours to 12 hours.
The six states that will be traversed by the upcoming Mumbai-Delhi Expressway are as follows: Delhi, Haryana, Rajasthan, Madhya Pradesh, Gujarat, and Maharashtra.
It's a greenfield highway with eight lanes that can be expanded to a total of 12 lanes with the installation of additional access control gates.
This corridor will be used specifically for installing solar panels, laying fibre optic cables, and laying pipelines.
More than 2,000 water refill stations and ninety-four rest stops are planned.
Specifics of the New Delhi to Mumbai Expressway Project
Some key information about the Delhi-Mumbai Expressway is provided below :
Delhi Mumbai Expressway 

Project Details

Start point
DND Flyway in Delhi
End point
Jawaharlal Nehru Port in Raigarh District
Project Length
1,350 km
Cost
Rs 1 trillion
Completion Date
Phase 1 completed on February 12th, 2023.
By June 2024, the project will be completed.
Date of completion of the Delhi Mumbai Expressway
The estimated 1 trillion rupee cost to build the highway from Delhi to Mumbai will see construction through four states: Haryana, Rajasthan, Madhya Pradesh, and Gujarat. It will end in Mumbai, Maharashtra. It was anticipated that the 1,250-kilometer super highway will be finished by the end of 2020. In light of the pandemic-caused approval delays, however, the project's original completion date of June 2022 has been pushed back to June 2024. On February 15, 2023, the public can use the completed Phase I of the project, which connects Sohna in Gurgaon to Dausa in Rajasthan.
To this day, 825 kilometres of the motorway have been built. From a possible 52 packages, NHAI has approved 45, covering a distance of about 1,350 kilometres. Faridabad's connection to Jewar International Airport via a 30-kilometer link road has also been approved. In addition, a steel bridge spanning the Narmada River was constructed as part of the highway in Bharuch.
Map for the Delhi Mumbai Expressway
The key states along with the cities which lie on expressway of Delhi, Haryana, Rajasthan, Madhya Pradesh, Gujarat, and Maharashtra are labelled on the map of the Delhi-Mumbai Expressway below.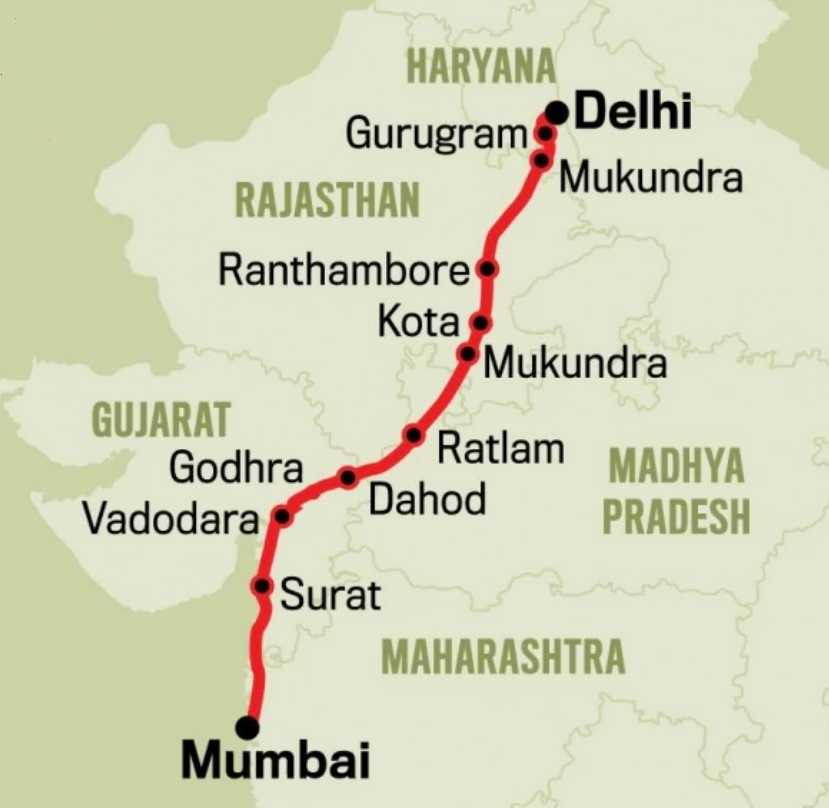 Route of the Delhi Mumbai Expressway
The proposed Delhi-Mumbai Expressway will connect rural and historically significant parts of five states, one of which being Maharashtra. From Delhi's DND flyway, the Delhi-Mumbai Expressway will travel north through Sawai Madhopur in Rajasthan, then on to Ratlam in Madhya Pradesh, and finally ending in Vadodara, as announced by the Ministry of Road Transport and Highways (Gujarat). The 12-lane expressway's revised route will cut travel time by 120 kilometres. Over 380 kilometres of the motorway would be built in Rajasthan, 120 kilometres in Gujarat, 300 kilometres in Madhya Pradesh, and 370 kilometres in Maharashtra. The proposed motorway will travel across Haryana, starting in Bhirawati hamlet in Sohna on National Highway 919 and ending in Kolgaon, Ferozpur Jhirka.
Cities lying on Delhi Mumbai Expressway Route Map as per State
Haryana
Sohna, Gurugram
Khalilpur village
Nuh
Bhadas, Hathin
Moolthan, Hodal
Ferozepur Jhirka
Rajasthan
Alwar
Rajgarh
Jaipur
Sawai Madhopur
Kota
Rawatbhata
Neemuch
Madhya Pradesh
Mandsaur
Jaora
Ratlam and Banswara
Thandla
Gujarat
Dahod
Godhra
Vadodara
Surat
Maharashtra
Valsad
Vapi-Silvassa
Virar
Mumbai