Christmas miracle has arrived! Several Delhi shopping malls are prepared to fulfil the role of Santa Claus this holiday season by providing their customers with the greatest deals possible. These shopping centres have gone all out to impress you with their decorations and events. In other words, in 2022 you will finally have a fantastic time.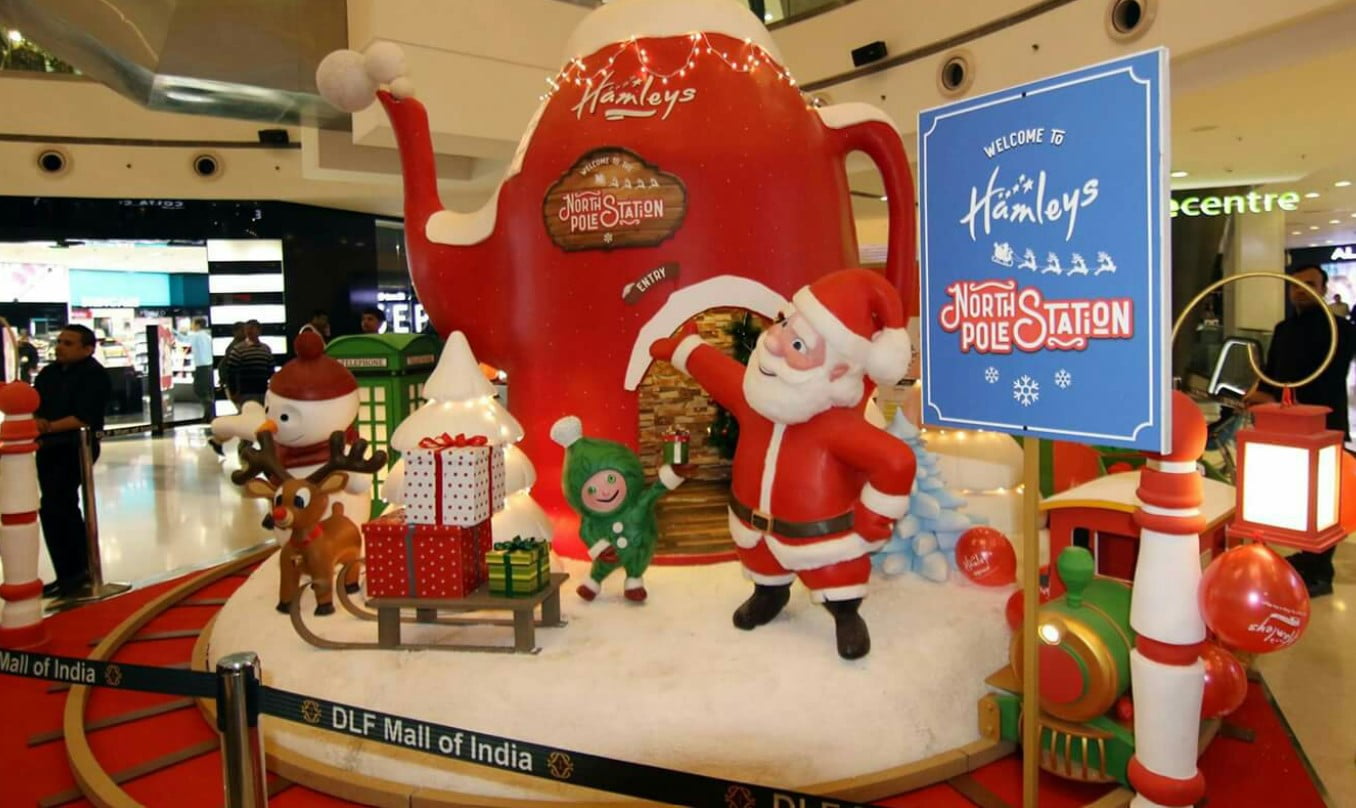 When you step foot inside one of Delhi's malls, it's like you've stepped into another dimension. It's like being in a fairytale with all the joy and festivities, elaborate displays, tall Christmas trees, sparkling lights, and bright ornaments. In this guide, we'll show you the best places in Delhi's shopping malls to capture the perfect holiday selfie. Heading out to the brightly illuminated malls and locations that come up with the best Christmas Decor will undoubtedly bring out that utmost sense of merriment in you, as these places always put up a spectacular display of Christmas celebrations. It's no surprise that people from all walks of life, representing the wide range of ethnicities and religions in our country, flock to this festival to share in the incredible bounty it represents.
1. Select City Walk, Saket
If you're looking for a place to see some of the nicest Christmas decorations in Delhi, look no further than the Select City Walk Saket. Every year, hordes of people gather outside to gawk at the exquisite, wintry, and awe-inspiring Christmas decorations that have become a local tradition here. As in past years, this spectacular show is sure to be a big popular with the people of Delhi. Coupled with a Christmas market, you get a complete package of holiday excitement when at the Select City Walk Saket. If you've ever gone to this gorgeous mall in the middle of D-town, you know the kind of celebrations they come up with every year; if you want to satisfy all your Christmas fantasies this year, you should go this time, too.
2. DLF Mall of India, Noida
Now, this one hardly requires an introduction. Besides being a great place to do some Christmas shopping, it also makes for a great setting for your holiday festivities in the greater Delhi area. Extravagance is measured to the fullest at the Mall of India every single time. Yeah, literally, they go all guns blazing when it comes to festivities. On Christmas, the need justifies their efforts put behind. If you're looking for the best of the best, go no farther than the Christmas cheer that greets you as you enter this massive shopping Mall. Visiting here during the holiday season is a visual and sensory feast.
3. Ambience Mall, Gurugram
If you're looking for the best restaurants, attractions, and shopping in Gurgaon, look no further than Ambience Mall. On National Highway 8 (NH8) between Gurgaon and Delhi, you'll find the first luxury shopping mall, Ambience Mall Gurgaon. This shopping centre can hold one million customers and features the latest in entertainment, fashion, and cuisine from around the world. With its towering Christmas tree, elaborate decorations, and infectious holiday spirit, Pacific Mall Subhash Nagar is the perfect place to kick off your Christmas celebrations in 2022. When compared to other shopping malls in the area, Ambience Mall Gurgaon stands out due to the abundance of stores selling luxury and high-end Indian and international labels.
4. Pacific Mall, Subash Nagar
In Delhi, the Pacific Mall in Tagore Garden is another popular destination for extravagant holiday celebrations and decorations. The last time, the number of people coming to see the amazing Christmas theme they had created was so high that they had to restrict the number of parking spaces available to visitors. To all the Delhiites who want to party it up throughout the holiday season, here's a must-do item for your list. Come here with your family and friends, and you'll make memories that will last a lifetime. Your 2022 Christmas celebrations will get off to a roaring start at Pacific Mall Subhash Nagar, with its massive Christmas tree, festive decorations, and palpable sense of holiday cheer.
5. Vegas Mall, Dwarka
Dwarka Sector 14, one of the hippest areas in Delhi, now has a massive mall, much to the delight of the city's residents. The Vegas Mall, famous for its huge fun, has just entered the fray for the best Christmas decorations in all of Delhi and the National Capital Region. Even though the news may dampen your enthusiasm, you should still visit the location because this time they want to outdo their rivals in size and quality. With a 12 screen multiplex and so much more to offer, Vegas Mall Dwarka is a pioneer in its field; with so many other Christmassy experiences to be had there, we should be able to live up to the high expectations that have been set for us.
6. DLF Promenade, Vasant Kunj
In DLF Promenade shopping mall you will get everything from the latest trendy Gifts, Fashion apparel, Tasty cuisine, Books, Jewelry,  Electronics, Lingerie, Spa, and whatnot. Located on Nelson Mandela Road in Vasant Kunj, this mall is very spacious, with a large variety to suit every budget and eating joints. Special decor is done every year in this mall on the occasion of Christmas and New Year.
7. Pacific Mall, NSP Pitam Pura
Pacific Mall in Netaji Subhash Place aims to be Delhi's one-stop-shop for shopping, dining, and fun, stocking more than 200 different brands for your perusal. We are a vibrant new dining concept to ever hit the NSP-Pitampura. We have a large variety of dining options, including some well-known domestic and foreign food brands, as well as a thoroughfare devoted only to these establishments. If you live around Keshav Puram, Pitam Pura, Rani Bagh, Ashok Vihar, Rohini this place could be the nearest place for hangout during Christmas.
8. Ambience Mall, Vasant Kunj
The Ambience Mall in Vasant Kunj represents the pinnacle of affluence and sophistication. Shop until you drop, enjoy exciting events, and feast on delicious cuisine at Ambience Mall in Vasant Kunj. Brands like H&M, Cover Story, Only, and more are available for both men and women. It offers an experience of unequalled retail mix along with entertainment and recreational attractions that has revolutionised the concept of shopping mall experience. Every year special Christams decor is done in this Mall to attract Youngs and kids.
9. V3S Mall, Laxmi Nagar
The V3S Mall in East Delhi is one of the largest shopping centres in the area, and it features a theatre and a vast atrium in addition to a wide variety of stores. The mall is conveniently located next to Nirman Vihar Metro Station, which can be accessed by the nearby Vikas Marg (Blue Line). The mall is four stories tall and features a wide variety of stores, restaurants, and entertainment options, including Fun Cinemas, Pizza Hut, Yo! China, and Nazeer. You can satisfy your hunger and your wardrobe needs at one of the many restaurants or retail shops here.
10. DLF Avenue, Saket
A new icon in Delhi, DLF Avenue in Saket features upscale shopping, dining, and entertainment. The best of international and national brands have outlet here. some of the outlets in this Mall are Uniqlo, Marks & Spencer, Forever 21, Superdry Sport, American Eagle, Replay, Vero Moda, ONLY, Jack & Jones, Under Armour, GO Sport, Fossil, M.A.C., Forevermark, The Body Shop, and popular local labels like Meena Bazaar, Frontier Raas, House of Raisons, Mulmul, Anokhi, Suvasa, BIBA, The Big Chill, Smoke House etc. Just like every year special Christams decor has been done this season too in this Mall.
Christmas Celebration in Malls